By Cornelia Seckel




ART TIMES October 2008

By Cornelia Seckel

This was quite a busy month as I made the rounds from NYC to Peekskill, Poughkeepsie, Ellenville, and Kingston.

I finally got to a production at Shadowland in Ellenville, NY and saw "Glorious", the true story of Florence Foster Jenkins, The Worst Singer in the World, by Peter Quilter. This absurd comedy was extremely well done with excellent acting and staging and a simple set that worked well. The season at Shadowland is over, but will begin again next May. The productions I've seen are very well done using mostly equity actors and producing interesting plays. Check with them at www.shadowlandtheatre.org

Janet Gurian Lippmann's recent oils, pastels and a new book about her paintings were at the National Arts Club, NYC. I always appreciate the quietness, gentle landscapes and colors that she uses in her paintings and particularly loved her Apple Orchard and Dahlias. Janet's work can be seen at www.janetlippmann.com.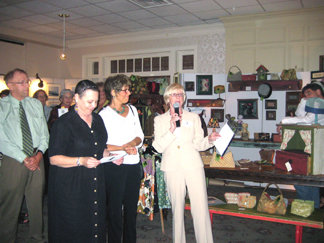 Honoree's: co-founders Susan Buckler and Jamey Wolff of Children's Annex Barbara Cohen, Chair of Fall for Art at
Jewish Federation Fall For Art event
Fall for Art is the annual "start of the season" art event in Kingston, NY. This is the 12th year for the Jewish Federation of Ulster County's fundraiser. Each year an organization or individual is honored and this year it was the Children's Annex, a school designed for children with Autism Spectrum Disorders opened in 1987. The money will go towards a Photography Program, helping students to express themselves.
What a treat to see so much of Kate McGloughlin's work at the Art Society of Kingston. Kate, a master printmaker and excellent painter, showed her paintings and prints as well as sketches for the work in the show called "Sketchbook Fruition". You can see her work at www.katemcgloughlin.com.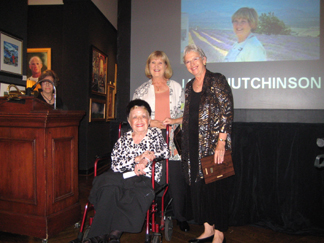 Flora Giffuni (seated-founder of PSA) with Friends
of Pastel Maggie Price and Janie Hutchinson
The 36th Annual Open Juried Exhibit For pastels Only had a great range of styles, all excellent work. 193 paintings were selected from 896 entries from people all over the country It is amazing to me how pastels (pigment from the earth) can be made to do such intricate work. Top prize went to Abel Marquez for "The Serenity of a Thought" and 2nd prize went to Bonnie Williams for "Shadows". The ART TIMES Award went to Susan Parmenter for "Bowl with Apples". The Hall of Fame Honoree was Doug Dawson and this year's Friends of Pastel were Maggie Price and Janie Hutchinson, founders of The Pastel Journal now published by F&W Publications. Each year the medium seems to be pushed further along and I believe that is one of the goals of the Society that was founded by Flora Giffuni. After dinner numerous speakers went to the podium to thank Flora for her work and express their appreciation.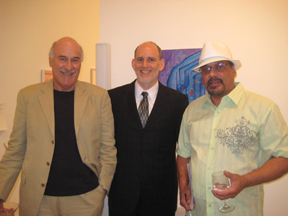 (L to R) Ira Glasser, President, Ethan Nadelmann, Exec.
Director and Anthony Papa, artist at a fundraising auction for Drug Policy Alliance.
I'd first come in contact with Tony Papa when he was an inmate at Sing Sing on charges of drug possession under the Rockefeller Drug Laws. He was having an art exhibit and was looking for publicity. While in prison he discovered his talent as an artist and since his release he has been working with the Drug Policy Alliance – according to their website: "The Drug Policy Alliance Network (DPA Network) is the nation's leading organization promoting policy alternatives to the drug war that are grounded in science, compassion, health and human rights. We work to ensure that our nation's drug policies no longer arrest, incarcerate, disenfranchise and otherwise harm millions of nonviolent people." The fundraiser, held at Cheim & Read Gallery, NYC was well attended and paintings that were donated by 50 visual artists raised more than $125,000. For more information: www.drugpolicy.org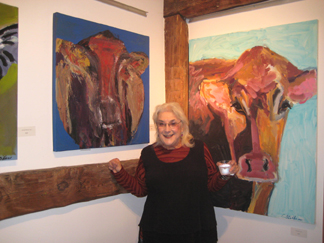 Eleanor Steffen in front of her work at the
Dog House Gallery, Saugerties, NY
I was so pleased to see work by Eleanor Steffen and Bernard Steffen at the Doghouse Gallery in Saugerties, NY. Eleanor had large oils on canvas of animals - cows, cats and dogs. She told me that Jon Katz's "Katz on Dogs" and his belief in the spirituality of dogs and humans influenced the work and the show. The work of Bernard Steffen, who died in 1980, occupied one of the galleries and it was a pleasure to see this powerful work and learn about his life.
Hudson Valley Center for Contemporary Art (HVCCA), a non-profit arts and education organization founded by the Marc and Livia Straus family, is dedicated to the development and presentation of exhibitions and interdisciplinary programs that enrich the understanding of contemporary art, its contexts, and its relationship to social issues. Additionally, HVCCA has temporary and long-term installations of contemporary art by both well-known and emerging artists; Artist-in-Residence, which provides artists with the opportunity to create long-term installations at the Center and in the community; lectures, panel discussions and educational opportunities for students and adults; and Special Projects, which presents unique, interdisciplinary projects, events and collaborations.

Current Exhibit "Origins" at the Hudson Valley Center
for Contemporary Art, Peekskill, NY
I began my tour of Peekskill at the HVCCA viewing Origins, works by 30 artists from 15 countries who used natural materials that "addresses the value and beauty of our diverse ecology and its fragility." I am always impressed with the scope and magnitude of their vision. On October 4th, the HVCCA will have a fundraising auction in NYC to raise money for their educational programs. For more information go online www.hvcca.org.
HVCCA is also committed to the enrichment of Peekskill, NY and the co-sponsor of the Annual Peekskill Project, a citywide public arts festival of cutting-edge contemporary art. Paintings, photography, sculpture, video and performance art by over 80 US and international artists that were selected by a committee of renowned curators. I took my car rather than the art shuttle bus that brought people around Peekskill and saw several of the 16 different venues of installations, exhibits and performances. Priska C. Juschika, NYC gallery owner and long time supporter of HVCCA, was one of the curators of the project and I saw her curatorial work in several different places. Taking part in The Peekskill Project is an excellent way to explore the art venues in town and be part of an important annual community event.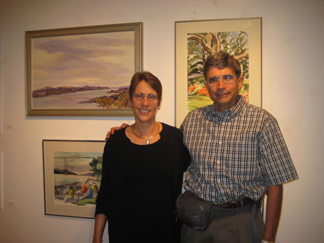 Emily Morrow and Daniel Rubentein standing in front of their father Lewis Rubenstein's work at the Barrett Art Center, Poughkeepsie, NY
My visit to Poughkeepsie was to see the exhibit at The Barrett Center The Artistic Legacy of Lewis Rubenstein, an artist that Raymond profiled many years ago and in fact shows up as a character in Raymond's novel The Mountain and to see Frank Mason whose work was part of the Hudson Valley Harvest Show at the Arlington Gallery.
What a pleasure to see Lewis Rubinstein's work and to meet his son Daniel and daughter Emily. Lithographs, watercolors, ink paintings of people and places, many from his travels, filled the galleries as did many admirers, former students and old friends. In prominent display was one of his works from The Creation Series. Lewis taught at Vassar College for many years before retiring to Vermont. I've known Frank and his wife Ann Mason nearly since we started ART TIMES, and Raymond has written introductions for catalogues for him as well as interviewing him extensively for The Art Students League of NY: A History, published in 1999. The gallery was packed with collectors, well-wishers and former students (Frank taught at the League for nearly 50 years). The show is well documented with wall notes and includes a film of Frank teaching in Vermont. Before I left Poughkeepsie I visited the student show at Mill Street Loft, Gas to see Michael Sibilia's gorgeous large format photographs of Portraits of America, Cuneen-Hackett Art Center for Ellen O'Shea's recent works of bodies in landscapes — an intriguing show ending up at Jeep Johnson's Glass Studio. What a day. What a month.
| | |
| --- | --- |
| Michael Sibilia speaking about his work at gas | Jeep Johnson at work at his kiln |