CULTURALLY SPEAKING
By CORNELIA SECKEL
ART TIMES October 2006
Happy Fall. The Equinox has passed and we are now into Indian Summer, the beauty of changing leaves and the last harvests from the gardens. I did get to see and do some fun things and heard from a number of new galleries.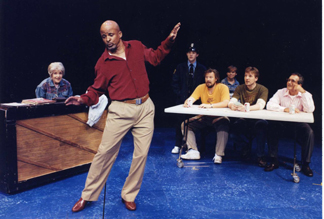 David A. White ("Horse")-Patti Mariano (Jeanette)-Nick Gaswirth (Malcolm) Tad Wilson(Dave)-Michael Herwitz (Nathan)-
Peter James Zielinski (Jerry) Joel Briel (Harold) ("Horse," performing audition number "Big Black Man") PHOTO - JOHN VECCHIOLLA
The Full Monty is being presented by Westchester Broadway Theater, Elmsford, NY, and can be seen through January 20 (except Nov 22—Dec 23 when Christmas Inn will be on stage). I was invited to the Press Night and was just delighted with this heartwarming story of a group of laid-off factory workers struggling to keep their lives, their dignity, and themselves together. The original story (film) is based in England and the play adaptation by Terrence McNally has the location in Buffalo, NY which works perfectly. This is a musical (music & lyrics by David Yazbek), the film was not. The filled and well-fed audience (this is a Dinner Theatre) tingled with excitement and anticipation as the play opened. How nice to sit in a comfortable chair, sip a glass of wine, and watch the show. Set in a thrust stage, every seat (500 or so) in the house is a good one. this is a professional company with most of the actors equity and this was clearly a professional performance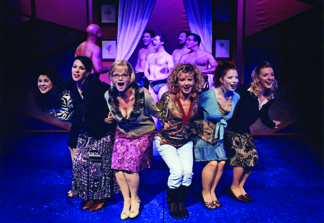 (front & rear left to right) Dorina Dilullo (Estelle)-Amy Barker (Vicki)-Melodie Wolford (Joanie) Caroline B. Younger (Georgie)-Nicole Mangi (Susan)-Laurie-Beth Mraz(Pam) David A.White (Horse)-Brian Gligor (Ethan)-Nick Gaswirth (Malcolm) Tad Wilson (Dave)-Joel Briel (Harold) Performing "The Goods"
Voices and dancing were excellent and a few particularly exceptional; acting seemed without any hitches, and the direction and choreography (by Richard Stafford) made for easy flowing stage movements that could be seen by all. The plot-line has the men desperate enough that the idea of doing a strip tease, á la the Chippendales©, becomes a reality and they overcome their shyness, their body image, their awkwardness and hire a hall to do a Striptease show. The money they make will help support their families until they find work. The big question of the play is whether they will really do a final complete strip — the "full monty" — during the performance. The audience became the larger audience of the play during the last scene — the performance. Women yelled out "take it off!!" "We love you" and whistled and made other exclamations as the men began the striptease. It was a fun evening, lots of laughter, some poignant moments, hilarity and suspense. You'll have to find out yourself if they did the FULL MONTY or not!! Check online at www.broadwaytheatre.com for more information about this very successful Dinner Theater that has been open for over 32 years. The Full Monty marks their 148th Production. They do a great job.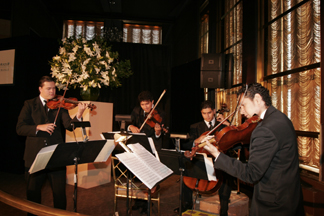 Venezualan Youth String Quartet plays at 2006 Praemium Imperiale Awards at Rainbow Room, NYC
Praemium Imperiale was created in 1988 to commemorate the 100th anniversary of the Japan Art Association and to honor the late Prince Takamatsu who served as the association's honorary patron for 58 years. The press luncheon, held at the Rainbow Room in Rockefeller Center, NYC —David Rockefeller, Jr is an Honorary Advisor (as is Jacques Chirac and Helmut Schmidt), having been the American Advisor for numerous years. The current American Advisor is William H. Luers, President of the United Nations Association, a leading center for policy research. Previous to that position he was President of the Metropolitan Museum of Art, NYC, which preceded a long career in the Foreign Service. This year's Praemium Imperiale Laureates are: in Painting, Yayoi Kusama of Japan; in Sculpture, Christian Boltanski of France; in Architecture, Frei Otto of Germany; in Music, Steve Reich of US; in Theatre/Film, Maya Plisetskaya of Russia. Awards presentation will be held in Tokyo on October 18 where Laureates will receive gold medals, diplomas from His Imperial Highness Prince Hitachi and 15 million yen (about $131,000), recognizing the lifetime achievement in the arts in categories not covered by the Nobel Prizes. Each year grants are given for Young Artists and this year's award went to The State Foundation for the National System of Youth and Children's Orchestras of Venezuela. This organization, founded in 1975, recruits children from lower-income Venezuelan families, and educates them through the instruction and performance of classical music both individually and as part of an orchestra. There are 250,000 children participating in the program and over 210 orchestras have been established in the country. The foundation will receive 5 million yen (approximately $43,000) to assist in its efforts to help young musicians. During the Press Announcement each of the Laureates were introduced with an accompanying video of their work. Only Steve Reich was in attendance and gave some remarks in acceptance. Generally the speeches mentioned that the arts know no ethnic, geographic, cultural, or national boundaries, the great need to support the arts, and that peace and dialogue can ensue by way of the Arts.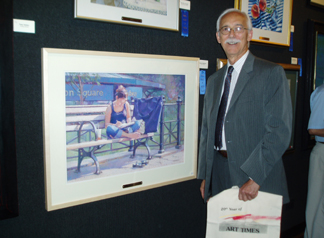 Duane Wakeman, Recipient of the ART TMES Award at the Pastel Society of America's Annual Exhibit at the National Arts Club, NYC
The season has begun. Many of the Arts Clubs and Organizations have their annual exhibitions in the fall in NYC, either at the Salmagundi Arts Club or the National Arts Club. Pastel Society of America held their 34th annual Open Juried Exhibition For Pastels Only at the National Arts Club and it was a fabulous exhibition that showed off the great variety of techniques using the pastel medium. Work varied from realistic to abstract, small to large, with 202 paintings exhibited by artists from across the country — and beyond — including Canada, France, Russia and China. Each year during the duration of the exhibition there are weekend Demonstrations, Workshops and an Art of Pastels Materials Fair. The Awards Ceremony included a presentation to Hall of Fame Honoree Alan Flattmann, PSA for his exceptional accomplishments as a teacher and painter. David B. Korostoff was the recipient of Friend of Pastel, an honor given to someone whose work has generated public awareness of the medium (I was pleased to be a recipient of this honor in 2001). There are now Pastel Societies in numerous states and in France. These interchanges have been a delightful addition to the organization providing exhibit opportunities, workshops, and extended friendships with other pastel artists. Flora Giffuni, founder of the society, has worked with great dedication establishing an Atelier for Pastels held at the NAC, funded the Flora B. Giffuni Gallery of American Pastels at the Butler Institute of American Art in Youngstown, Ohio, where selected award-winners from the PSA's 34th Annual, and initiated the Pastels in Schools Program that brings teachers of the medium to an area HS and soon to a 2nd school. We applaud Flora Giffuni, Barbara Fishman, President, and the hard working board of directors and members of this society. Lastly, Gabriela Gonzalez Dellosso (profiled in ART TIMES July '04) was the recipient of the Art Spirit Foundation, Dianne B. Bernhard Gold Medal Award and Duane A. Wakeham, PSA was the recipient of the ART TIMES AWARD.
This is also time of year for numerous open studio tours. An organization or group of artists come together, pick a date, and open their studios to the public — usually over a weekend. The 4th Annual Studio Tour in Woodstock, NY, will be on Columbus Day Weekend (Oct 7&8) with well over 30 artists opening their studios. There is a charge for this tour and the monies will go towards an art scholarship for a local HS student. Call 845-679-6234 for information • Also that weekend in Kingston, NY, the Art Society of Kingston's Tour will include 40 artists, as well as the usual First Saturday opening receptions and exhibitions at the numerous Galleries throughout the city. For lists of artists, maps and information: www.askforarts.org/studiotour or call 845-338-0331 • In the Smithtown, St. James, Setauket area of Long Island, NY an artist tour will take place on October 14 and on the 15th — the tour will be in the Huntington, Greenlawn, Northport Area of LI. For more information call 631-351-3250 • In New Jersey the 25th Annual Hoboken Artists Tour will be on October 15, and Jersey City's Artists Studio Tour Weekend is Oct 21 & 22. That's about all I have specifics on, but check with these communities and organizations for more details. Taking a tour is always a delightful way to meet artists, see their work, their studios, and be part of a fun event with many others who love art. Pick an area new to you and have a great time exploring.
There are several new galleries in our region: Marina Gallery: Fine Art and Restoration in Cold Spring, NY will exhibit artists fairly local to Cold Spring on a consignment basis —artists paying a fee according to the space they want for their work. The gallery is owned by Marina Yashina, artist, curator and restorer who hopes to help promote the cultural events of Cold Spring, NY and surrounding towns. Olga Besen is the Gallery Director. For more information go online: www.marina-gallery.com or call 845-265-2204 • In Woodstock, NY, the East Village Collective has opened and owners Serena & Bahram expect to have frequent shows featuring a variety of artists and work. Serena, a jewelry designer, and husband Bahram, a marketing specialist for Apple's Pro Applications, wanted to live and work in a more peaceful environment than the East Village of NYC where they met. The current show Photographs by Benjamin Busch will be up until mid October. See the website www.eastvillagecollective.com or call 845-679-2174 for more information and their exhibition schedule • Up River Art (opened several years ago as The Gallery and announced in this column) seems to have refocused and will have a grand opening weekend on October 7-9. The gallery, located in Ossining, NY, will feature paintings and prints by Mary Ellis and steel sculptures by her son Noah Baumwoll. They will show their work along with items featuring graphic designs on mugs, glassware, t-shirts etc. It is their hope to take a leading part in the revitalization of Ossining. See more at www.upriverart.com or call 914-255-1832 • Years ago, Jersey City, NJ, designated a portion of the old warehouse district just south of the Holland Tunnel as an historic neighborhood dedicated to providing affordable housing and workspaces for artists, and to encourage art galleries to move into the area. The explosive growth of Jersey City's waterfront and the numerous luxury high rises being built in the area have fueled the development of the Powerhouse Arts District (PAD), and most recently Nobis Gallery opened in the district with nearly 300 people attending the ribbon-cutting. Owners Phillip Stamborski and Kevin Elphick said that they were thrilled to be part of the Powerhouse Arts District (PAD), and that there just weren't enough venues to showcase the artists who live and work in the international community. Nobis Gallery's debut exhibit features the paintings of Milena Filipova, an artist from Bulgaria who has lived in Jersey City since arriving in the US 5 years ago. Plans for the development of the PAD include a theater for live performances, bistros, and more art galleries. Stamborski hopes that the lower retail rents – currently $20-$30 per sq. ft. will encourage gallery owners to join him as they get priced out of Manhattan, particularly the gallery row in Chelsea where rents are skyrocketing to over $100 per sq. ft. Learn more at www.nobis-art.com or call 201-610-1215.