Culturally Speaking
By Cornelia Seckel
ART TIMES online November 2013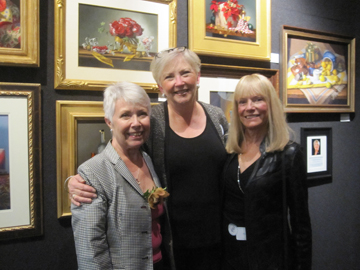 The 117th Annual Open Exhibition for the Catharine Lorillard Wolfe Art Club (clwac.org) was, as usual, an excellent exhibition with about 250 paintings and sculpture coming from all across the US, Brazil and Canada. Catharine Lorillard Wolfe, the only woman among the 106 founding members of the Metropolitan Museum of Art, left money to Grace Church (NY) to be used for some form of "women's work" — that work being a club to support and give aid to young women art students, most significantly with exhibitions and meeting space at the Parish House. 117 years later, the Parish House continues to be a base for the Club while for numerous years the National Arts Club, NYC, has been the location for the annual exhibitions. This important Art Club's history A Chronicle— The Catharine Lorillard Wolfe Art Club is now available to order from the CLW website. We were pleased that Jeanette Koumjian was the winner of the ART TIMES Award with her painting Red Hook, Brooklyn. Congratulations Jeanette. Claudia Seymour was named as thehonored artist for 2013. Claudia, a painter of still life in oil and pastels is recently retired as the president of the Salmagundi Club, NYC (founded in 1871) and continues to give her skills and organizational talent to the art community. Top award winners include Jill Pabich, Patricia Billecci, Andrea Pejeau, and Alicia Ponzio. The Opening Reception is always a benefit for travel opportunities for curators at the Metropolitan Museum of Art. The Opening was packed, hundreds of people attending, enjoying the art and the artists.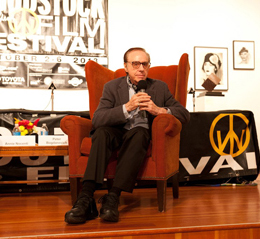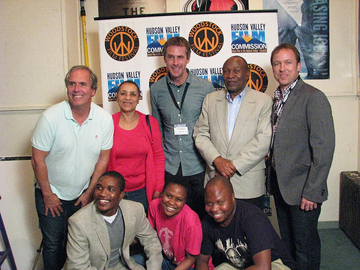 (left) Peter Bogdanovich at the Kleinert/ James Art Center, 2013 Woodstock Film Festival
(photo Chris Hallman)
(right) Best Narrative Feature Forgotten Kingdom written & directed by Andrew Mudge Cast and crew with Lesotho Ambassadors (Photo Naomi Schmidt)
The 14th annual fiercely independent Woodstock Film Festival, had thousands attending the over 150 films, concerts, panels and special events in Woodstock, Rhinebeck, Rosendale, Kingston and Saugerties, NY. I had the pleasure to meet Brett Wagner whose short film Care was shown during the festival. I asked Brett what brought him to Woodstock from LA and he said that he welcomed the sophisticated crowd of moviegoers. His film is a story about care-giving and care-givers, and is perfect for establishing dialogue about taking care of a loved one. I found the film engaging, informative, supportive for the caregiver, and compassionate. The film has been nominated for numerous awards and don't be surprised if you see it nominated for an Oscar. For more information take a look at wagnervisioncom. Saturday night's Maverick Awards Gala, held at Backstage Studio Productions in the Stockade District of Kingston, honored both the exceptional talent that was brought to the festival this year as well as honorary award recipients Peter Bogdanovich, who received the Honorary Maverick Lifetime Achievement, and filmmaker and activist Mira Nair who was presented The Meera Gandhi Giving Back Award.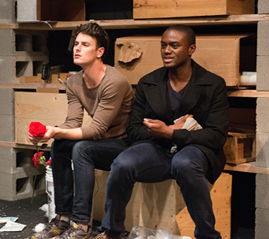 I saw Pirira, a play written by J. Stephen Brantley and produced by theatre 167. This theater company was formed in a community where 167 different languages are spoken. The company's mission is to "create, cultivate, and support new works by artists of wide-ranging backgrounds, traditions, and beliefs. We bring our community together to share innovative, generous and entertaining theatrical events—events which deepen and enhance our understanding of one another and of the role of theater in our civic dialogue." Surely this was reflected in Pirira, a play that I saw at The Chain, a small theater in Long Island City. Directed by Ari Laura Kreith (also artistic director of theatre 167), Pirira is about life and the juxtaposition of two people (a gay American and a student from Malawi) working in a florist shop in NYC and two American aid workers in the African nation of Malawi. Dialogues by the two sets of characters are spoken simultaneously, yet within the confines of each of their locations. The parallel stories are powerful. The acting by J. Stephen Brantley, Flor De Liz Perez, Todd Flaherty and Adrian Baidoo was excellent; staging very innovative as two locations thousands of miles and worlds apart share the same space but never converge. I was so pleased to hear that now that the show has ended in LIC, it is opening on Nov 15 at the West End Theater on 86th Street in NYC through Sunday, November 24. Catch it if you can, it is good theater. For tickets and more information www.theatre167.org.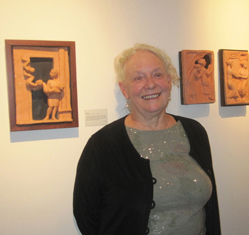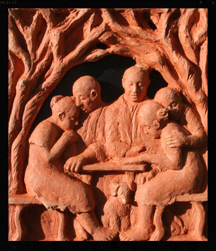 I was at the James Cox Gallery and was pleased to see Ilka List's terra cotta figurine reliefs featured as narrative art. Ilka, a long time resident of the Hudson Valley, now lives in Martha's Vineyard and her presence at the gallery was quite a coming home. I felt that there was something very archetypical about her work— dreams, mythology, and real life events. Numerous pieces were sold and the images of some of them still linger in my mind. More @ jamescoxgallery.com
The Armory Show at 100 is on view at the New York Historical Society on Central Park West in NYC through February 23, 2014 and features 100+ works that were in the Armory Show of 1913. This exhibition was a turning point in American art history (many of the works were shocking to the gallery-going public and yet several years later many of these works were regarded as masterpieces) and introduced the European avant-garde to America. About half of the works shown were by American artists such as Childe Hassam, Robert Henri, John Marin, and John Sloan and by well-known European modernists including Marcel Duchamp, Henri Matisse, and Pablo Picasso. Some of the other artists' work also included, were those of the precursors to modernism— Paul Cezanne, Paul Gauguin, and Vincent van Gogh. Also on view were floor plans of the 1913 Armory Show; letters, post cards and photographs documenting the disturbance the show had on the NY art world; historical documents and archival photographs that showed what was going on socially and intellectually during the time. Learn more about the numerous programs and extensive catalogue at nyhistory.org. This is a fabulous museum with a collection that you could spend months exploring. On exhibit now isClarice Smith: Recollections of a Life in Art (through Feb 9), a retrospective of this distinguished contemporary painter includes: The Garden, Florals, Still Life, Landscapes, Equines, Screens, and Figures, each with its own rich visual traditions.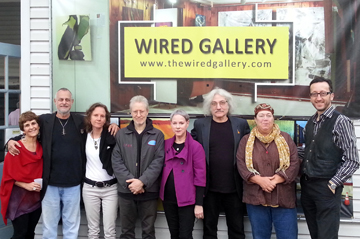 Wired Gallery in High Falls, NY has become a significant place for artists to show their work. Director/ Founder Sevan Melikyan told me that he is very excited about the current show curated by Lenny Kislin. 17 artists were invited to show and it was quite an interesting show. The individual work was rather good and the show itself was a good presentation and flowed well.
I attended a luncheon sponsored by Focus-Abengoa Foundation promoting the exhibitionNur: Light in Art and Science from the Islamic World currently on view in Seville, Spain and opening in Dallas Museum of Art in Spring 2014. We first heard from Anabel Morillo León, Director General of the Focus-Abengoa Foundation who spoke about the foundation and the work it does and supports. Abengoa, is a global biotechnology company and leader in Solar energy specializing in the development of new technologies and promoting sustainability of raw materials and along with the Focus-Abengoa Foundation (abengoa.com) they organized their first traveling exhibition about the subject of light, raising the awareness of its importance in science, art, and culture. The exhibit includes artworks and secular objects from institutional and private collections. We then heard from Dr. Sabiha Al Khemir, project director who is an expert in Islamic Art and concerned with bridging cultural divides and spurring international dialogue. She is currently the first Senior Advisor of Islamic Art at the Dallas Museum of Art and has been the project director and catalogue author of several major exhibitions. She was delightful to speak with and I am sure her courses and documentaries are exceptional. She is an author of several novels and I've just ordered The Blue Manuscript — which looks very interesting. Next to speak was Maxwell L. Anderson, The Eugene McDermott Director of the Dallas Museum of Art. This museum now has no admission fee and has spearheaded a program called Friends & Partners, a different take on museum membership, one that more engages the visitors and supporters of the Museum. The Dallas Museum is part of a program for Museums to have access to each other's art —a free exchange, rather than fee based. More about The Dallas Museum at DMA.org.