CULTURALLY SPEAKING
By CORNELIA SECKEL
ART TIMES November 2006
Some months just fly by and before I knew it the time for another column and another issue was upon me. October is a glorious month in the Hudson Valley. Leaves turn from green to red, yellow, rust, orange and a myriad of colors in between. It is the time for harvesting the last of the hearty crops, to begin putting things away for the winter, and to do some of those indoor jobs that were waiting for the perfect time. I didn't get to as much as I had hoped, but then life and personal obligations have a way of demanding one's attention.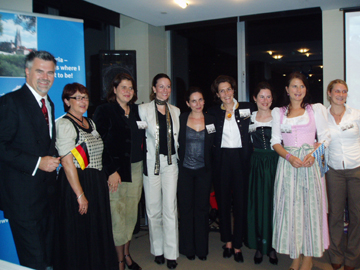 Representatives of the National Tourist Office, the Munich Airport and Bavaria Tourism, at the German House, NYC
Raymond and I took a "busman's holiday" one day this past month and went to Manhattan to enjoy a trip on the Circle Line and an evening with the German National Tourist Office. It was more of a horseshoe of a trip around Manhattan as we boarded the Circle Line at 42nd Street and headed south. We got several different (than usual) views of Manhattan Island, the skyline, streets that went unobstructed across to the East River, Ellis Island, The Statue of Liberty, and then the bridges on the East River — Brooklyn Bridge, Manhattan Bridge, Williamsburg. We got as far as the Triborough Bridge as the tide was up and the moon was still influencing the water level before we turned around (not wanting to get stuck under any of the numerous bridges that cross between Manhattan and Queens and the Bronx) and headed back around the tip of the Island and up the Hudson River to about 80th Street. How beautiful the river is, the shorelines of NJ & NY, the blue sky — so peaceful and relaxing. The guide was quite good pointing out landmark buildings, giving some early history and describing some of the recent land developments on the shores of New Jersey as well as Manhattan. We felt like tourists and that was just fine. After disembarking we took an easy stroll across the city to the east side where we joined other writers at the German House. Sponsored by the National Tourist Office, the Munich Airport and Bavaria Tourism, this was an evening to review what Germany has to offer in Arts and Culture. Having traveled several times to Germany, many of the regions were familiar and here we learned about new museums and cultural venues, which I'm sure we'll be visiting on our next trip. For your own preview: www.cometogermany.com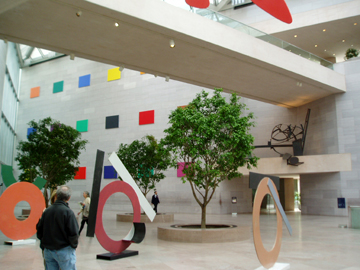 Atrium of the East Building of the National Gallery of Art

Later in the month I headed down to Washington, DC to attend a memorial celebration for parents of my early childhood friend, Heidi. I took Amtrak from Rhinebeck to DC, with a brief changeover in NYC Penn Station. I rarely take a train here in the states, usually traveling by train when in Europe. It's a great way to travel (except when I'm distributing newspapers —which I usually do) and I was able to bring my work with me. I disembarked at Union Station and was struck with the fabulous vaulted ceilings, staircases, elegant dining, and comfortable waiting rooms. This is a fabulous destination unto itself. Opened on October 27, 1907 and completed in 1908, it is considered to be one of the finest examples of the Beaux-Arts style of architecture. The white granite and classic lines give the same feeling as the Lincoln and Jefferson Memorials and the Supreme Court building. Architect Daniel Burnham designed the building to be monumental in every respect and to serve as a gateway for the capital city. Formerly, Union Station was a city within a city as at various times it employed a staff of over 5,000 people and provided such amenities as a bowling alley, mortuary, baker, butcher, YMCA, hotel, icehouse, liquor store, Turkish baths, first-class restaurant, nursery, police station, and a silver-monogramming shop. In 1981 work began to restore Union Station and to make it financially self-sufficient. The guidebooks refer to it as a living and working museum, as there is a very active retail center with over 130 shops and restaurants as well as Amtrak's headquarters and executive offices. Today private special events such as the Presidential Inaugural Ball and citywide galas are celebrated in the grand halls.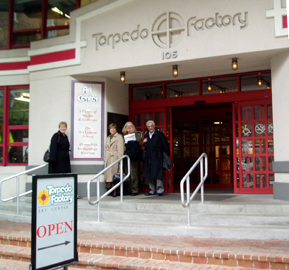 Friends (L to R) Heidi, Trudy, Wendy and Howard in front
of the Torpedo Factory, Arlington, VA
I walked over to the East Building of the National Gallery of Art to see "Constable's Great Landscapes: The Six-Foot Paintings". His renderings of early 19th century English country scenes and daily life are exquisite. The exhibit, which will be on view until December 31 is sponsored by General Dynamics and General Dynamics United Kingdom, LTD. Oil and pencil sketches hung alongside the finished paintings and many were six-feet wide. This is a rare opportunity for the connoisseur and the painter to study process and form, and the intricacies of Constable's technique. This beautiful and spacious building was designed by I.M Pei and opened in 1978. There is sculpture throughout the multi-level lobby, and visitors of various ages and nationalities could be seen exploring the collection on view. The East Building focuses on modern and contemporary art, with a collection including works by Pablo Picasso, Henri Matisse, Jackson Pollock, Andy Warhol, and Alexander Calder. The East Building also contains the main offices of the NGA and a large research facility.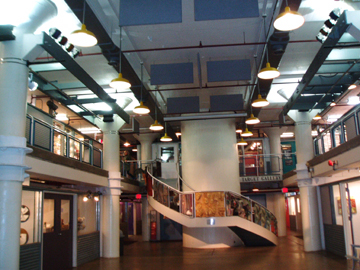 Central lobby (with surrounding artist studios)
of the Torpedo Factory, Arlington, VA
After receiving information about the Torpedo Factory Art Center in Arlington, VA for many years, I finally got to visit. This has been the model ever since they opened in 1974 for reclaiming industrial spaces into artists' spaces with studios, galleries, and schools. They are a creative alliance (their term and I believe an excellent one), between a group of artists living in the area and the City of Alexandria, VA. There are 3 floors (an elevator is available), but if you can take the steps you will have an excellent view of the various levels and artist's studios that surround the central stairway. Located on the docks of the Potomac River in a renovated former torpedo factory that was built during World War I, the Torpedo Factory Art Center has over ½ million people visiting the 82 Working Studios, 5 Galleries and The Art League School. The building is open to the public daily from 10-5pm, and every Second Thursday 6 to 9pm for Art Night. It is possible to rent the Torpedo Factory for private events. What a place for a wedding!! If you are thinking about opening such a facility in your area, contact them for their How to Start an Art Center information. Take a look online at www.torpedofactory.org and see what the factory looked like in 1918, and how it evolved into this excellent organization that is an inspiration for all who want to build cooperative ventures. Marian Van Landingham has written On Target: Stories of the Torpedo Factory Art Center's First 25 Years. This work in progress keeps evolving as more of the early artists and community members write their stories. There are a few of the original artists still at the Factory and they were telling me about the early days of no heat, pigeons flying all about, and no security. Those days are long gone. This exciting space, creatively utilized, is perfect for your next cultural exploration.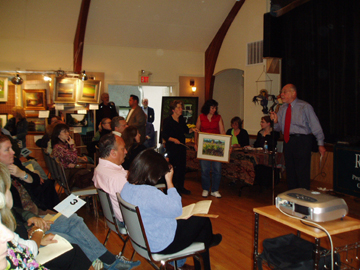 Barrett Art Center's 5th Annual New Hudson River School Paint-Out & Art Auction at the Church of the Messiah, Rhinebeck, NY with Jonas Aarons, auctioneer
Barrett Art Center held their 5th Annual New Hudson River School Paint-Out & Art Auction in Rhinebeck, NY. Several hundred people filled the Church Hall at the Church of the Messiah. Artists began their paintings earlier in the day and brought a painting already done (and dry!). The auctioneer, Jonas Aarons (a well-established art dealer in Rhinebeck), did an excellent job with paintings that began at $200 and often sold for much more. Over 60 artists participated. Monies raised will support programs at Barrett House. • The Garrison Art Center, Garrison, NY, held their Fall Artists on Location Auction and this long-established fundraiser has been the inspiration for other organizations to have such events. They select 85 artists to choose their favorite location on the banks of the Hudson River or somewhere in the Hudson Valley, and paint until late afternoon when the live auction begins. There is also a silent auction component with previously painted work by artists. This event draws collectors from beyond the region and it is always an excellent way to learn about a new artist as well as make some very good purchases. The Spring Auction usually takes place mid May.
The Sculpture Trail, in Haverstraw, NY was launched at the end of September with several hundred people attending. Curators Peter Lundberg and Michael Manjarris are representatives of the Ginsburg Development Corporation whose support began this initial phase of the project, which will bring fine art to the banks of the Hudson from Haverstraw to Saratoga. In conjunction with the Sculpture Trail inauguration, River Stone Antiques & Design Center located on Broad Street in Haverstraw featured sculptures and drawings by the Trail artists. For more information www.hudsonriversculpturetrail.org and www.riverstonearts.net
The Unframed Artists' Gallery in New Paltz, NY has just opened with a group show that has ceramic and stone sculpture, watercolors, oil pastels mixed with watercolor, and collage. Located on Huguenot Street (the oldest street in America), this cooperative expects to have a center for the arts and artists, which already includes theatre arts. By 'unframed', they wrote: "we mean not tied down to any particular concept of what 'art' 'should' be. Art is a great healer and recreates our reality and needs to learn to nourish and listen to the inner visions of beauty and meaning also witnessing and transforming the pain of life".
Enjoy the colors of Fall…