Culturally Speaking
By Cornelia Seckel
ART TIMES November 2005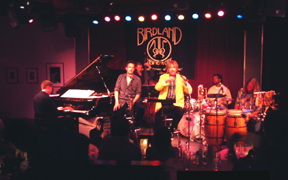 Mark Murphy and his back up band: Till Brönner, trumpet

;

Obed Caravale, drums

;

Gilad Dobrecky, percussion; Max Vater, bass;
Misha Piatagorsky

, piano
It seems as if I just wrote the October column and here it is time to write November. Time is moving too quickly, and soon it will be deadline for our January/February issue, which are the months that we combine. December 12 is the deadline for calendar and opportunity listings and the advertising should come in by December 15. Please note that we need your calendar information to adhere to our guidelines that you will find either online by going to the calendar or that are available by email to you. It has become increasingly clearer to me that we must have your cooperation to continue the free listings of the region's cultural events. We receive hundreds of calendar listings each month with many ambiguously unclear while others don't have the full information we need (like addresses, phone numbers, and closing dates for exhibits). If you can't get online, look at the calendar, replicate the format you see and send us that information. You can also email us for guidelines and I will quickly send them back to you. Your cooperation will allow us to continue to include (as we have heard from many of you) a very valuable service.
Ed Cleveland has been showing his large format, black & white fine art photographs in numerous galleries and museums, and after 20 years wanted to present his work in his own way and to make it available to more people. "I am taking my art in a new direction and am doing 'photographic paintings', photographs that I hope will invite the viewer to step into the image." He has opened up Photographic Expressions, a "quaint" gallery set in a turn-of-the-century garage, located in West Shokan, NY. The interior is "sitting room" style, where one can relax among the images displayed along the walls on easels and railings. To see the work call 845.657.5752 • Claudia Cummings, veteran soprano of City Opera of New York, San Francisco Opera and many other companies, is on a mission to help serious young singers who want a career in opera and often have no place to start — therefore she has formed the Opera Company of the Highlands. The first production, Johann Strauss' Die Fledermaus, takes the stage through Nov. 6 in Cold Spring, Poughkeepsie, Newburgh, and Blooming Grove (NY). The production is directed by Roger Hendricks Simon, a founding member of Yale Repertory Theatre and owner of Simon Studio of NYC and Poughkeepsie. For more information call 845-562-5381 or visit online at www.OperaCompanyoftheHighlands.org • Hudson Valley Pottery – Flux Gallery, located in Rhinebeck, NY, has classes for adults and children of all skill levels. Michael Humphreys and Jenine Repice, owners of the studio and gallery, have created a comfortable environment where classes are hands-on and designed to introduce students to the medium of clay in a fun and relaxed atmosphere. In addition to the studio there is a gallery featuring functional hand made pottery by local and national artists. Both Michael and Jenine are potters and recently moved to Rhinebeck. With their love of pottery, it is their hope to make this medium more accessible to learn and appreciate. Find out more by calling them 845.876.3190 or going to their website: www.hudsonvalleypottery.com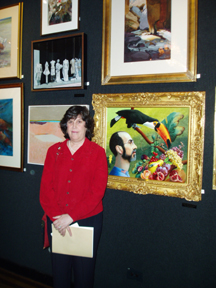 Sharon Florin and her oil painting
Norma's Window at the Catherine Lorillard Wolfe Art Club 109th annual Open Exhibit. National Arts Club, NYC.
Catherine Lorillard Wolfe was an American scholar and philanthropist and was the only woman among the 106 founding members of The Metropolitan Museum of Art. Her collection, which was left to the Museum, formed the basis of the European Painting Collection. She willed money to Grace Church in NY to be used for some form of "women's work", and in 1896 the Catherine Lorillard Wolfe Art Club, whose aims were to aid, counsel and provide meeting and exhibition space for young women art students, was established. The tea sandwiches of watercress, cucumber, and sometimes meats served during the cocktail hour are reminiscent of those early days. The Catherine Lorillard Wolfe Art Club's 109th Annual Open Exhibition held at the National Arts Club, NYC was spectacular. It is true that each year one feels that the show is better than ever and that should be the case and was the case. The paintings and sculpture, ranging from abstract to realism, gave an excellent overview of what is being done today and the very high quality of work was exciting to see. I particularly liked the humor in many of the sculptures. There were artists whose work I know and was happy to see new images and new artists who I hope to see more of in the future. The Preview Cocktail Party held early in October is a fundraiser for curators at the Metropolitan Museum of Art. At the Awards Dinner this October was a presentation to Ruth B. Rieber, 2005 Honored Member for her printmaking, painting and being an important member of the Club. There is always a speaker from the "Met" and they are always appreciative of the extra monies that allow them to travel while doing research for exhibitions. Sharon Florin won the ART TIMES Award for her oil painting Norma's Window. As it turns, out I won't be at the Awards dinner to present the award since I am giving the talk "How to get the attention of the Media" at the Women's Studio Center in LIC. This is a talk I give fairly often. If you would like me to speak to your group, give me a call or email at the office.
While delivering papers last month I came across Diana Freedman-Shea's work at the Noho Gallery in Chelsea. The show includes work from recent travels, and she captures a place wonderfully: Children swimming in the Mediterranean at Nice; the Red Light District in Amsterdam; the hills and trees of Tuscany and NYC highways. Many of Diana's paintings are done from unusual and very interesting perspectives.
When my friend Sally Holderness (aka fisherwoman extraordinaire) came to visit from Florida, I took her on a tour of the area where I live that included a delightful ride up into the mountains to Tannersville, Hunter, Windham, down through Phoenicia and into Woodstock before we ended back at my home. After a few days we headed to Manhattan for a night on the town. First we stopped at several of the art clubs and then headed over to the first show (and stayed thru the 2nd) at Birdland to hear jazz vocalist Mark Murphy. According to the management (as written on their website) "It was Charlie Parker, familiarly known to his fans and fellow musicians as "Bird," a contraction of Yardbird, his formal nickname, who was the dynamic creative personality and genius of the alto saxophone who served as the inspiration for Birdland". When the original Birdland opened in December 1949, Charlie Parker was the headliner and the club was located on Broadway, a few blocks west of 52nd Street, which was a hotbed of jazz in the 1930s and 40s. Today, after several moves, Birdland is back in mid-Manhattan where the food is great and the music is fabulous. After the first set we were transfixed and stayed on for the 2nd set. What a thrilling evening. What a gift to sit and hear this well seasoned musician expose his depths in the ballads he sung. Mark showcased several of the cuts that are on his latest album Once to Every Heart (produced by trumpet player Till Brönner — of Germany — for Bam Bam Music) including his own composition I Know you from Somewhere, and old ballads such as It Never Entered My Mind, Skylark/You Don't Know What Love is, Love is here to Stay and When I Fall in Love. As I write this I am listening to the album, and it is superb. The combination of voice, of lyrics, of some indescribable something, just reached out and touched me to my very roots. Mark Murphy has been part of the Jazz scene for over 50 years and has been acclaimed by the great Jazz Vocalists of our times. His vocal expressions, his range and the smoky timbre of his voice, make listening pure joy. Till played with Mark's regular band at Birdland and his trumpet and Mark's voice blended and played so beautifully together that at times it was hard to distinguish which was which. The other musicians in the band were outstanding as well, and I found myself particularly enchanted with the variety of sounds and instruments blended into the whole band by percussionist Gilad Dobrecky. Pianist Misha Piatagorsky is world class and I could have listened to any one of them or a combination and been happy. It was a very exciting evening, and listening to live music in such an intimate setting is the best. Getting to sit and talk with the musicians is unique to this type of venue and a very extra bonus. I urge you to visit some of the jazz clubs, chamber music venues, small theaters, to get up close to the creative energy. It is beyond thrilling. For more about Mark Murphy and his new album www.markmurphy.com; www.ververecords.com
As this is the month of Thanksgiving, let me thank you — our readers, our advertisers and our staff writers at ART TIMES — for the support you have shown and given us over the past 22 years. See you all out and about.