CULTURALLY SPEAKING
By Cornelia Seckel
ART TIMES November 2007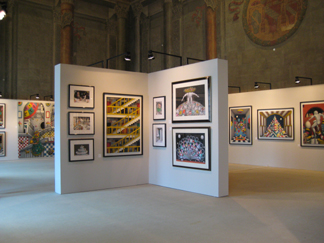 One of the galleries, before the crowds arrived, of Pier Augusto Breccia's exhibition at the Roma Palazzo Venezia
What a month. We were in Rome for the first week and then I didn't stop. Exhibitions, The Woodstock Film Festival. Raymond's lecture at the Bruce Museum…
First off the Lecture at the Bruce Museum: "The Art of Art Criticism" is one that Raymond has given several times; each time I learn new things and of course he tailors it to each audience. The room was filled with docents, artists and arts enthusiasts who truly appreciated his thoughts and philosophy. Raymond will be talking about "The Artist as Seer" at the Salmagundi Club, NYC on December 9th at their Brunch/Lecture series. It is open to the public so give the Club a call and make a reservation. While I'm speaking of Raymond, several of his paintings will be on the members' wall at the Woodstock Artists Association Museum during their Holiday Show and Sale opening December 4 and coming up this Spring, he will have an exhibition at the Gallery at Mezzaluna in Saugerties. He will show Landscapes from eight different countries, including the U.S.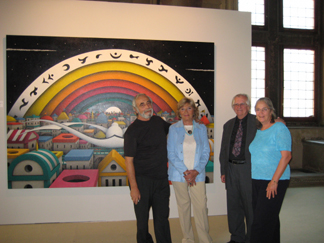 (L to R) Pier Augusto Breccia, Marissa del Re, Raymond J. Steiner & Cornelia Seckel in front of "La Città del Verbo"
during the press preview of Breccia's exhibition at the the
Roma Palazzo Venezia, Rome, Italy
Each day we were in Rome I would say "We're in ROME!" — not that we hadn't been there several times before but it was the first time our trip had a specific purpose and we were there for 8 days. Despite the crowds, which we were unprepared for as we have traveled in January and would hardly see another tourist, we revisited the top sites and I got to a several markets— something I always enjoy. We were in Rome specifically to see Pier Augusto Breccia's (www.pieraugustobreccia.it) exhibition at the Roma Palazzo Venezia. Located near Capitoline Hill and built in 1455, it was one of the first Renaissance buildings in Rome and originally inhabited by the Venetian cardinal, Pietro Barbo, who later became Pope Paul II. In 1917, Italy regained possession of the building, and it was restored. Mussolini used a balcony in the palazzo for many of his most notable speeches to people gathered in the Piazza Venezia below. In the 24 years I have been publishing ART TIMES and going to a lot of exhibitions I have never been to an opening with thousands of people in attendance. It began at 6pm and when we arrived at 5:45 there were already hundreds of people walking through the 4 galleries that were filled with 200 paintings & drawings. (See the critique by Raymond J. Steiner in ART TIMES September 2007 and online. Breccia's work, as he explains in his critique, is unique — a fact that was not lost on the over 3000 from many continents who attended on that first day. Who knows how many has attended since and will continue to do so until its closing on November 4?) As I walked around I heard people commenting to one another, studying the work carefully and generally expressing (as I later learned since I don't understand Italian) how unique the work is – how colorful and how stimulating. At the Press opening I met Marissa del Re, who for many years had a very prestigious NYC gallery on 57th Street, NYC. Although she no longer has the gallery, she is still very involved with the arts and a friend and admirer of Breccia's work. It was a pleasure to meet her as I have known of her gallery and she of ART TIMES for these past 24 years.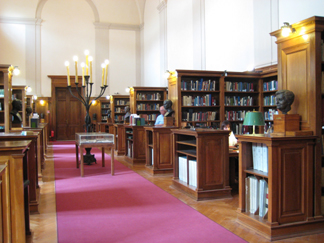 One room of the extensive library at the American Academy in Rome
As if our legs weren't already 'falling off from fatigue' we decided to climb the Janiculum Hill where magnificent vistas of Rome can be seen from several vantage points. The hill was often a major defense point for the city, the last time in 1849 when Garibaldi held off attacking French troops and therefore there are many monuments to Garibaldi in the area. Regularly we get press releases from The American Academy in Rome about events in Rome and in NY and knew that they were in a villa on the Hill near Porta Settimiani. According to their literature (I couldn't paraphrase it better): "The American Academy in Rome is one of the leading American overseas centers for independent study and advanced research in the fine arts and the humanities. Inspired by their comradeship [which has remained an integral part of the organization] in organizing America's contribution to the fine arts at the World's Columbian Exhibition in 1893, a group, including architects Charles Follen McKim and Daniel Burnham, painters John La Farge and Francis Millet, and sculptors Augustus Saint-Gaudens and Daniel Chester French, resolved to create a center to study art amid the classical tradition of ancient Rome. In 1894 McKim founded the American School of Architecture in Rome. McKim involved not only artists and architects but also the great financial geniuses of his time. J.P. Morgan, John D. Rockefeller, Jr., and Henry Clay Frick, all contributed to his enterprise. A year later the American School of Classical Studies in Rome was formed by the Archaeological Institute of America, and in 1913, a union between the two Schools became what is now the American Academy in Rome. Through its annual Rome Prize fellowship program, the Academy supports up to thirty individuals working in archaeology, architecture, classical studies, design arts, historic preservation and conservation, history of art, landscape architecture, literature, modern Italian studies, musical composition, post-classical humanistic studies and visual arts. Rome Prize Fellows are chosen by juries of experts who review past work and the proposed project of each applicant." November 1 is the deadline for fellowship applications.
We rang the bell at a wrought iron gate and were let in to the inner courtyard where we could see a beautiful villa that we later learned was the main building (there are 18 buildings situated on 11 acres) and was designed by McKim, Mead & White. Frencesca Strazzullo greeted us and gave us an extensive tour of the Villa: indoor and outdoor dining area, comfortable and homey lounges, an impressive research library with over 130,000 volumes, the beautiful grounds adorned with fruit trees, kitchen garden and colorful parrots and the exquisite views from different balconies. There are also rooms for Residents who are there to pursue their own work and be mentors to the Fellows as well as a darkroom, computer room, studios and study areas. The 17th Century Villa Aurelia has space for concerts, lectures, meetings and celebrations as well as some overnight accommodations. A wonderful place to pursue one's work. www.aarome.org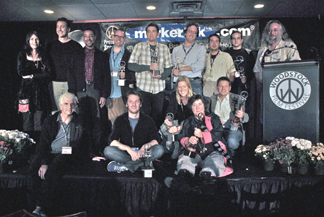 Winners and Award recipients along with co-founders ( top left Meira Blaustein & co-founder Laurent Rejto top right) of the 8th Annual Woodstock Film Festival
The 8th Annual Woodstock Film Festival sponsored by Markertek.com, America's largest broadcast supply house, was another huge success with most of the 140 films sold out in advance and the panel discussions and special events filled to capacity. Between 8-10,000 people attended the events that were held in Woodstock, Rhinebeck, Hunter and Rosendale. WFF co-founder Meira Blaustein said " We are thankful to all the wonderful filmmakers who participated in Woodstock and to all the industry members who lent their expertise and support. Together we create a unique event that celebrates the true art of filmmaking and provides a home for outstanding filmmakers from all corners of the world." The Maverick Award Recipient was Christine Vachon of Killer Films and The Trailblazer Award went to Ted Sarandos of Netflix. Film award winners included: August Evening, directed by Chris Eska for Best Narrative Feature and The Cool School, directed by Morgan Neville for Best Documentary Feature. More award winners and information can be found at: www.woodstockfilmfestival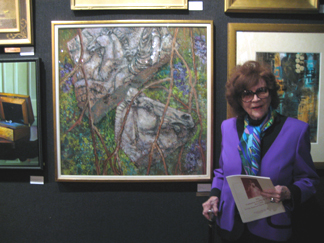 Fay Moore recipient of the ART TIMES award for her pastel "Parthenon Fragments" at the Catharine Lorillard Wolfe Art Club's 111th Annual at the National Arts Club, NYC
The Catharine Lorillard Wolfe Art Club held their 111th Annual Art Open Exhibition at the National Arts Club and each year there is a preview reception benefiting the Metropolitan Museum of Art's curators for research travel. Lucille Berrill Paulsen, the club's immediate past president and long time board member, received the Honored Member award for the extensive work she does for the club and for artists in general. Lucille, a delightful and warm person, is an excellent classical portrait artist and is quite accomplished with her still lifes and landscapes. Congratulations Lucille. I've known Fay Moore for many years and have always admired her work so I was quite pleased when the judges gave her the ART TIMES award for her pastel "Parthenon Fragments"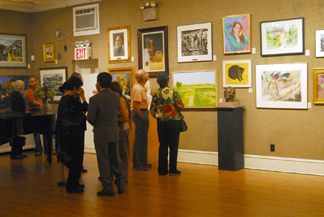 Opening reception of the Audubon Artists 65th Annual Exhibition at the Salmagundi Club, NYC
I learned from Raymond, one of the judges for the 65th Annual Audubon Artists Exhibition at the Salmagundi Club, NYC, that it was an excellent show. Su-Li Hung received the ART TIMES award for the Woodcut "Saxophone". Karen Whitman (ART TIMES critique Jan/Feb 2006 issue) won the Gold Medal for her linocut "Rooftop Rhythms". Additional award winners can be found on their website: www.audubonartists.org
The Arts Celebration in New Paltz, NY late in September, attended by several hundred people, was set up to bring Hudson Valley Artists, Writers and performers of mixed skill levels together to network amongst themselves and the public. There were three large tents and several long rows of tables/ booths set up for the numerous artists and cultural organizations to show their work; a resource table with information about other organizations, food vendors from local eateries with some delicious foods; ongoing music and poetry in the Performance tent. It was a family-friendly event and Children and Adults were smiling and enjoying themselves throughout the afternoon.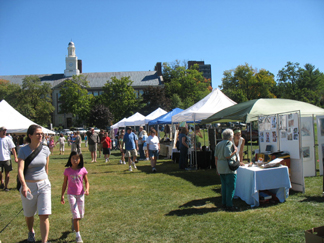 The Arts Celebration in New Paltz, NY
I got to several other exhibitions that didn't require too much traveling: Mike Fattizzi has a show of paintings & Prints at the Doghouse Gallery, Saugerties, NY and more than any other time I've seen his work it impressed me as strong and gentle • TALEO is a studio for Meditation, Music, Art, Drama and Film in Woodstock, NY. Michael Brody (director/creator) is a film producer and art patron and grew up in Woodstock. For the past few months Fred Hunt, of S. Florida has been painting at the center and has many of his wonderful landscapes and waterscapes on view. In 2004, Fred was named "Miami Master" and I can see why as there is fine technique and great sensibility in this man's work • Elliott Landy took a series of photographs of Dylan and his family at Dylan's home in Byrdcliffe, Woodstock NY. Many of the photographs taken during that Saturday Evening Post session in 1968 are in the exhibition "Dylan In Woodstock: Photographs by Elliott Landy" at Lotus Fine Art, Woodstock, NY.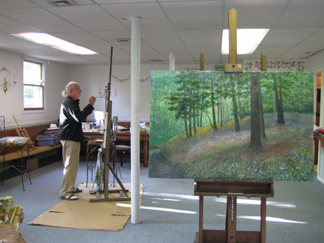 Fred Hunt (with work in foreground) at TALEO a studio for Meditation, Music, Art, Drama and Film in Woodstock, NY.
We see more than a series of pictures of a man's life with his wife and child; Landy has captured an intimate portrait of Dylan of that time and that place • Mary Anne Erickson has a solo exhibit: "Another Roadside Distraction: The Landscape of Vanishing America" at the Woodstock Artists Association Museum. These are nostalgic and delightful paintings that evoked a smile and old memories as well as appreciation for the technique and sensibility. This is part of a larger work to document roadside images of the 50's • Jon Campbell's large oil paintings, many quite abstract and provocative are on view at the James Cox Gallery in Willow, NY. Jon is the son of Landscape painter Nancy Campbell whose work is often seen in our region.
To celebrate the 40th anniversary of it's public art program, NYC Parks & Recreation is presenting 40 art installations throughout the 5 boroughs. Since 1967 The Parks Department has hosted over 1,000 temporary outdoor art displays citywide. More details and maps of installations can be found at www.nyc.gov/parks.
Enjoy the Fall, it is so glorious.