Culturally Speaking
By CORNELIA SECKEL
ART TIMES MAY 2009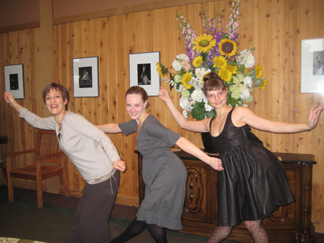 I WENT TO see the New York Theatre Ballet perform at Kaatsbaan International Dance Center in Tivoli, NY where the company had spent a week in residency. The program was a celebration of the 100th birthday of Agnes de Mille. I try to get to Kaatsbaan when I can and the performance I chose just worked well into my schedule and I didn't realize that it was the same company that Dawn Lille had written about that appeared on the front page of the April issue until I got my program. Diana Byer, founder and artistic director, was thrilled as were the dancers when we met at the reception following the absolutely delightful performances of some of the original dances from Brigadoon, Carousel and Oklahoma as well as a number of de Mille's most popular ballets. I remember meeting Agnes de Mille at the Gold Medal Award Dinner in her honor at the National Arts Club. Her response to the award was "It's about time"— and then she elaborated how she felt Dance was the least supported and acknowledged of the arts.
I gave myself some extra time and stopped to see the exhibit at Tivoli Artists Co-op in Tivoli (www.tivoliartistsco-op.com) where I saw "Works on Paper", a group show curated by Karl Volk. Their next group show is "Henry Hudson/Hudson River" and Greg Martin has a solo show. The Tivoli Artists Co-op is an organization of visual artists and performers who have come together to present their work to the public in group and solo exhibits. During the year, there are prose and poetry readings, art classes & workshops, and performances by local musical talent.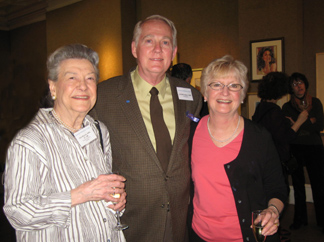 The American Watercolor Society held their 142nd International Exhibition at the Salmagundi Club in NYC. What an excellent exhibit. It is no wonder why busloads of artists from the region go each year to see the work of these fine painters —there is a painting lesson in each picture. I was able to get to the opening reception this year and was pleased to be able to put faces to so many familiar names. There were over 1000 entries and only 10% were accepted. According to the new Executive Director Janine Le Seur, it is harder and harder for the Jury of Selection and the Jury of Awards to make their decisions. The AWS Gold Medal of Honor went to Pat Holscher of Washington, NC; Silver Medal of Honor went to Mary Carlton of Suquamish, WA; Bronze Medal of Honor to Woon Lam Ng of Singapore and the Mary Bryan Memorial Medal went to Alice Warshaw of Lawrenceville, NJ. There were many more cash awards and in all totaled $40,000. Artists are juried to be part of the traveling show that will go to Texas, Alabama, Tennessee, Virginia, Florida and Springfield, MA. Take a look at their website for details on the show and traveling schedule: www.americanwatercolorsociety.com
The Quadricentennial Celebrations have begun up and down the Hudson River and in my area, the kick-off party was a preview of what the rest of 2009 has to offer: Restaurants with specialty dinners for $16.09, Art shows; Tours, Performances, Festivals and generally all the usual events and more geared to mark the 400 years of Dutch History. Learn more at www.HudsonRiver400.org
The opening reception of Betsy Jacaruso's Students' Exhibit was quite an event. I would guess several hundred people came to see the work, cheer on exhibiting friends and family, and to support the efforts Betsey makes with her students and studio. See Raymond's profile of Betsy in this issue.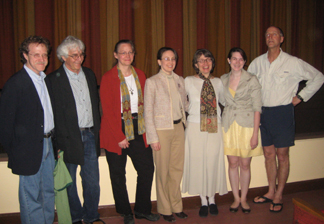 I went to Hudson most specifically (something draws me to an area then I explore as much as I have time for) to see "Sacred Ground", an exhibit by pastel artist Marlene Wiedenbaum at Carrie Haddad Gallery. I have always admired Marlene's work and these luscious and familiar landscapes were dynamite. It is hard to see how the fine detail she gets is done with pastel — but that's why she is a signature member of the Pastel Society of America. Also on view was work by Thomas Locker and Jeff Briggs. Carrie has built a fine reputation as an art dealer who since 1991 has featured contemporary artists of the Hudson Valley and now, since Thanksgiving, has a 2nd gallery (photography) in Hudson. See more at http://www.carriehaddadgallery.com I continued down Warren Street stopping at most of the galleries that were open, including the Hudson Opera House to see work by Myron Polenberg; Deborah Davis Fine Art — who has a very large and deep space with a group showing of landscapes in the front gallery, a solo show (Barbara Green in May) in the middle gallery and miscellaneous work in the back gallery; and on to Albert Shahinian Gallery who has a group of excellent painters showing in his Hudson Gallery. Gary Fifer was featured while I was there and a major show of Yale Epstein's work will be up in May.
I crossed the Hudson and headed to Catskill to see the premiere of the "Thomas Cole: Painting the American Landscape", a beautiful film that clearly reminded everyone in the audience why we live in the region. The film explored Cole's approach to landscape painting, focusing on the hikes he took for picturesque views. (One of the programs coming up at the site is hikes to some of those spots to see not only what Cole did but work by contemporary artists). The audience of the community theater was nearly full and this beautifully done documentary was extremely well received. According to Elizabeth Jacks, Executive Director of the Thomas Cole Historic Site: "The film, which was laid out in our strategic plan, is designed to both introduce Cole to a novice visitor and also bring new insights into Cole's creative process for even the most knowledgeable art history scholar." Funded by the National Endowment for the Humanities, the film was directed by Eric Taylor and Jaime Bernanke. Mr. Taylor has written, produced and directed prime-time television documentary programs for CBS, NBC and PBS. Mr. Bernanke is a writer and producer of documentary films. The film will be shown at the site's visitors center beginning on May 2.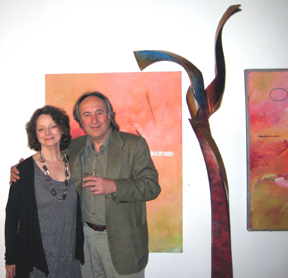 After seeing the film I visited several of the galleries in Catskill, NY. Union Mills is a complex of buildings undergoing renovation. In the creek-side warehouse 25 loft apartments are being created and in the Main Street buildings, Andrea Cunliffe is inviting artists to show their work and musicians to enjoy the great acoustics and will host Book Signings, Dance, Photography, Theatre, Installations and more. This will continue until the building is sold. While at the gallery I saw fabulous sculptures by Alex Kveton and large colorful paintings by Ruth Edwy. www.unionmillsgallery.com • Patrick Milbourn (critiqued by RJS in the June 2006 issue of ART TIMES — and still available to view on our website) continues to show his work at M Gallery and is donating a portion of proceeds from paintings sold during this show to the Thomas Cole House. Patrick does powerful, often misty landscapes at Gallery 42 in Catskill: see his work at http://www.mgallery-online.com • At Gallery 42, I met Tom & Di-Anne Gibson and they gave me a tour of their lovely historic home which also houses a good collection of work by Tom's uncle Lawrence Calcagno (1913-1993). He studied with Mark Rothko and Ad Reinhardt and his abstract watercolors and gouaches are intriguing, the kind of work one can spend a long time exploring. Tom & Di-Anne are undertaking the challenge of getting his work back out into the world and what a labor of love, no matter how well known the artist.
Roos Arts is a new contemporary art space located on Main Street in Rosendale, NY. The inaugural exhibit is a group show titled, "Meet & Cake". Director Carrie Schapker said that they are excited to become a part of this wonderful community of creative artists, and hope to present many more readings, performances, artist talks and exhibitions. For more information www.roosarts.com.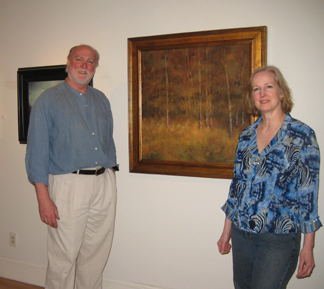 Another new venture is the Gazen Gallery on Montgomery Street in Rhinebeck, NY. Owner Joel Weisbrod told me that their goal is to provide an opportunity for every home, business, and institution to begin or add to a collection of art that includes photography, painting, sculpture, and other art mediums; their focus is on contemporary - modern - and abstract art, featuring Rhinebeck and Hudson Valley artists. They hope "that the gallery environment will stimulate visitors to think outside the status quo - develop new ideas while motivating the expression of the individual artist or art lover." www.gazengallery.com
Some news to pass along: The Top 10 places for artists, as named by www.businessweek.com:
1. Los Angeles, CA 
2. Santa Fe, NM
 3. Carson City, NV
 4. New York City, NY 
5. Kingston, NY 
6. Oxnard-Thousand Oaks, Ventura, CA
 7. Nashville, TN
 8. Boulder, CO
 9. San Francisco, CA 
10. Nassau-Suffolk Counties, NY. Looks like ART TIMES is certainly in 3 out of the 10 places.
ArtsWAVE (Arts in Wawarsing and the Village of Ellenville, NY) is one community's answer to the reduced funds and support for arts. This group has created exhibition space, a community events calendar, an artists' resource directory and has a large building available for rent for art related activities. A good idea for other communities to note. Learn more at www.ellenvilleny.org (click ArtsWave).
Raymond went to see the Silverman Family Show — Elijah Silverman (father), Ruth Silverman (Mother) and Susan (daughter) — at the Karpeles Manuscript Library Museum in Newburgh, NY. He was happy to revisit the work of this talented family of artists since he had met and included them all in his book, The Art Students League of New York: A History over ten years ago. He was especially pleased to see a large body of work by Ruth, the 'romantic' in the family, a wall of self- and family portraits by Elijah, the 'serious' artist, and a rather modest (five works) of Susan's, who has inherited a bit of both, showing that she was obviously giving center stage to her parents, the source of her own inspiration. On the way back from Newburgh, Raymond then stopped in at the Mark Gruber Gallery in New Paltz, NY, to see "Telling Tales", a group show that featured Carolou Kristofik, Marie-Louise McHugh and Karen O'Neil. Mark Gruber has shown consistent good-taste in the choice of his exhibited artists and this time was no exception. Kristofik — featured in our pages in April 1999 — is always commanding, her still lifes simply arresting. O'Neil, with her warm view of nature, has once again proven why she is a perennial favorite throughout the Hudson Valley. McHugh was new for him, her work of corn and clowns (the images that hung in his mind) a bit wistful and shivery with an underlying energy that hovered beneath the paint.
That's it for this month. We will have 1 more single month issue (marking the end of our 25th year) and will begin publishing every other month with the Jul/Aug issue. Our website continues to grow and surely will have additional essays, calendar and opportunity listings.