Culturally Speaking
By CORNELIA SECKEL
ART TIMES May, 2005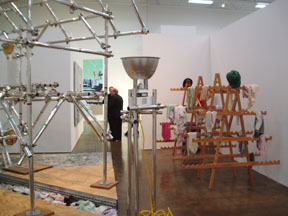 Several works of art at the Hudson Valley Center for Contemporary Art in Peekskill, NY

Spring has finally come, the forsythia bushes are blooming and the lilacs won't be too far behind. Crocuses, daffodils and tulips are showing off their glorious colors, and from now till Fall there will be fresh flowers from my gardens. Some artists find this a difficult time to create as Mother Nature fills her canvas with all the hues of the spectrum, but what I find is a flourishing of art activities: craft shows, plein air painting and auctions, new galleries opening, theatre and music festivals announcing their summer programs. So much to see and enjoy and to partake of…
I was able to do much more exploring this past month and was pleased to see some new spaces, re-acquaint myself with places and people I haven't seen for quite a while.
I was pleased to get to the Hudson Valley Center for Contemporary Art in Peekskill and see this Center, the work of Livia and Marc Straus, collectors of cutting-edge contemporary art for over 35 years, and people who are devoted to developing a public space where such works would be exhibited and used for educational purposes. Located in an area away from the activities of a regenerated downtown, and in what felt to be a "run-down" part of town, I approached a large unobtrusive building from the parking lot and was unprepared (although I have been reading about the center and their collection) for what I saw when I entered, and was greeted by Director Sara Pasti. It was huge: 24 foot ceilings, a relatively open 10,000 square foot space that was partitioned off to present more intimate viewing areas including a reading room, lecture space and dedicated media galleries for video, film and sound works, plus a 2,500 square foot two-story mezzanine with additional gallery space and offices. The artwork (primarily from the Straus's collection) was diverse and of high quality. The center is not a collecting institution, but a place where work will be on view for at least a year in the large space, and in the smaller, upstairs area, exhibits will change several times a year. On May 22, Figure it Out: Contemporary Figurative work in video and sculpture will open and feature work by a younger generation; re-opening in the Mezzanine Gallery will be First Look, an invitational exhibit by 15 artists graduating from MFA programs around the country. On May 19, at 6pm, Video artist Olaf Breuning's Home and Group will be shown with a discussion following. Artist Residencies and projects, interdisciplinary events, parent and family programs, public lectures, discussions and symposia as well as student/adult docent programs are all part of the mission of this institution. I am impressed by the scope of the project and the high level of professionalism of the supporting staff. HVCCA is an important and valued addition to the art offerings of the region. Learn even more by going to Peekskill and seeing the center and at their website: www.hvcc.com
While I was in Peekskill. I visited the Flat Iron Gallery owned and directed by Wende Garber who does an excellent job of publicizing her gallery and artists. Each time I have gone into this gallery I've been impressed by the quality of paintings, the diversity of the fine arts and crafts, jewelry, ceramics and gifts that fill the 3 small rooms. On the next floor of the building Wende has another gallery where large works can be shown. Often featured are silk paintings & watercolors by Bernice Pliskin, ceramic sculpture by Marlene Ferrell Parillo, oils and drawings by Andrew Lattimore, More artists works and information can be found at the website: www.flatiron.qpg.com. Peekskill is implementing First Fridays with shuttle service around the city. Every weekend can be spent exploring different towns in the Hudson Valley: 3rd Friday in Tarrytown, 2nd Saturday in Beacon, 1st Saturday in Kingston, 3rd Saturday in Poughkeepsie, 2nd Saturday in Woodstock (to begin in June) with other towns soon to join in with a day of art openings.
In Beacon, I stopped to see paintings by Corso de Palenzuela, "Visions from a Cuban Outsider", at Kiesendahl & Calhoun Contemporary Art located on Main Street. This gallery is celebrating their one-year anniversary, and it has been a year of some very interesting and fine exhibitions. On view now are paintings by Robin Price and I saw a few of her large oils — quite beautiful and serene work. Find out more at: www.kandcgallery.com. Also in Beacon is Finder Keepers, a shop combining antiques and art that is just celebrating their one year anniversary— Congratulations to owner, Allen Parva. The 2nd Saturday Celebrations in Beacon are a lot of fun and a good opportunity to meet featured gallery artists, and visit many different art venues.
Gallery du Soleil, owned and managed by Tarrytown resident Jean-Claude Canfin, art lover and now art entrepreneur, is a contemporary art gallery dedicated to bringing the best in emerging and established art to the Hudson Valley. Located on Tarrytown's scenic and historic Main Street, Gallery du Soleil is a new addition to the area and a resource for art collectors and decorators looking for high quality and unusual works of art. Jean-Claude will bring many international artists to show at the gallery. The website: www.gallerydusoleil.com features bios and statements from the artists, and other information on the gallery and works displayed • The Open Studio owned by Greene County artists Dina Burstyn and Julie Chase is at 402 Main Street, Catskill, NY. According to Burstyn and Chase, "This gallery offers a changing environment to encourage imagination and provides a place to ponder, wonder and thread stories". They wrote that they are focused on the art of every day life, either metaphorically or literally, and periodically will show work of other artists from the Hudson River region and New York City. The Open Studio features an original collection of objects and artworks from large totemic sculptures to miniature prints that reflect social and political awareness. For more information they can be reached at (518) 943-9531 • Megan Sirianni, owner of Gallerie@82 in Sea Cliff, NY, intends for her gallery to include up and coming artists from all over. Having lived in France for the past 22 years, she will be showing her artists' work both in Sea Cliff and in France, as well as creating other outlets for artists. Educating customers is important to her, and she plans to have lectures each month. As Megan sees herself primarily as an artist, the gallery gives her the chance to share resources and create a supportive space for other artists. She said, "It may be a dream to think that after 25 years of painting I have been given a chance to run this gallery, to share it with other artists who are talented, yet can't find the gallery that suits them. Gallerie@82 is a bit underground, a bit zesty, maybe over the top at times with the flare of international spice. I love it. At Gallerie@82 I want the artist to win." • Ed Maestro has informed us that Maestro Gallery and Woodstock Cafe will have a grand opening on May 28th, featuring the installations, sculpture and paintings of Norma and Ed Maestro, plus other nationally acclaimed artists. This new gallery and cafe, located in Woodstock, NY, will feature contemporary art plus a Café and will be open in the evenings, with music, poetry and organic refreshments. The more venues for the arts the better; all these places sound exciting and are an asset to their communities and the larger arts community. Congratulations!
The Debut Season of Chamber Arts Festival of Marbletown (NY) will begin their 2 weekend concerts on May 27th and run two weekends. World-class chamber artists and ensembles will perform at the historic Marbletown Reformed Church in Stone Ridge, NY. Artistic director David Alpher, composer, pianist and recording artist, who was for 10 years co-director of the Rockport Chamber Music Festival in MA, says that, "Live chamber music is an intensely intimate exchange between composer, performer and listener— that's what makes it so special." For a look at their schedule, go to their website: www.chamberartsfestival.org.
"Swingin' the Benny Goodman Songbook" features Terry Blaine, vocals, Mark Shane, piano and Allan Vaché, clarinet. What a delightful CD and what a great tribute to Benny Goodman, and this period in classic jazz history. A concert in Saugerties mid April launched a tour that will take them back and forth across the country. Check out their website for more information and where you might catch up with them. www.terryblaine.com.
The Woodstock Byrdcliffe Guild Symposium Celebrating Byrdcliffe: An American Arts and Crafts Colony held in April at the New-York Historical Society was a great success. There were 5 distinguished presenters, each giving a different perspective on the Colony. The "Byrdcliffe: An American Arts and Crafts Colony" traveling exhibition will be on view at The New-York Historical Society until May 15, 2005. Check with the Historical Society for additional programs. The exhibition features over 190 examples of Byrdcliffe artists' furniture, metal work, textiles, ceramics, drawings, and paintings.
A Dancer's Journal is a collaborative effort among Planit, the Martha Graham Dance Company and ARTSEDGE, the online project of the Kennedy Center's Education Department, Washington, DC, that provides resources, lesson plans and media-rich activities for students and teachers. Designed to entertain and educate through exploration, each book contains interactive journal entries, video clips, music, photos and animation that showcase Martha Graham's history, as well as the motion and technique behind her choreography. Phase one of the site, featuring Lamentation and Appalachian Spring, was launched in February. The remaining books, Diversion of Angels and Errand into the Maze, are scheduled to launch this Spring as the company travels to other destinations on its tour. Check out this very interesting site and excellent learning experience www.artsedge.kennedy-center.org/marthagraham/index.htm.
Congratulations to Bibi DeFelice on the 1-year anniversary of Noble Tree Gallery, featuring handcrafted furniture by over 30 woodworking artisans. The work in the gallery is exceptional in design and workmanship, and can be seen at the website: www.nobletreegallery.com.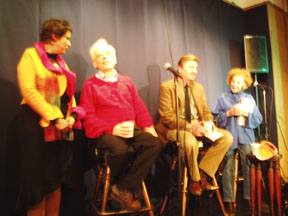 (L to R) Susan Charlotte (Producer), Austin Pendleton, director, and actors Larry Bryggman and Joan Copeland during the Q&A after a reading of Arthur Miller's "I Can't Remember Anything" – With my apologies, photo is quite blurred but does give the sense of intimacy of the productions – CS

Susan Charlotte, writer, teacher and now producer, was recognizing the difficulty in having one act plays produced. Many outstanding and well-known playwrights have one-act plays that are exceptional, and we hardly ever get to see them. In 2005, Susan began Food For Thought, presenting a reading of a one-act play in an intimate setting. A reading, rather than a staged production, gives the audience a chance to hear and see what Susan feels is "the most engaging material and match it with the crème de la crème of actors." Actors such as Kathleen Turner, Danny Aiello, Polly Bergen, Frances Sternhagen, Eli Wallach, Judd Hirsch, Marlo Thomas, and Anne Jackson are just a sampling of the actors that in the past 5 years were able to commit to doing reading which meant just one rehearsal the day of the reading. What audiences see is that actors can take greater risks in their performances, and of course a one-day commitment is easy compared to an indefinite run on or off Broadway. Eleven Seasons later with a Fall & Spring season, 2 readings a week and 75 in a year, Susan Charlotte and her production staff have brought plays by (and just this season) Arthur Miller, August Wilson, Thornton Wilder, Steve Martin, Tennessee Williams and others to an audience that just keeps growing. Actors are paid according to equity fees scale and the revenue for the productions comes from the sale of tickets. Since the 2nd year, Food for Thought has taken place at The National Arts Club in NYC. What an excellent venue! At the end of each reading is a Q&A with actors, directors and sometimes the playwrights resulting in an intimate exchange of ideas. Now there is Cocktail Hour Theatre on Friday evenings as well as the Lunch Hour Theatre. Each season, a play is read 4 or 5 times by a different cast. I was fortunate to see Joan Copeland and Larry Bryggman reading "I Can't Remember Anything" by Arthur Miller and directed by Austin Pendleton. What a powerful experience to hear these two pros reading this very exciting and engaging play. People come from all over, not just the suburbs but out of town visitors and groups. This season's productions are dedicated to Arthur Miller who was a frequent participant in Food For Thought. I greatly admire Susan's tenacity in making this happen, as well as her dedication, skill, and creativity. Next season's schedule is already set and you can take a look online at www.foodforthoughtproductions.com. Seeing a reading is an experience you won't forget and one you will want to repeat.
It was a full day for me at the National Arts Club, and that evening I attended the Presentation of the Medal of Honor to Jack Lenor Larsen for Interior Design. I also learned more about LongHouse Reserve, in East Hampton, NY, an organization whose mission is "to exemplify living with art in all forms through its gallery, arboretum, sculpture gardens, and programs." LongHouse brings together art and nature, aesthetics and spirit, with a strong conviction that the arts are central to living wholly and creatively. For more information: www.longhouse.org.
Return to Culturally Speaking Index