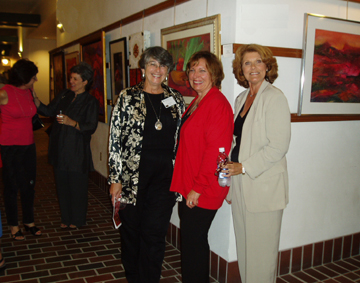 (L to R) Lorrie Turner, Roni (Veronica) DiSabello- 2nd Vice President and Pat Grillo, President at the opening reception of the Boca Roton Museum of Art Artist Guild Juried Exhibition
Culturally Speaking
By CORNELIA SECKEL
ART TIMES March 2006
Every few years I spend January in S.E. Florida. Most of my time is spent in hanging on the beach, visiting friends, reading and doing nothing — a very different day-to-day life than when I am in the office working on the next issue of ART TIMES. However, I always take a look and see what is happening in the Cultural Scene and getting to see what I can.
While in Southeast Florida I visited Lorrie Turner, PSA, who recently moved to DelRay. It was an excellent opportunity for us to catch up with one another and for me to get some handles (and pass along to you) how an established artist creates a new life in another location. Lorrie joined several guilds, and began submitting her work to regional art shows and fairs. Basically, this is the route to take (no matter where you may relocate) in order to get involved, to learn what exhibiting and teaching opportunities there are, and to meet other artists. Boca Raton Museum of Art Artist Guild is one of the groups Lorrie joined, and as it turned out I was available to get to the opening of the exhibit Images: January 2006: a Juried Fine Art Exhibition. I asked several artists how they got themselves established and most of then followed the same route Lorrie took. As with most guild and association shows, the juror and judges come from near-by museums and galleries, and with all such shows some of the work was excellent and some not. This group, founded in 1984 by the Board of Trustees Boca Raton Museum of Art, has a beautiful gallery with high quality paintings, photography, and sculpture in the very upscale Mizner Park (a shopping mall with posh shops, restaurants, and galleries) in Boca Raton near the museum. Currently at the Museum is James McNeill Whistler: Selected Works from the Hunterian Art Gallery, Glasgow, Scotland; Milton Avery: A Retrospective of Nudes; and Toulouse-Lautrec and His Contemporaries: The Art of the Poster, all up until April 2.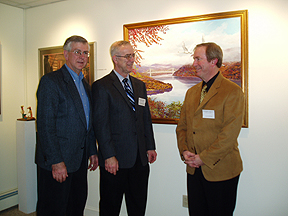 (L to R) Robert, William, Paul Gould at the reception for their father John F. Gould's centennial exhibit at the Hudson Valley Gallery, Cornwall-on-Hudson, NY
Not very far South of Boca Raton is the Fort Lauderdale Museum where The National Geographic Exhibit Tutankhamun and the Golden Age of the Pharaohs is on view until April 23. Restaurants in the area are offering Egyptian meals, and stores are featuring Egyptian jewelry and artifacts. At the Norton Museum in West Palm is French Impressionism and Boston: 
Masterworks from the Museum of Fine Arts 
through March 5 and Earthen Images: Ceramics from Ancient America
 through May 28.
One can find top-notch Music Festivals, Art Fairs, Theater Productions, as well as The Palm Beach Poetry Festival, Mile Long Art Show in DelRay, 44th Annual Original Miami Beach Antique Show, Basel Art Miami Show, Art Deco Festival in Miami Beach, Contemporary Art and Antiques in W. Palm, Palm Beach International Fine Art & Antique Fair, Street Painting Festival in Lake Worth (100,000 people showed up last year!), SunFest (reported to be Florida's largest music, art and waterfront festival), and new this year is the Fort Lauderdale Orchid Show. This is just a sampling of the cultural events.
Soon after arriving back North I received a copy of the Reiss Source Director of the Arts written and edited by Alvin H. Reiss. This book, for every area and discipline of the cultural community, has nearly 450 detailed entries of organizations in the US & Canada, with local service as well as international organizations. Included is information on their funding, publications, research projects, conferences and workshops. Available at www.aebmedia.com
The sons of John F. Gould's are celebrating the centennial of their father's birth with exhibitions of his paintings and illustrations throughout the region. John F. Gould (1906-1996) had a long career in art both as an instructor and artist. In 1957 John Gould established the Bethlehem Art Gallery now run by his sons and located in Salisbury Mills, NY (www.bethlehemartgallery.com or 845-496-4785). The work on display at the Hudson Valley Gallery in Cornwall-on-Hudson (a gallery with 3 good-sized rooms owned by his son Paul Gould who has carried on his father's tradition of being a well-admired instructor) includes paintings of locomotive and rapid transit subjects as he was an art consultant for General Electric Company in Erie, PA in their Locomotive division. There are also illustrations from his 8 years as an illustrator for the Saturday Evening Post. I particularly liked seeing his pulp art illustrations and his sketchbooks. There were 2 large landscapes that I kept going back to admire. Hundreds of people attended the opening, including former students, collectors, friends, and admirers. I was quite pleased to see such a tribute to a man who honored his profession.
A new gallery has opened in Catskill, NY. Gallery 384 has opened with an exhibition of works by artist Roberta Griffin. Generally the work on view will be cutting-edge and socially provocative art from local and national artists. This will also be a venue for lectures, films, and cultural programming.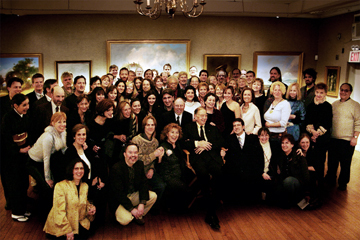 Frank Mason (seated center) surrounded by former students on his 85th Birthday Celebration at the Salmagundi Club, NYC
(photo thanks to James Burger)
Frank Mason celebrated his 85th year with a sensational exhibition of his work at the Salmagundi Club, NYC. Hundreds of friends, former students, family patrons, came as far as Greece, France, San Francisco, and the Midwest. A video montage of Frank's paintings, his life, the studio in NY, and the summer classes in Vermont where he has been teaching for the past 40 years was shown on the lower floor of the Club. I am looking forward to the finished project, which may be several years from now. A major figure on the New York City artscene for almost his entire career, Frank Mason has almost single-handedly kept alive the tradition of fine art painting through his many years of passing on the academic baton at the Art Students League of New York.
Our website is getting a lot of hits (86,000 last month), and we are offering advertising opportunities online. Check the website for the rates or call/email and I'll send them off.
We are excited about our editor Raymond J. Steiner's solo exhibition "Landscapes of the Hudson Valley" at the Woodstock Artists Association Museum, Woodstock, NY, on April 8, and invite all of our readers to join us at the Opening Reception on April 8 between 4 -6pm. Landscape painting has been an avocation of Steiner's for some years, his love of nature and knowledge of the Valley a result of 60 years of wandering the region's woods and mountains since his boyhood.
My time off was excellent and I am looking forward to catching up with you as I make the rounds of the cultural offerings of our region.