By Cornelia Seckel




ART TIMES March 2009

Economy being what it is we are attempting to give our print and online advertisers even more for their dollars and make advertising on our website (www.arttimesjournal.com) easy and very affordable. All print advertisers will have a link to their website and for those not advertising in print we are offering hotlinks from the calendar and opportunity listings (per month or for the year) in addition to our now well-established banner ads. Many of you noticed that the J/F issue was available as a pdf on our website and I will do that with each issue. Given the continuing rising cost of paper, printing, postage and delivery we will move to a bi-monthly format beginning with our 26th year the Jul/Aug 2009 Issue. We will publish six times a year as opposed to our present practice of publishing ten issues. Months that we don't have a print issue we will be uploading new opportunity and calendar listings as well as new essays. Last year we had over 750,000 hits to our website. This is an exciting new direction and one that I believe will provide our readers with good resources and fine writing. With so many publications folding their tents, I just wanted you to know that our long-established advertisers and growing readership have insured that we will not be among them.

It was a delightful month of R&R which included a family cruise, exploring the arts in Coconut Grove, seeing what old (long-standing) artist friends are up to, and of course some fishing and hanging out on the beach.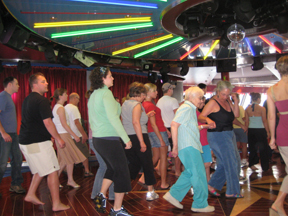 A Cha-Cha lesson on board the Norwegian
Cruise Line's The Jewel.
This was the first time I had been on a cruise, a 5 day trip with my mother, sister and niece, with stops in Cozumel and Grand Cayman— where we watched the presidential inauguration from a beach bar. In many ways the ship is a floating Las Vegas hotel— lots of entertainment, a huge casino, drinks and food. Once the waiters knew we weren't interested in hourly piña coladas and margaritas we were left to enjoy the music at the piano bars, the lounges with excellent guitarists, the theater with entertainment every night which included a Cirque du Bijoux show (a take off of Cirque du Soleil) a talent show by the crew, and a performance by The Second City Comedy Show. I was curious about the Art Gallery and visited several times. Located next to the Internet Café, it certainly had most everyone on the ship (2400 passengers and 1000 crew) passing through and therefore potential customers (location, location, location). There were 2 auctions over the 5-day period (seemed out of proportion, but what do I know) and I stopped in to see if I could get a better handle on the attraction to what I thought was not exceptional work that was selling from $50-$250,000 by Dali, Picasso, Renoir, Chagall, Kinkade, Max, Agam, Ritto, Tarkay and many others — I did like the Rembrandt etchings a lot. Being curious as to why purchase art in this environment I spoke with several people who had been to auctions and bought paintings on other cruises. What I learned is: there is no tax on the paintings, it is a friendly easy atmosphere, paintings can be returned, they are easily shipped and mostly they are at leisure to look. Additionally, I think that people are on vacation "living it up", in a spending mode, alcohol is prevalent and served at the auction, and that buying art was something they felt good about and bringing it home as a "souvenir" showed their sophistication. This is a way that brings art to people who would otherwise not be buying art, not be going into a gallery where they feel intimidated, and not even sure what to wear or how to behave. Park West seems to have the monopoly on all cruise ships and also has auctions on land. According to their publicity it is their mission to make good art available to middle America. Their headquarters is in Southfield Michigan where there are 23 galleries to explore or get a virtual tour at www.parkwestgallery.com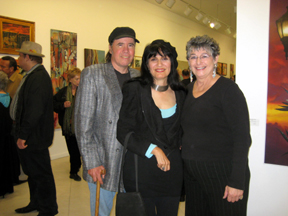 (L to R) Artists John and Theresa Frazee with
Lorrie Turner Artist & Gallery Director at the Art Guild
of Boca Raton Gallery, Delray, FL.
The Artists' Guild of the Boca Raton Museum is enjoying its new home on Atlantic Boulevard, Delray Beach, Florida and it was here I had the pleasure of catching up with Lorrie Turner, teacher artist and signature member of Pastel Society of America and now gallery director (I first met her many years ago via phone when she did the publicity for one of our advertisers) as well as artists John and Teresa Frazee, formerly of Kingston, NY. These 3 artists are long time friends of ART TIMES since nearly the beginning. What a pleasure to see them and to see how the Guild continues to evolve and succeed (15 works sold in the first 2 months!). Currently there are 426 members; 230 of them signature members eligible to show and be part of the Guild Gallery. Each show is juried by outside juror and they have 10 exhibits a year. The work I saw at the Juried Exhibition was excellent and comparable to some of the National Organization shows I see in NYC. I first learned about the guild and the museum in the late 80's on one of my January trips to Florida when I visited them at their first home. In 1950, Boca Raton, Florida, had a population of less than 1000 and the library was the cultural center. Community members began an "Open House," to exhibit their individual arts and crafts and in 1951, the Art Guild of Boca Raton was organized and later incorporated. In the early 60's the group had their first home where they could teach classes and hold exhibitions. In 1975, the Center changed its name to Boca Raton Center for the Arts, and then, 10 years later, the Boca Raton Museum of Art of which the Guild is still an integral part. Look what a small group of artists and craftspeople did and can do. The museum is one of South Florida's finest cultural attractions, presenting changing exhibitions of national and international importance, and a wide range of educational programs, lectures, gallery tours, and studio art classes. More at www.bocamuseumartistguild.org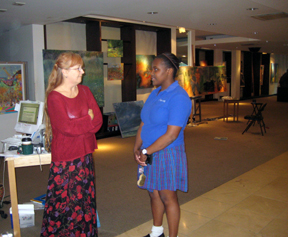 AnnaMaria Windisch-Hunt (L) with Chloe Burke (R)
discussing an upcoming visit by the students of
Carrollton School of the Sacred Heart
It was probably in the early 70's when I was last in Coconut Grove, a time of wandering and hanging out with free spirits (now I hang out with artists who are also free spirits!). Michael J. Brody of TALEO Arts in Woodstock, NY, invited me to come to his winter home and say hello and meet up with artists Fred Hunt and AnnaMaria Windisch-Hunt whom I had met at TALEO and wrote about in the Nov '07 issue of ART TIMES. TALEO, according to Michael, is derived from the ancient Nomadic expression for "Creativity" and is housed in a former Trinity Baptist Church now a multi-use studio for Meditation, Music, Art, Drama and Film with 2 theater spaces, a full kitchen, office space, and wonderful mountain views. When I saw AnnaMaria this past summer she also encouraged me to visit and promised a tour of The Grove. Quoting from the Grove's website: "Coconut Grove is best known for its quietly breathtaking natural beauty, a lush green landscape bordered by the shimmering blue waters of Biscayne Bay. From its beginnings in the late 1800's, this magical place has attracted tycoons, artists, writers, and musicians galore, and—truth be told—more than its share of kooks, eccentrics, and free spirits." Sounds like a lot of places artists end up! I met AnnaMarie at her gallery, Windisch-Hunt Fine Arts on Grand Avenue where she shows a dozen or so artists' work, has a gift shop, and rents out some wall space to artists. We began the tour and as we walked I learned about the evolving arts community. In the 60's there may have been 20 galleries; now just 8 and some artist studios as well as many high-end clothing, jewelry shops, and restaurants. About 15 years ago AnnaMaria began a gallery that then became a coop and is now The Heart of the Grove, a group of about 30 members that came out of the One Ear Society, an organization that continues to find opportunities for artists. www.oneearsociety.blogspot.com. We continued on our way to Focaccia, a delightful bistro which features, along with fine food and an excellent cup of coffee, "Breakfast with the Artist", the Grove's answer to what is often the overdone Art Stroll, 2nd Friday, 3rd Sunday etc. which seems now to be in every city. Another innovation I came across is Art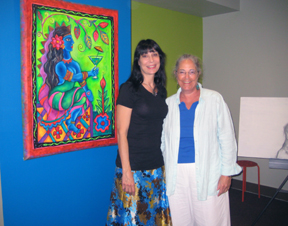 Sheri A Friedman, Blu Moon Studios, Coconut Grove, FL with Cornelia Seckel
Happy Hour at the Blu Moon Studios where Sheri A. Friedman works and teaches. Each month she invites a different artist to give a workshop. A fee covers the materials and class where refreshments are also served. www.sheraif.com. Lots of good ideas coming from the Grove as well as the Coconut Grove Arts Festival presented by Blue Cross and Blue Shield of Florida which is held annually (and for the last 46 years) in the streets of Coconut Grove, Florida, and produced by the Coconut Grove Arts & Historical Association, Inc., a non-profit organization that receives no commission for the sale of artwork. A portion of the proceeds from Festival admissions benefits the Coconut Grove Arts and Historical Association's Building Fund. The Festival attracts more than 150,000 people annually to view the works of over 330 of the finest artists and craftsmen in the world and, according to the business people of the Grove, generates for most the same $ as the week before Christmas.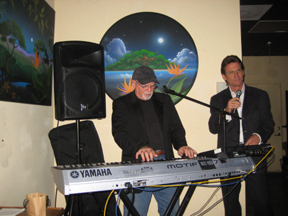 There's more than just fishing and hanging on the beach in Florida: Musicians John Melnick (L) and Matt Stanley (R)
at the 33rd Street Wine Bar, Ft Lauderdale, FL
in the background are paintings by Mark Vose.
And back to the Northeast: A few places have recently opened up including: Good Question Gallery, a new gallery located at 210 East Harford Street in Milford, PA and will open with "The Art of Numbers" a group exhibit, on March 7th and runs through March 29th. According to Richard Cutrona, director of the gallery, "we are a commercial art gallery with an academic core and a belief in the ability of visual art to serve as a catalyst for critical thought that has led us to create a program of exhibitions both visually compelling and intellectually engaging. The gallery is committed to supporting the work of unknown, emerging, and mid-career artists, working across a wide range of disciplines." For more information 570-296-5066 or visit online at www.goodquestiongallery.com • Antonia's Academy for the Performing Arts located in Peekskill, NY opened by Scarlett Antonia, an accomplished dancer and choreographer whose connections with NYC dancers and dance companies will create a bridge between the Peekskill Community and NYC talent and arts resources. Antonia said, "it was an opportunity for her to give back to the Peekskill Community in a manner that best utilizes my talents and connections and fulfils a need in Peekskill." She has already invited NYC guest instructors and dance companies to present to her students in Peekskill and has brought her Peekskill students to NYC to attend workshops in prestigious dance training schools. For more information www.antoniaarts.com • Peter Charlap drawings and paintings at the Millbrook School, Millbrook NY, will be at their Warner Gallery through April 18. (www.petercharlap.com) There is a free-flowing gentle movement in his work and I was pleased to see his show and to get a tour of the Holbrook Arts Center. The center has a large theater (groups might inquire about renting out the space for productions), dance studio, photography studio and pottery studio all with top quality equipment. Founded in 1931 by Edward Pulling as a coeducational independent high school, Millbrook offers a rigorous college preparatory education to its 255 boarding and day students.
Also noteworthy: Art Calendar announced the launch of The Alliance of Professional Artists. The APA is a national artist organization committed to supporting and educating art-driven individuals and groups, while serving as an advocate for the art community. For more about APA: www.allproartists.org • Ralph DiBart, Executive Director of the New Rochelle Business Improvement District (BID) announced a new development initiative, the "BID Artist Spaces Program" that will bring together property owners with long-term vacant upper floor space and artists and arts businesses seeking to lease affordable studios in downtown New Rochelle. Once the BID establishes a critical mass of artists in Downtown it will work with these artists to help them promote their work and to organize activities to bring the public to Main Street. For more information: Ralph DiBart 212-866-0191 or RalphDiBart@rcn.com. In some ways I think it was Judith Weber of Media Loft that laid the foundation for turning unused space into studios for artists. Founded in 1978, Media Loft was established to provide a unique working environment for artists, designers, craftsmen and a variety of art-related businesses. In 1983 it moved to its present site in the historic Knickerbocker Press building complex in New Rochelle, NY and expanded to create affordable live-work space for its artist community. In 2003, Media Loft converted to an Artist's in Residence Condominium offering, in addition to affordable space, the security of ownership. See their site for more information www.medialoftarts.com • I was pleased to see a column by Maureen Morgan in the journal HV Biz (Jan 19, 2009) about the role of the arts in the age of frugality. She is reminding all of us about some very impressive numbers. Art in its many forms brings in $25 billion a year in economic activity in NYS alone; nationally it is $166 billion and nearly $30 billion in revenue to local, state and federal government. "… contributions of the arts are many and include making a community more desirable for economic development. As the arts flourish so will creativity and innovation - the fuel that drives the global economy." A way we can all support the arts is to buy, subscribe and participate in whatever ways we can.