Culturally Speaking
By CORNELIA SECKEL
ART TIMES Mar/ Apr 2010

Nearly every other year for the past 25 years I've driven down to Florida for sunning, fishing, and cultural exploring. This year after a week (in the very cold) with my sister and mother at a time-share I headed up to Pompano Beach. A fishing buddy is on the Board of one of the condos and the Women's Club held an art show for the residents that featured works by Linda Barbaro, Terry Brooks, William Forget, Sheila Hallead, Priscilla Hay, Joan Larkin and Tom O'Conner. The reception was in a community room where the work was displayed and each artist showed up to 10 paintings. After the introductions of the artists (who spoke briefly about their work) Jerry Miller, a resident and poet, read several of his poems. I was pleased to see the support of other residents and friends for this celebration of the building's artists. One doesn't have to have a gallery show to share work.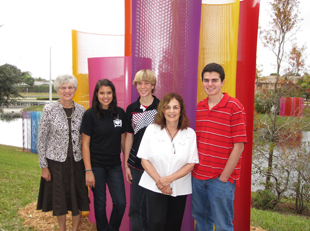 I had run into Shelley Parriott at a New Year's Day party and in conversation she told me that she would be having a show at the new outdoor sculpture garden at the Coral Springs Museum of Art in Coral Springs Florida. Barbara O'Keefe, Executive Director of the Museum, had the idea for a Plein Air Sculpture Garden and Shelley was contacted to inaugurate the Garden with her sculpture. It is hard to describe Shelley's Color Field Sculptures. They are of varying sized, perforated aluminum curved sheets of differing circumferences. Each sheet has the color baked into it and then arranged to form what Shelley calls "Magical Transparencies". First comes the concept, then the materials are fabricated and finally it is a matter of arranging them. Shelley told me that placing the components is "painting" and for her, always an exciting discovery as she doesn't really know what she will get. A long-time resident of the Hudson Valley, Shelley has been in countless exhibits and won numerous awards. More about Shelley can be found at www.shelleyparriott.com. After the opening, friends and family went back to a cousin's apartment and there I saw the compelling carved wood and marble sculptures of Shelley's uncle Sigmund Lichterman (1909-2006), a highly skilled artist whose work can be seen in several museums throughout Florida and at www.siglichterman.com.
The Boca Raton Museum of Art in Boca Raton, Florida is one of my more favorite museums. A relatively small museum, it has a very fine reputation for excellent exhibitions, educational programs and a fine permanent collection. It is small enough so that getting lost (as one may easily do in large museums) isn't an option. I went especially to see the Mary Cassatt: Works on Paper and Marc Bell Presents: The Magical World of M.C. Escher exhibitions. It was mid-afternoon and the museum was already filling with visitors. In a small gallery area Mary Cassatt's more than 40 works of women and children in etchings, aquatints, monoprints, drawings, pastels and counterproofs were on view. The counterproofs were an art form I wasn't familiar with and only came to be seen after a recent (about 2004) discovery of an unopened box inherited by a friend of Cassatt's dealer, Ambroise Vollard (1867-1939). Essentially monotypes, they are created by a damp sheet of paper laid over a chalk or pastel drawing and run through a press. Pigment lifts from the original, yielding a pale mirror image including the signature. I liked them because they were even softer and more alluring than Pastels. The exhibit was organized by the Adelson Galleries, NYC. Warren Adelson wrote quite a comprehensive book Art in a Mirror: The Counterproofs of Mary Cassatt that accompanied an earlier exhibit (2004) at the Adelson Galleries in NYC. The catalogue for exhibit at the Boca Raton Museum of Art Mary Cassatt Works on Paper with essays by Warren Adelson, Pamela A. Ivinski and Barbara Stern Shapiro, and a forward by museum director George S. Bolge, gives a comprehensive look at these works and the artist.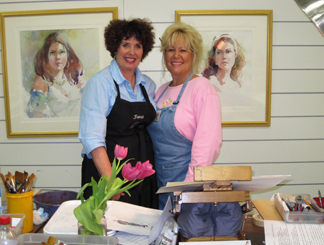 M.C Escher just flashes me back to the popular culture of the 60's when his work printed on calendars, posters, t-shirts seemed everywhere. Apparently, Escher wasn't too happy with the "continuous illegal use of my work by the hippies of San Francisco". This very extensive exhibit certainly embraces the mission of a museum that is to educate. According to the Museum, this is the most comprehensive collection (over 400 pieces) ever shown in the world of Escher's work. There are woodcuts, along with original blocks and preparatory drawings, sculptures, objets d'art, pencil and ink drawings, correspondence and documents, and original furnishings from his studio. This incredible mathematical mind and fine artist has explored impossible worlds, making one's mind twist and turn trying and failing to make sense of what it is. A number of things are on view to the public for the very first time and include: a film about Escher's life and art, the proof and colored woodcut for Sphere Surface with Fish, and the pastel drawing of the lithograph Between St. Peters and the Sistine Chapel. Both of these exhibits are on view through April 11. For more information on the Museum and these exhibitions visit www.bocamuseum.org.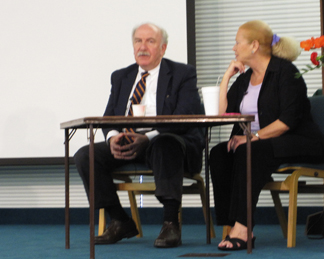 This time in Florida I went across the state from my usual hangout on the Southeast Coast and visited a friend, Elaine Jaffe, in Venice, a small, quaint city with a lot of culture about ½ hour south of Sarasota. Elaine took me to the Venice Art Center where she takes sculpture classes (see video on www.arttimesjournal.com, youtube, and ART TIMES facebook) and gave me quite a tour. The Three Dimensional Works and Basket Weavers exhibits were quite excellent. I was particularly taken with Tonya Sauppe's work as it has all different textures of fabric in this well constructed and engaging Manikan Collage. We stopped in several studios and in one, Janet Rogers, AWS, was giving a workshop. Her paintings are excellent, her students overflowing the classroom. I know we will be seeing her work at the upcoming American Watercolor Society exhibit at the Salmagundi Club in April. • Another day we went to a presentation that is part of Sill (Sarasota Institute of Lifetime Learning - www.sillsarasota.org) —Seven series by noted experts explore issues of global or major domestic importance and the music series takes one behind the music with important figures from the musical arts field. Each program is given in Venice and in Sarasota and the program has been going on for 39 years. June LeBell, Award-winning broadcaster, lecturer, published author and arts consultant, (she was with WQXR for over 28 years), is the host for the music series and we had the pleasure of hearing John Goberman, founder, developer, and producer of Live from Lincoln Center speak about the origin, problems, ups, and downs of this series of concerts, ballets, operas, and recitals telecast, as the title says, live from Lincoln and produced by Lincoln Center for the Performing Arts since January 30, 1976 in conjunction with Thirteen/WNET in New York City. The guest for both Global and Music Series are major participants in those domains. • Theatre flourishes at the Venice Little Theatre where most shows are sold out. • There are many additional cultural venues and art galleries in Sarasota, just a 20-mile ride from Venice. The Katharine Butler Gallery features fine art in a wide selection of styles and mediums by many award-winning artists. They have quality blown glass artwork, ceramics and unique, hand-made jewelry. www.kbutlergallery.com. So when you visit and aren't at the beach looking for petrified shark's teeth, you will have lots to choose from in Venice Florida.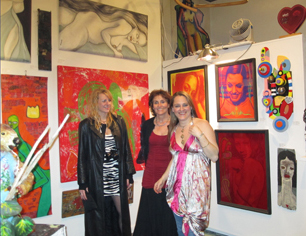 Back in NY and closer to home I stopped at several galleries in Woodstock including the Varga Gallery run by Christine Varga where self-taught, outsider and visionary artists show their work. As I wandered around the gallery there were numerous rooms filled to capacity with paintings, sculpture, jewelry, fabric paintings — generally everything — and felt that I was in a labyrinth of art. Christina has launched the artist salon: Visionary Art Collective, a collective of creative artists dedicated to the pursuit of the arts in Woodstock, NY. For a small fee, work is hung in the gallery and the artist has a presence on the website www.vargagallery.com. Christine has a very large space that includes a private outdoor courtyard, multiple studios for classes and workshops, as well as the exhibition space. Apocalypse Now is a cable TV show that Christine hosts weekly interviewing artists and people in the art world. Christine Varga is a breath of fresh air — a flash back to the 60's — an artist with a heart to support other artists and a willingness to stretch herself and her art. I think she is terrific!
Some newsworthy items: "Celebrate The Healing Power of Art" is an international project that celebrates Art's tremendous healing benefits. Renee Phillips, Director of Manhattan Arts International, presents an online exhibition of positive art that uplifts the spirit, plus profiles and writings to inspire and promote Art & Healing causes. www.ManhattanArts.com/Gallery/HealingPowerofArt_2010/index.htm and HealingPowerofArt.blogspot.com • Artists Robin Colodzin and Jonathan Talbot have recently launched www.theartsmap.com, an interactive worldwide map of artists, studios, arts organizations, museums, and more. The Arts Map allows users to search by location, medium, educational opportunities, type of organization. There are clickable map markers on The Arts Map that provides detailed information about artists, their work, their studios, art galleries, museums, art schools, and arts organizations. Most markers also contain an image and a link to a website or blog. All are invited to visit www.theartsmap.com and see how it works. To create your marker, click on "create account."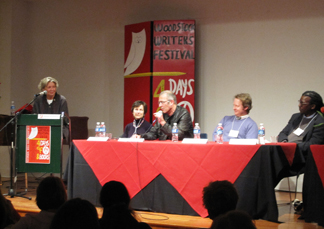 Mill Street Loft
, the award-winning multi-arts educational center based in Poughkeepsie, NY, has served the mid-Hudson Valley community for 30 years and will celebrate that milestone at the annual "
Friend of the Arts Awards
" event, which benefits Mill Street Loft's
Outreach Programs
and
Youth Scholarships
. Mill Street Loft was established by artist
Carole J. Wolf
and several colleagues in 1980 to provide working studio space for area artists and creative programs for the community. Through the years, the organization has grown and been recognized for its excellent programs which currently include: the
Dutchess Arts Camp
, developed in 1981 as a dynamic arts-in-education program that builds self-esteem while learning through the arts for children ages 4-14; the
Art Institute
of Mill Street Loft, a pre-college portfolio development program for teens interested in careers in the visual arts;
Outreach Programs
, designed to empower and encourage economically disadvantaged urban youth who are at risk of dropping out of school and face many challenges to employment; and a full complement of courses and workshops for people of all ages and abilities. In 2007 the
Arts For Healing
program, in collaboration with
Vassar Brothers Medical Center
, was established to serve children and their families suffering from chronic and acute illness, and last year Mill Street Loft began collaborative
Arts for Alzheimer
's programming with the regional
Alzheimer's Association
. Mill Street Loft is dedicated to continuing to offer excellent arts opportunities for all segments of our community. For a brochure and further information: visit www.millstreetloft.org. • We just learned that
Francine L. Trevens
, dance writer for
Art Times Journal
, has compiled and edited
Tnt Classic Books
Short Plays to Long Remember
and it is due out in March. This is an eclectic anthology of plays ranging in playing time from seven minutes to over forty minutes covering the full gamut of styles and subjects, from atheism to Zen, from actual incidents to zoological impossibilities, from aesthetics to zeitgeist, from apathy to zealotry. The 27-play collection has works from 14 authors. For more contact
tntclassics@aol.com
.
ART TIMES now has a facebook page. We felt it was time to get with the social networking trend and hope you will join as a fan. This is an additional way, along with our ever-growing (over 600 Visitors a day!!) website www.arttimesjournal.com, to get our news out to you.

Raymond will be speaking at the Barrett House in Poughkeepsie on Thursday, March 25th at 7pm. His talk at the Artist's Salon will include his two favorite topics, aesthetics and art criticism. The Barrett Art Center is at 55 Noxon St. Poughkeepsie. For more information (845) 471-2550. Hope to see you there.
Well it was a quick 2 months and I'm sure as Spring comes, time will go even faster with more to do, see, and explore than we could ever do. Surely boredom will not be a word used by readers of ART TIMES!!
See you out and about — make sure to say hi.
Comment on this column: info@ArtTimesJournal.com