CULTURALLY SPEAKING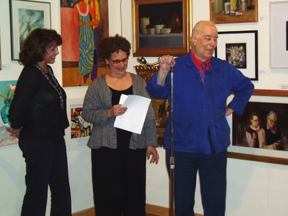 Holly Gersch, Leslie Rolnick and Sam Spanier at the Woodstock Artists Association Museum. Sam is receiving the lifetime membership for his many achievements as an artist.
By Cornelia Seckel
ART TIMES June 2007
First off, keep in mind that our next issue is the July/August issue and deadline for calendar information is on June 12 and advertising on June 19. This combined issue works well as advertisers incur just one cost for their summer ads, we get a chance to do more art exploring, and you our reader get to read about the travels we do.
A note for those of you planning on attending Raymond J. Steiner's lecture on art criticism at the Salmagundi Club in New York City. Our last issue erroneously listed the date as Thursday, May 31. This was incorrect and the lecture is slated for Wednesday, May 30 at 6:30 pm — the lecture is free and open to the public and we hope to see you there. If you plan on having dinner, be sure to make reservations at (212) 255-7740.
With Spring almost behind us and Summer just a few weeks away, it is not surprising to see a burst of new galleries opening in our region.
• The Red Eft Gallery, Art Instruction School and Shop, was founded by Drs. Linda and Dean Tintle, veterinarians and small business owners in Wurtsboro NY who for 23 years have had long-term relationships with many regional artists, and been aware of a longing for a new cultural anchor in the community. For them, it was a matter of a building demanding to be a gallery, not unlike a stone of Michelangelo's demanding to be David. Their building, which is next to their veterinary hospital, unexpectedly became vacant and this former bowling alley built in the early 1900's was just perfect. So far, two large classrooms have been built and filled by students taking a variety of classes that are offered by professional area artists, while the newly renovated Grand Gallery is in the process of being readied for its early August opening. Roberta Rosenthal is the consultant and Artistic Director. Dean & Linda are planning a retail shop and reception area in the front of the building where they intend to showcase the products and skills of regional artists to the growing number of visitors and second-home owners in Sullivan County's Catskills village of Wurtsboro. For more information go online www.RedEftGallery.com or call 845-888-2519.
• John Payne's 45-year career as a fine art photographer, artist, advocate and promoter of the arts spans from Producer and Manager in the film, theatre, record, and concert industry, to educational administrator for NSSFNS, Inc, a National nonprofit counseling and student advocate organization, and teaching instructor for The National Arts Consortium, which have all led him to being Director/Owner of VanGlen Gallery on Main Street in the Peekskill, NY Artists District. The grand opening on June 24th features a solo exhibition of the works of Artist/Sculptor Wilfredo Morel and interpretive works of Morel's Sculpture Pieces by Peekskill Graphic Artist Janet Barry. Central to the mission of John Payne's VanGlen Gallery is the desire to create an art space for exhibitions of fine art by new and emerging artists as well as established artists. According to John, "the opening of the gallery is a cumulative lifetime step into a new phase of support for the arts." For information contact John Payne at 914-930-7866 or e-mail vanglen@verizon.net
• G.A.S (acronym for Gallery and Studio) is a new cutting-edge contemporary multi media gallery and performance space on Main Street in downtown Poughkeepsie, NY. This is a collective of several diverse artists from the HudsonValley who have banded together to create an atmosphere for informative creativity, commerce, entertainment and fun! There is a 1400 sq ft exhibition space where solo and group shows, music, film, video, and performances will take place year round and a gallery store where one can buy one-of-a-kind and limited editions of artist's small scale hand-made objects. The inaugural exhibit is a presentation of a variety of works by gallery artists including Michael Asbill, Jose Acosta, Joanne Klein, Aaron Miller, Franc Palaia, Michael Sibilia, and Patrick Wing. The exhibition will be open to the public on June 1, with the opening reception on Saturday, June 16. For information: GAS: 845-486-4592 or www.galleryandstudio.org
• Safe Harbors of the Hudson is a non-profit organization, which was established in 2000 with the mission to promote emerging and contemporary artists and of transforming lives and building community through housing and the arts. The first project was the restoration of the old Hotel Newburgh, now the newly renovated Cornerstone Residence which has 116 apartments, 12 artist lofts, three commercial spaces, an art studio, professional gallery, and other amenities. There is a waiting list of over 100 people. Ann Street Gallery will have their inaugural exhibition on June 9 from 6-9pm. The work is from 11 artists living in the Hudson Valley Region. Both the Cornerstone Residence and the Ann Street Gallery are located on lower Broadway in the City of Newburgh, NY. Included in Phase II, is a plan to fully renovate the historic Ritz Theater, located within the Cornerstone Residence. Given all of this new activity, vitality, and population, it is hoped that once again downtown Newburgh will be a popular destination. Virginia Walsh is the director of Ann Street Gallery. For more information: www.annstreetgallery.org or 845-5626940 x 119.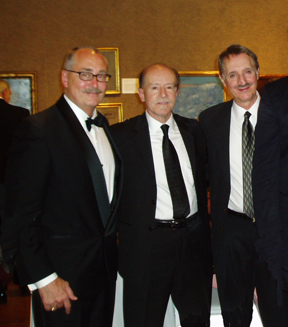 (l to r) Michael Schantz, Director of the Woodmere National Arts Club Art Museum, Gary Erbe honoree, and Louis Zona, Director of The Butler Institute
of American Art at the Salmagundi Art Club's President's Dinner
Gary Erbe was the honoree at the President's Dinner at the Salmagundi Club, NYC. It was a delightful evening celebrating this man who is an award-winning trompe l'oeil painter, recipient of many prestigious awards, a member of numerous arts organizations and clubs, and who served as President of Allied Artists of America for over 10 years. Gary has curated countless exhibitions including the Salmagundi Club's Collection, The Pastel Society of America Invitational, Allied Artists of America's Members Exhibition and has tirelessly worked on behalf of other artists. Speaking on his behalf was Thomas Folk, art historian; Michael Schantz, Director of the Woodmere National Arts Club Art Museum, Louis Zona, Director of The Butler Institute of American Art and Aldon James, President of the National Arts Club. The Dining Room was filled to capacity as friends, fellow artists and supporters enjoyed delicious food, fellowship and festivities. Thank you Gary for the work you have done enriching the greater Arts Community which in turn, helps to humanize our civilization.
NAWA (National Association of Women Artists) is the oldest professional women's fine arts organization in the US and has continually provided a forum for women artists to share ideas and to exhibit their work. In January of 1889, five innovative women, Grace Fitz-Randolph, Edith Mitchell Prellwitz, Adele Frances Bedell, Anita C Ashley, and Elizabeth S. Cheever, barred from full participation in the male-dominated National Academy of Design and The Society of American Artists, founded the Women's Art Club. The organization flourished and in 1913 was renamed the National Association of Women Painters and Sculptors, reflecting its national influence and the increasing number of women sculptors. Through the 1920s the organization was sponsoring exhibitions nationally and abroad. In the 1930s membership grew to over 1,000 and the organization opened its Argent Galleries on 57th Street in New York City. In 1941 the organization changed its name again to the National Association of Women Artists. Early exhibitions included works by the notable artists Rosa Bonheur, Mary Cassatt, Suzanne Valadon, and Cecelia Beaux. Later, membership rosters included Gertrude Vanderbilt Whitney, Anna Hyatt Huntington, Louise Nevelson, Cleo Hartwig, Malvina Hoffman, Minna Citron, Alice Neel, Theresa Bernstein, Nell Blaine, and Dorothy Dehner. The NAWA archive contains a wealth of information about American Women artists that passed through the ranks of its membership. The organization sponsors local and national exhibitions, merit prizes, lectures, and special events. At this year's annual gala held earlier this spring, art historian Gail Levin was honored and Elaine Hanowell of Seattle, WA was presented the Margo Harris Hammerschlag Award for Sculpture —a $10,000 cash award. This past month I was pleased to be invited by Penny Dell, outgoing President to NAWA's Annual Meeting Luncheon where I met the new president Judith Cantor and Executive Director Linda Pedersen. June Wayne, founder of Tamarind Lithography Workshop, artist, filmmaker, author, teacher, lecturer, illustrator, critic, administrator, manager, innovator, and an advocate and activist for artists everywhere, was the featured Speaker. By establishing Tamarind Lithography Workshop in 1960, she helped elevate the craft of lithography and simultaneously was responsible for establishing the legitimacy of all print media, and from what I've read, literally saved Lithography from extinction. Her talk at the luncheon was inspirational, her manner direct and engaging. I learned a lot; perhaps an essay in an upcoming issue will solve my current dilemma of keeping this column to a manageable size. Recently published by Rutgers University Press, June Wayne The Art of Everything, A Catalogue Raisonné, 1939-2006 was authored by Robert P. Conway with essays by Arthur Danto and Judith K. Brodsky. Book signing followed the luncheon and then many of us went to NAWA's Gallery at 80 Fifth Ave, NYC to see her exhibition The Dorothy Series. NAWA is a highly significant organization in the history of Women Artists and I urge you to support their efforts. For more information: www.nawanet.org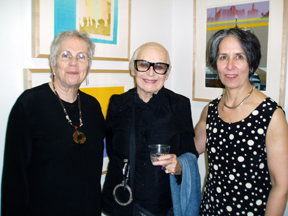 (l to r) Judith Cantor, current President, June Wayne,
Penny Dell former President at the National Association of
Women Artists' Gallery where "The Dorothy Series"
work by June Wayne was on view.
Ever since my childhood I have known and, more often in those early years, visited the Washington Square Outdoor Art Exhibit, usually during the weekend of and after Memorial Day although the Exhibit also takes place Labor Day Weekend and the following weekend. It was nostalgic to get the information and I felt it was important to remind people about this 77-year-old tradition. It is the biggest and oldest outdoor art show in the country. In 1931 Jackson Pollock needed funds to pay the rent on his Greenwich Village studio (where he also lived) and out of desperation brought his paintings down to the street and set them up on the sidewalk near Washington Square Park hoping that someone would buy one.
His friend Willem DeKooning was in similar dire straights and followed soon after. This idea was brought to the attention of several key people in the art world, most especially Gertrude Vanderbilt Whitney and Alfred H. Barr, Jr. who, along with others, organized the art show that evolved into the Washington Square Outdoor Art Exhibit, which today showcases over 200 artists from all over the world and is visited by over 200,000 people. Make an outing and stroll along 20 blocks from 12-6pm. For more information: www.washingtonsquareoutdoorartexhibit.com. What an excellent and fun tradition!
The Woodstock School of Art's 4th Annual Regional Exhibition, juried by Donald Elder, had over 200 entries from all parts of the Hudson Valley Region. 27 artists were chosen and 3 of the top awards (totaling $1500) were given to Lutz Scherneck, Mari Cornell and September Heart. Congratulations to the award winners and kudos to the Woodstock School of Art (Woodstock, NY) for their many years of offering fine art classes and workshops. Coming up is the WSA Alumni Exhibition June 30 - July 28 and all Alumni are invited to contact the registrar for details. For more information and to see their summer schedule: www.woodstockschoolofart.org
Well, that is it for this month. See you all out and about.