Culturally Speaking
By Cornelia Seckel
ART TIMES June 2005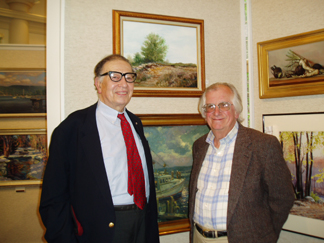 Frank Mason and Raymond J. Steiner at the The Hudson Valley Art Association's 74th Annual Exhibit at the Newington-Cropsey Foundation, Hastings-on-Hudson, NY

As it seems to be happening so often now, the month has disappeared and here I am again writing my column and reviewing where I've been for the past several weeks. Oh well!!
The original idea of Les Ballets Trockadero de Monte Carlo has not changed since its inception in 1974. This is a company of professional male dancers performing, in faithful renditions, the full range of ballet and modern dance repertoire that includes classical and original works, all in parody form. The audience at the Bardavon Opera House in Poughkeepsie, NY laughed, cheered, clapped, and howled at the fabulous dancing and the spoofs that took place. The comedy is achieved by incorporating and exaggerating the foibles, accidents, and underlying incongruities of series dance. The playbill is almost as humorous as the dance. Each dancer has a stage name: Sylphia Belchick, Fifi Barkova, Lariska Dumbchenko, Vasisdas Pinski Colette Adae, etc. The descriptions of the dancers and the dances they present are also humorous. The "Trocks" were written about in ART TIMES December, 2003 by Dawn Lille. Next time they tour your area, don't miss the performance as they are truly wonderful, and make dance even more accessible to those who think they don't like ballet. The curtain call was step dancing; what a treat!!! Check out the Trock's website for tour information as well as introductions to the dancers and lots more: www.trockadero.org and the Bardavon's website for next season's offerings: www.bardavon.org
The National Art League, founded in 1930 by Alice Chase Sullivan and her sister Helen Chase (daughters of William Merritt Chase), is located in Douglaston, NY and provides classes in painting, sculpture, and drawing as well as a meeting place for artists to meet and discuss and to show their work. Congratulations to this all-volunteer group; it is quite a feat to keep an organization going.
While in NYC I stopped to see Michael Fattizzi's exhibit at the Pleiades Gallery in Chelsea. There was a lot of new work, linocuts, oils, monotypes and mixed media, and from what Michael reports, the show is going quite well with numerous sales. Congratulations, Michael, • "From Sweden to Woodstock: The Art and Career of Carl Eric Lindin" is on view at the Woodstock Artists Association Towbin Museum Wing through July 31. Also on view in the Middle Gallery is Lindin's Friends (George Bellows, John F. Carlson, Konrad Cramer, Birge Harrison, Andrew Dasburg, Zulma Steele, Eugene Speicher, Eva Watson-Schutz, Jane Byrd McCall Whitehead, and others) with works on sale and that will benefit the WAA. The exhibits were curated by Tom Wolf, Professor of Art History, Bard College, Annandale-on-Hudson, NY, and sponsored in part by David Cook Fine Art, Denver, Colorado. It is a fine exhibit.
At the National Arts Club in Gramercy Park, NY the Joyce Dutka Arts Foundation's winners of the 2004 Visual Arts Competition: Works on Paper had their work on exhibit. The Foundation, founded in 1999 with a bequest from Solomon Dutka, promotes, sponsors, cultivates, fosters, and develops public interest and love of the arts. Each year a different competition, e.g. for choreographers, playwrights vocalists, visual artists and composers, is held. Next year will be for vocalists with the theme "Opera and Art Songs"; deadline is November 15, 2005. Additionally, outreach grants are given to organizations. Competitions are held, winners are selected and awarded money as well as given an opportunity to show their work (winners will be included in a concert next Spring). For the 2004 Visual Arts Competition, 14 artists were given awards and this exhibition has 3-4 pieces from each. The mediums vary, the styles vary, and what is consistent is the high quality of the work. The Foundation can be reached at 212-543-1568.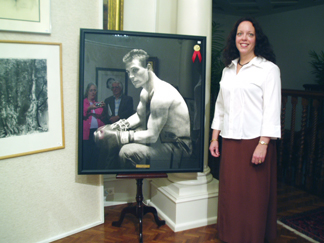 ART TIMES Award prize winner Mary Felton for her drawing,
"The Boxer" at The Hudson Valley Art Association's 74th
Annual Exhibit at the Newington-Cropsey Foundation,
Hastings-on-Hudson, NY.

The American Watercolor Society held their 138th International Exhibition at the Salmagundi Club, NYC. There were 1,423 submissions and 108 paintings were hung. One of the things I particularly like about this exhibit is the great variety of styles. It is a great experience for students, and each year busloads of watercolorists come to the show to study the paintings. That was the case as I looked around the galleries. Groups of adults were pointing, discussing, agreeing, and arguing about different paintings. Then I saw a group of teenagers and their art teacher who were sent from LaGuardia High School, NYC, to study the paintings. What a fine exhibit and resource for art students and artists interested in enrichment. The Gold Medal of Honor ($3,999) went to Laurel J. Hart from Salt Lake City, UT for Maybe He's Just Late; the Silver Medal of Honor ($2,500) went to Bill Teitsworth from Moscow, PA for Swimmer, the Bronze Medal of Honor ($2,000) went to Howard J. Eberle, Charlotte, NC for The Journey. See the website www.americanwatercolorsociety.com for the traveling show locations and much more. Congratulations to the award winners and to the AWS for providing not only an excellent exhibit each year but an important resource for painters.
The Hudson Valley Art Association held their 74th Annual Exhibition at the Newington-Cropsey Foundation (former home of Jasper Cropsey) in Hastings-on-Hudson, NY. There seemed to be even more people in attendance than usual. John Sanford received the Special Tribute, which is given to someone who is not only a fine artist but educator and friend of the arts. In accepting the award he spoke of the extraordinary privilege he felt in being an artist. The Gold Medal winner was Zimon Tan for his oil Sweet Dream and the ART TIMES Award prize went to Mary Felton for her drawing, The Boxer. Congratulations to all the winners.

Gary Fifer, artist & gallery director, speaking with artist Frank Mason at the opening of G.Edwards Gallery in Cornwall, NY

Gary Fifer opened the G. Edwards Gallery in Cornwall, NY with an Opening Celebration. Gary has brought together for this show a number of very fine painters and outstanding work by Eline Barclay, Nick Berger, Peter Billman, Jane Hayer, Betty Kaytes, Andrew Lattimore, Frank Mason, Leslie Priggin, Gordon Bradt, Thomas Torak, Ann Hubrechie, Dave Patterson, Audrey Hall, Clair Conete and as well as own work to celebrate the opening. This is a wonderful space and the 2 well-lit rooms show off the fine oils, pastels, acrylics, drawings, and sculptures that Gary so masterfully hung. There was quite a large crowd of collectors, friends, family, and artists. It was particularly nice to see Frank Mason, his wife Ann and Leslie Watkins, artist, all long time friends.
I attended a press conference in Poughkeepsie, NY for the group Art Along the Hudson: 4 Cities/ 4 Saturdays. The cities are Kingston, Newburgh, Poughkeepsie and Beacon; the 4 Mayors of each city, the tourism office of most cities, as well as the representatives of the main arts organization in each city, spoke about the excitement of the continued cooperative effort. A new brochure is out and can be found throughout the Hudson Valley at art centers, galleries and tourism offices or you can contact their website www.artalongthehudson.com.
The other Press Conference I attended was more of a Seminar on the Other Europe presented by the Rail Europe Group in cooperation with the National Tourist Organizations of Austria, Bulgaria, Croatia, Czech Republic, Hungary, Poland, Romania, Slovakia and Slovenia. Four different speakers focused on History and Sociology, Culture, Greenway Travel, and Foods. Here again is cooperative marketing and it makes perfect sense. I made numerous contacts and perhaps I will travel to some of these countries in the future. If I do, you will certainly read about it in ART TIMES.
Renaissance & Revolution on the Hudson is a project by Robert Pollock, owner and developer of Buttermilk Falls Inn & Spa in Milton-on-Hudson, NY. It is Bob's vision to create a center that is a venue for arts and cultural events. To begin with, each month (through October 2005) there will be picnics and exhibitions in the Gallery at the Barn. Yanusz Gilewicz, a polish native, has interpreted Leonardo DaVinci's Leda and the Swan on a 12 x 9 foot panel, and it is on the exterior wall of the Barn. The Grounds around the Barn are spacious, and Leda seems ready to step out of the painting and into the grounds. Additional works of Yanusz Gilewicz, varying in style and medium, are hung inside the barn. For more information visit the website www.buttermilkfallsinn.com.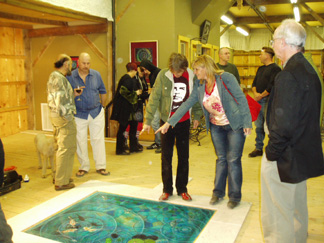 Inside the barn at Renaissance & Revolution a project at
Buttermilk Falls Inn & Spa in Milton-on-Hudson, NY. Robert Pollock, owner & developer (2nd from L.) & featured artist
Yanusz Gilewicz, (center L.) pointing to one of his paintings.

Jane Marcy is a photographer who has been photographing in the Hudson Valley for over 25 years as well as operating a studio/gallery in Cold Spring for 17 years. She, in cooperation with 4 other artists, recently opened Wild Wood Gallery in Beacon, NY, with "the intention of creating a sophisticated and yet intimate and welcoming space." Currently showing at the Gallery are Debra Cimorelli and Patricia Jarvis, both abstract contemporary painters who draw their inspiration from Nature. Call for more details 845-831-0333 • According to Director Karlos Carcamo, opening "ParaSite" art space was a way of getting more involved in the arts community along the Hudson Valley, and to bring exhibitions of work by contemporary artists to the gallery in Beacon, New York. His focus is to give exposure to emerging and underrepresented artists both local and from outside of the Hudson Valley. The gallery will showcase a range of media from drawing, painting, sculpture, and photography to video, site-specific installations, and performance art. Up-coming exhibitions are works by Matt Harle and Deborah Davidovits, both Beacon residents, who just finished a year-long artists' residency program at the Fine Arts Workshop in Provincetown, Rhode Island. The exhibition opening on June 4 will showcase the work they did while in residence. We wish him — and them — success. The more venues the better.
Enjoy the Spring, see you out and about!!