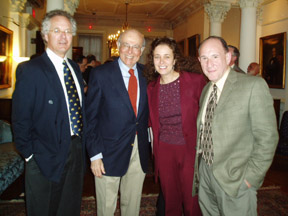 (LtoR) Jon Gregg (Honoree) of The Vermont Studio Center,
Morton Kaish (Honoree)Babette Bloch (President) Archie Rand
(Speaker on behalf of Jon Gregg) Everett Raymond Kinstler
(not pictured) spoke about Kaish at the Salmagundi Club, NYC.
Culturally Speaking
By Cornelia Seckel
ART TIMES June 2006
First off, let me remind all of our readers and advertisers that we will be combining the July and August issues of ART TIMES. Deadlines: for Calendar and Opportunity listings, June 12 th ; advertising, June 22nd. During July and August I expect to add to our website which each month has our current essays, speak out, calendar, opportunities, book reviews and my Culturally Speaking column and report on my wanderings and updating our online advertisers who may have missed our print issue deadline. Our website has archived essays by our writers so if you've missed any of your favorites you can find them online at www.arttimesjournal.com.
As soon as last month's issue went to the printer I headed down to Manhattan to stop at the Artists' Fellowship Annual Awards Dinner at the Salmagundi Art Club where Morton Kaish and Vermont Studio Center and its founders, Jon Gregg and Louise von Weise. were honored. Since 1859, The Artists' Fellowship has been a private, charitable foundation that assists professional fine artists (painters, graphic artists, sculptors) and their families in times of emergency, disability, or bereavement. (See www.artistsfellowship.org.) The evening is always filled with friendship and support as artists meet and greet one another knowing that the work of the organization is so very important.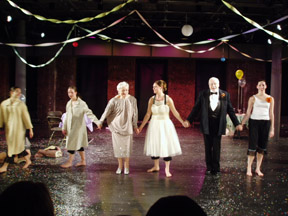 Cast of "Thank You and Goodnight"
at Dance New Amsterdam, NYC
Dance New Amsterdam, founded in 1984, supports dancers by "providing a dynamic environment for dance education, creation, and performance by offering classes, workshops and performance programs in a wide range of dance forms to both professionals and nonprofessionals led by internationally-established dance educators." The performance I saw was choreographer Monica Bill Barnes' Thank You and Goodnight. This was an innovative and intriguing piece that flowed from beginning to end with symmetry, humor, and delight. This new home for DNA at 280 Broadway and Chambers Street was originally built in 1846 by Alexander Turney Stewart as the world's first department store —A.T. Stewart's Dry Goods Store (aka The Marble Palace) and later in 1917, housed The New York Sun. The performance space seemed much larger than a traditional theater's stage, and in this piece completely used by the highly accomplished dancers: Monica Bill Barnes, Beth Bradford, Jack Frankel, Ursula Caspary Frankel, Deborah Lohse and Anna Smith. Not only has DNA a great new space, but they are an intricate part of the revitalization of Lower Manhattan since 9/11. There are classes, a new art gallery, café, and rehearsal spaces and I urge you to explore their performances and other offerings. For more information www.dnadance.org or call them at 212-625-8369.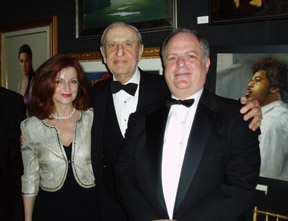 Maureen Down, Arthur Gelb & Frank Rich at the dinner
honoring Arthur Gelb at the National Arts Club, NYC.
Once I took a look at the invite, it didn't take me very long to decide to attend the dinner at the National Arts Club, NYC honoring Arthur Gelb who joined the city room of the New York Times as a copy boy in 1944 and eventually became Managing Editor. He was a drama critic and the chief cultural correspondent and culture editor as well as heading up the team that created the news sections Weekend, Sports Monday and Science Times. He is a biographer of Eugene O'Neill (1962), O'Neill: Life with Monte Cristo, (2000) and the author of City Room (2003), a memoir of his years in the Times' newsroom. What an exciting evening and what an intimate evening with dignitaries from the press, theater, arts and writers converging to applaud Arthur Gelb. Maureen Dowd and Frank Rich, Op-Ed Columnists for The Times, spoke during the Program. Maureen Dowd, who is just as bright and funny as she is in her columns, spoke of Arthur's talents in both work & life and that his focus is always on what is primary. Frank Rich spoke of Arthur as a great teacher and how thrilled and delighted he was to honor and celebrate him. One of the things that stuck in my mind was his comment about The Times: "One thinks it's all together but it's like a New York deli with lost orders and chaos." Reassuring when I think that the chaos here in my modest office at deadline is replicated even at the NY Times! Gelb gave remarks in accepting the NAC Medal of Honor for Culture and among the numerous things he spoke of was the integrity and honesty at The Times during the early years. Of Rich and Dowd he spoke of their wit, courage and intelligence and that they are now his teachers. What an excellent evening. So many writers, and I probably the only publisher there — which I barely mentioned.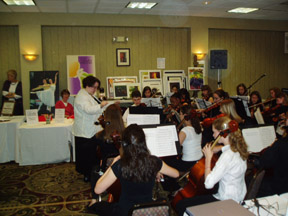 Kingston HS Chamber Orchestra under the direction of
Gina Galassi at the Ulster County Arts Council's 1st
Art & Cultural Showcase, Kingston, NY.
A few announcements: The Woodstock School of Art has opened Studios 1&2 after major renovations which, most importantly, winterized them thanks to an extraordinary gift from the late Florence & Nathaniel Cowen. Originally built in 1939 by the National Youth Administration as a crafts training camp for youth, it later was occupied by the Art Students League of NY's summer school • Artworks Gallery, opened on March 31st, in Cold Spring, NY, featuring the work of the two proprietors, Patricia Laltrella and Marina Yashina who live in the lower Hudson Valley. As I understand from gallery director Olga Besen, Artworks will feature work by area artists and provide services such as art restoration, framing, stone engraving, landscape design, and photography. The gallery also offers Young Adult Art Workshops. For more information see their website ARTWORKScs@aol.com or call 845-265-2204 • The Bardavon 1869 Opera House, Poughkeepsie, NY and the Ulster Performing Arts Center (UPAC), Kingston, NY, have joined in a collaborative partnership which resulted in the Bardavon taking on the management and day to day operations of UPAC. Economic challenges faced by these not for profit organizations makes collaboration both logical and beneficial and we wish them ease in the transition.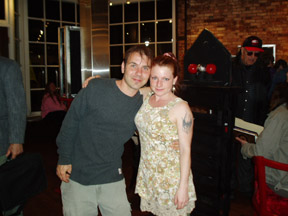 Nikki Peone & Jeff Pison, owners of the Farfetched Gallery, Kingston, NY at their opening.
Ulster County Arts Council held the first Art & Cultural Showcase at the Holiday Inn, Kingston, NY. Thirty-four county arts organizations, artists, and organizations brought information to share with the public and with one another. A relaxed and delightful day of sharing information was supplemented with a full program of music and poetry organized by Jim Marzano of A.I. R Gallery in Kingston, NY. Sherri Briittain, Executive Director of the UCAC, did a formidable job of organizing. The opening ceremony began with music played by the Kingston HS Chamber Orchestra under the direction of Gina Galassi. Susan Zimet, UC Legislator and head of the Arts Committee for the Legislature, gave welcoming remarks expressing her dedication to bringing the needs of the Arts community to the legislature and expressed the belief of most everyone present that the Arts keep the county vibrant. It is a constant struggle for the arts community to survive and, although increasingly obvious but not acted on by funding bodies, supporting the arts makes economic sense and nearly always returns to the community much more money than invested. See the Americans for the Arts website for additional information www.artsusa.org. While at the Showcase, I met up with Sheryl Samuels who kindly gave me a copy of their (she and Don Haynie) most recent, and 4th CD "Playin' in the Minors" produced by HardPressed Records. What excellent musicians — they (with help from Aaron "Louie" Hurwitz, Randy Ciarlante, Larry Packer, Harvey Kaiser, and Scott Petito) are playing music I could listen to for a long time. Don, who sings and plays the guitar, has written all but one of the songs on the CD. Sheryl plays percussion and sings. The blending of Sheryl and Don's voices is like honey, the instrumentation delightful. Over many years of performing they have traveled extensively bringing their folk music to very appreciative audiences including me. For more information about their CD's and touring schedule: www.haynieandsamuel.com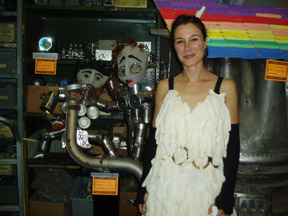 Jessica Williams, one of the organizers of the Nuts & Bolts Art Installation at P&T Surplus wearing her art, a dress made of laytex gloves bought at P&T Surplus. Other sculptures to her left.
Gallery Strolls are very popular in most every community that has a handful or more art galleries or artists' studios. I visited some galleries in Kingston, NY that I haven't gotten to in a while: Judy Abbott's paintings, prints, and drawings of nature were at the Coffey Gallery and it was a pleasure to see Judy's world of nature. In the Rondout area of Kingston, there were several places I visited: The Farfetched Gallery, run by Nikki Peone & Jeff Pison, featured art by Judith Singer & Jose Acosta, work that is hard to describe yet interesting to view. A fairly unique thing about this gallery is the small enclaves or grottos where individual artists show a few works or have an installation • Then I stopped at the Mezzanine, a coffee house, wine bar, bookstore and gallery where Hatti Iles had several of her paintings of fantastic beings that amaze and delight. This gathering place for artists and musicians has wine tastings, live music, poetry readings and hopes to offer workshops for artists in the near future. Larry Zalinsky is the proprietor and can be reached at 845 339-6925 • Art Society of Kingston has a beautiful new gallery space with several rooms, one of which had the Juried Group Show and the lounge held work for their silent auction fund raiser. Congratulations on this new space which provides another excellent venue for artists to show their work and for the arts to prosper • For the past 6 years, PD Surplus, a store filled with projects waiting to happen, has the Nuts & Bolts Art Installation created by and organized by Todd Leland and Jessica Williams who have been shopping at P & T Surplus for years. It seemed to them that it would be fascinating to bring all kinds of art back to the place where it all began, and the response from the creative community was tremendous the first year and has grown every year since. With live music, food, and wine the opening is a terrific celebration of the creative spirit. Past artworks have included robots, bucket fans, pallet furniture, computer art, video installations, and duct tape dresses. For more information contact Todd at 845-691-9304.
And now perhaps I can get my garden in…