Culturally Speaking
By CORNELIA SECKEL
ART TIMES July, 2005
The Summer Season has begun with a plentitude of Chamber Music, Theater, and Dance Festivals throughout our region. I expect to get to several, and will of course report back in this column.
Old & New Friends Exhibition held at the Elisa Pritzker Studio & Gallery @ Casa del Arte in Highland NY was a celebration of 5 years of the gallery. Elisa has been doing an excellent job of supporting the arts in this region, not only as a gallery director but consultant to artists. Raymond J. Steiner, our editor, was invited, as well as 20+ other artists to participate in the exhibit. There was also a video presentation with biographical information and featuring 3 additional works of the artist. A delightful exhibit and an excellent way to celebrate.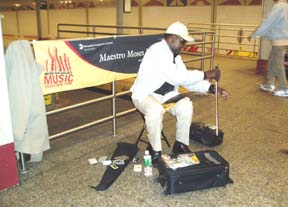 Maestro Moses, playing his saw at the Time's Square station, NYC, courtesy of Metropolitan Transportation Authority's Arts for Transit Office.

I had occasion to take the subway in Manhattan and was glad to see Maestro Moses who is performing courtesy of Music Under New York. This is just one of many visual and performing arts programs administered by the Metropolitan Transportation Authority's Arts for Transit Office. MUNY began as a pilot program in 1985 with the idea of increasing the attractiveness of transit facilities for customers. It became official in January 1987 with the receipt of a $75,000 grant from The General Electric Foundation. The program is now funded and directed by the MTA Arts for Transit Office. At present more than 100 individual performers and ensembles — ranging from classical to Cajun, bluegrass, African, South American and jazz — participate in over 150 weekly performances in approximately 25 locations throughout the transit system. In an effort to appeal to the MTA's entire ridership, the program seeks musicians who reflect the diversity of customers. All submissions are welcome and considered for the auditions. A panel of professionals in the music industry judges auditions using the following criteria: quality, variety, and appropriateness for the mass transit environment. Performers accepted into the program attend an orientation meeting where they are given materials explaining the regulations of the program, especially regarding passenger safety and comfort. Performers are also given a MUNY banner imprinted with their name and phone number and other materials such as t-shirts and buttons. Performances are scheduled at locations in subway and commuter rail stations, with special events presented throughout the year. For more information for performances or to audition, go online: http://www.mta.nyc.ny.us/mta/aft/munyfacts1.htm.
4M Contemporary is one of the newer Fine Arts Festival producers in our region. Melanie & Mario Moore had been on the Fine Arts & Crafts circuit for many years exhibiting Melanie's work, and they felt that it was time to gather some of their friends, make new friends, and use the knowledge that they have accumulated. Their show in May was at the ice rink in Saugerties and nearly 70 Fine Art Crafts People showed their work. The artists particularly liked the venue, as the lighting was excellent. The quality of work on view was very high; many of these craftspeople came from hundreds of miles away, wanting to be part of Melanie & Mario's venture. One of the things I particularly liked (of course I didn't walk away empty handed having purchased birthday gifts for my nieces and some pottery which may never be given away as I like it so much) was the local representation of businesses, food vendors and performers. The next show is in August at Kiwanis Ice Arena Saugerties, Cantine Field, Saugerties. Call for more information. (845) 246-9038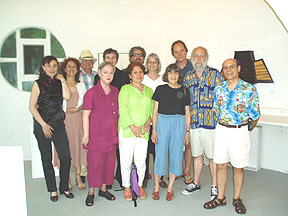 Participating artists at the Old & New Friends Exhibition at Elisa Prizker Studio & Gallery
@Casa del Arte, Highland, NY

Highlighting their upcoming season was the focus for The Philadelphia Museum of Art's entertaining journalists at a delightful lunch at the Century Club in NYC. On hand to answer questions were members of the curatorial staff, public relations, and of course the director Anne d'Harnoncourt. Opening July 16 will be Poussin to Cézanne: French Drawings from the Prat Collection — other shows to stay tuned to are Jacob Van Ruisdael: Dutch Master of Landscape in October, Andrew Wyeth: Memory and Magic, in March 2006 and Grace Kelly's Wedding Dress in April 2006. Their schedule is online at www.philamuseum.org or call (215) 684-7860.
From time to time I get CDs from musicians or their publicists because there is some connection to the region I so often write about. As I'm writing this I'm listening to Guitarist Frank Carillo's album Bad Out There, the first album by his new band called Frank Carillo & The Bandoleros. Carillo wrote 12 of the 14 songs (lyrics made me stop and listen as they were probing and engaging) as well as produced, mixed and engineered the album with Paul Orofino at Millbrook Sound Studios in Millbrook, NY. They had hoped to capture the excitement and feel of a live performance and to my ears they have. They have a very homey, bluesy, sound (as well as some rock'n'roll), easy listening; guitar work is intricate with voice and instruments in excellent balance. The album is nationally distributed through Red Eye. www.frankcarillo.com • And now I'm listening to Appalachian Uprising, a new release from Ampersand Records which features music written and banjo playing by Steve Lutke. When I began listening to this I could hardly keep my feet from moving to that fabulous banjo strumming and picking. Clearly I am listening to someone who is approaching the likes of Earl Scruggs and Bela Fleck. Other musicians on the CD creating this great bluegrass music are Travis Wetzel, fiddle & mandolin; Bob Harris, guitar; Randy Bailey, bass; Ken Neill, bass; Noah Segal, djembe. Bob Harris produced the album.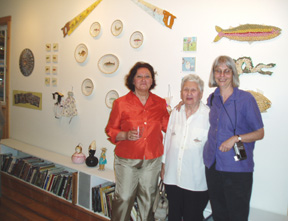 (LtoR) Nadya Donskaya, Luba Donskoj and Nancy
Donskoj, at Luba's opening at the Inquiring
Mind gallery and bookstore, Saugerties, NY

I was encouraged, and I was glad that I was (as were the numerous people at the opening), to see Luba Donskoj's exhibit at the Inquiring Mind Bookstore and Gallery in Saugerties, NY. At 92 years old, Luba continues to paint and make art as she has been doing for most of her life. Born in Armenia, she decorates everything from saws to clothing to furniture. There were paintings of fish on plates; fish on small square pieces of wood; paintings of cats in poses recalling famous paintings; painted lingerie; mouse dolls in elaborate costumes and Faberge style eggs with all sorts of surprises in them. Fish, flowers and animals are recurrent themes in her work. A day doesn't pass without her decorating something. Thank you to artist Linda Montano and to the Gary Heckelman of Inquiring Mind for bringing Luba to our attention.
Hope to see you at some of this summer's exciting events.
Return to Culturally Speaking Index