This JULY/AUGUST Issue marks the beginning of our 24th year of publishing. Combining these issues gives us the opportunity to travel this summer and we'll be reporting back in the September issue. If you have missed the deadline for calendar or advertising you can still get your message out online. For a small fee we can add your calendar information and both banner and classified ads are available on our site. Give a call 845-246-6944 or email ads@arttimesjournal.com and we'll try to accommodate your needs.
Richard Pionk, artist, teacher, President of the Salmagundi Club, member and award-winner of numerous arts clubs and organizations, died on June 5th after a long battle with cancer. For many years Richard sat on the board of the Artists' Fellowship chairing the committee that made recommendations for deciding upon financial requests made by artists in need. My first memory of Richard is at one of Pastel Society of America's early annual dinners. He graciously invited me to the dinner and continued to do so over the years for the Salmagundi Club's President's Dinners. He was so supportive of ART TIMES, introducing me to key people in the arts, and later encouraging Raymond to become a member of the Salmagundi Club. He was a gentle and kind man, a fine artist, a dedicated teacher, and a generous spirit. His death is a great loss to the arts community. The Salmagundi Club (47 Fifth Ave., NYC 10003) is collecting remembrances to be printed in their newsletter.
| | |
| --- | --- |
| | |
| | |
Expoship as I saw galleries and hallway (top) and lounge deck (bottom) and the artist's rendering of the finished outfitting
There I was, planning my annual Ladies Fish-Off trip to Ft Lauderdale, FL, when I got an invitation to go to Miami for a "hard-hat" tour of Seafair's Grand Luxe. It meant staying an additional day, but what a neat idea. I accepted the invitation and after the Fishing Tournament (I didn't place but wasn't skunked!) I rented a car and drove down to Miami to see the Ship. I was met by head of operations Jeff Lawson who took me on a tour of the 5 levels that included 28 gallery spaces, sky deck bistro with a concert stage, open-air champagne and caviar lounge and international coffee bar, and a Fine Dining Restaurant. Workers and supplies were everywhere. Lights, wall coverings, carpet, and lots and lots of cables were waiting to be connected. Each booth will have WIFI, Music piped in with Bose speakers and air-conditioning. Nothing was completed, but I could see from what was already done how it would come together. Seafair's Grand Luxe is a fine art yacht where prestigious American and European Galleries will exhibit their Fine Art, Decorative art, Antiques and Estate Jewelry. The 228-foot, 2,800-ton shallow-draft ship, built in Seattle, Washington, is having the final outfitting done by Merrill Stevens in Miami, Florida. This is the idea. Galleries (more than 100 dealers have reserved space aboard the Grand Luxe, most for multiple segments of the tour) have signed on to the project for a minimum 4-week segment. The ship will travel from the Fall of 2007 through Summer 2008 to 38 affluent coastal cities along the eastern seaboard for a 5-day invitation-only dockside Expo. The managing partners and principals of Expoships, David and Lee Ann Lester, founders of the Palm Beach International Fine Art & Antiques Fair in 1997, have organized more than 40 international events in the United States and abroad. They are excited about their idea for a variety of reasons: 

the dealer's cost of participation for each port visit is significantly less than that of a typical art fair, and known Collectors are invited to a fair that in many ways is custom-fitted to their desires. The "narrow-casting" marketing model is especially appealing to dealers because only audiences that have been pre-qualified economically, and then categorized by artistic interest will be invited to attend — thereby allowing onboard dealers to know in advance exactly who will be visiting the ship. There may be additional events at each stop. At most locations, the opening will be a fundraiser for a museum or organization. The first stop September 25-30 is Greenwich, CT and SeaFair has partnered with the Bruce Museum, and will host an opening night vernissage black-tie gala that will benefit the Museum's education fund. I'm excited about this project; the entrepreneurial skills that have brought the concept to a reality are phenomenal. The first segment of the trip continues on to Port Washington, NY; NYC, NY; Westport/South Norwalk CT and the 2nd segment continues on to Philadelphia, Baltimore and Alexandria. For more information, log onto: www.expoships.com. What a great idea!!!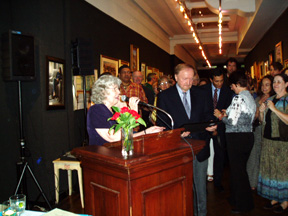 Joan Rudman, President and Nelson Shanks, honoree at the

Hudson Valley Art Association held their 76th Annual Exhibit at the National Arts Club in NYC.
The Hudson Valley Art Association held their 76th Annual Exhibit at the National Arts Club in NYC. What a packed house and what a good time was had by artists greeting one another and discussing each others' work. Nelson Shanks, painter, teacher and art collector, was the Artist in Special Tribute and, in his acceptance talk, very appreciative of the work of the organization. Some of the winners: The Gold Medal of Honor was given to Marion Hylton for Old Roses; other award recipients were Susie Chiholm for her sculpture The Slugger; Anthony Ventura for his watercolor Overlooking the Harbor and Cisar Jerez for his oil Coming Rain. The ART TIMES Award went to Richard English for his watercolor Big Water. Next year's show will again at the National Arts Club. For more information contact HVAA at www.hvaa.us or 201-652-6619.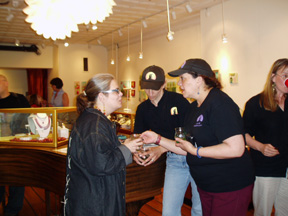 Shelley King, Cherie and Mery Rosado of Mezzaluna Bistro Latino & Gallery, Saugerties, NY at Shelley K a fine art jewelry store in Saugertie, NY
Having a piece of jewelry that was made especially for you or buying a one-of-a-kind piece is a thrill. I commissioned Mary Elwyn (co-owner of Crafts People, Hurley, NY) to make a ring for me honoring my 60th year. It was a process that took several months, beginning with Mary building the ring with wax and after we made some adjustments to design and weight I saw the ring again, chose the stone and, after approving the final design, it was cast. I get great pleasure in wearing this sculpture and have gotten many admiring comments. And so when I first spoke with metalsmith Shelley King, who has opened a fine art Jewelry gallery in Saugerties, NY — called Shelley K — I was already predisposed to what she was doing. Shelly has jewelry from 11 fine art jewelers, and also shows paintings and one-of-a-kind hats. She told me that, "It feels like I am definitely embarking on a new phase of my life. I truly love art jewelry, the whole process from inspiration to seeing some one love wearing it. I am so please to be able to showcase other people's work. Everything just fell into place and here I am." I stopped by the shop/gallery and was dazzled. The work, one-of-a-kind pieces only, is gorgeous— fabulous stones, designs, and so many different looks. I was pleased to meet Billy Van Bakker, a jeweler-friend of Shelly's whose work appears to be from medieval times. So get yourself over to Saugerties, NY and indulge yourself with a unique piece of jewelry — you'll be glad you did. Shelly's next exhibit, curated by Mery Rosado of Mezzaluna Bistro Latino & Gallery, Saugerties, NY, features artist Pablo Shine and Juan Maldanado. It will run from July 2 - 24th, with an opening reception July 14, 4-9pm. Give them a call at the store at 845-853-5414.
Newsy items: Our first Dance Correspondent, Jane Sherman, was honored by the National Museum of Dance, Saratoga Springs, NY. Each year they dedicate their exhibitions to someone who has shown exemplary dedication to the promotion of dance education and public appreciation of the art. The exhibit "The Dawn Of Modern Dance: Music, Myth and Movement" has been dedicated to Jane and we salute her and applaud the museum's choice • The American Watercolor Society's 140th Annual Traveling Exhibition with work from 40 artists that were selected by the Jury of Awards has begun its eight-city tour (Glouster, MA; Port Huron, MI; El Dorado, AK; Tullahoma, TN; Mt Pleasant, TX; Carmichael, CA; Bradenton, FL; Freeport, IL). It is an excellent idea and provides opportunity for thousands of watercolor artists and enthusiast to see these fine paintings. It certainly represents a lot of hard work and planning to identify and manage the shipment of all these paintings. For specifics about the tour contact AWS at 212-206-8986.
Several new Galleries have opened in the past few months and sent me their information: Eyebuzz, located in Tarrytown, NY, is owned by Tim & Tara Thayer. They will have solo exhibits by an eclectic group of artists, including paintings by Lynne Friedman, photographs by Matt Licare, paintings by Bill Mead, and paintings by Lois Cremmins. Take a look at their website www.eyebuzzfineart.com for more information • Anelle Gandelman Fine Art, located in Larchmont, NY. Anelle said that, "as with a puzzle of many pieces, the parts of my life that led to opening an art gallery fit perfectly together. From an early age I had a passion for painting, leading to a fine art degree from Parsons School of Design in New York. My career then developed into that of a senior art director. From there, the art world called again, and I attended Sotheby's Institute of Art in Manhattan. Anelle offers a variety of art and services including changing exhibition, art consulting, and investment services. and says, "It is this combination of fine art, design, management, and business that allows me to combine my love for contemporary art with my desire to promote the arts." • Cat-n-Around is a summer-long, open-air art exhibit running from Memorial Day to Labor Day. Artists from around Catskill, NY have decorated two-foot tall tabby cats that are perched on pedestals up and down Main Street, Catskill, NY. There are 50 cats and each one is a treat to behold. • Jacob's Pillow, located in the town of Becket, MA, is celebrating their 75th Anniversary Season. In 1933, legendary dancer, teacher, and choreographer Ted Shawn founded the Festival as a showcase for his company of Men Dancers and as a home for dance in the US. The Pillow is the longest-running dance festival in the US and has a professional school, rare and extensive archives, an intern program, year-round community programs, and a creative development residency program. The historic site includes 163 acres, 31 buildings, three unique stages (including the first theater in the U.S. built specifically for dance), three dance studios, exhibition spaces, restaurants, the Pillow Store, residential housing, administrative offices, a health center, gardens, trails, and woodlands. There is an extensive dance program over the summer and their schedule can be found at www.jacobspillow.org.
Enjoy the summer.