Culturally Speaking
By CORNELIA SECKEL
ART TIMES July/August 2009
This issue marks the beginning of our new print schedule. We will now print bimonthly: Jul/Aug, Sep/Oct, Nov/Dec, Jan/Feb, Mar/Apr, May/Jun with issues out by the first of the month. If you miss our deadlines for calendar and opportunity listings as well as display ads there will still be an opportunity to publicize your event on our ever evolving and growing website: www.arttimesjournal.com. Just give a call or email and we can get your information online within a few days. Elsewhere in this issue you will see the schedule for printing, advertising reservations and calendar / opportunity submissions.
We expect that this change will be beneficial to our advertisers and bring our readers additional resources on our website while continuing to maintain a printed publication. Many of you have written supporting this decision and we appreciate that.
ADVISORY: Please note that we have recently discovered that a company in India has illegally infringed on our 25-year long business name of "ART TIMES" and has mounted a website using that name. We have informed them that they are using our name without our permission and that they should cease to capitalize on it. Please be advised that we are in no way connected with this company —either in print or online.
We were saddened to learn of the passing of Frank Mason, a painter and teacher at the Art Students League of NY for well over 50 years. Frank has had a profound effect on his students and his long tenure as instructor has ensured that his legacy of carrying on a classical approach to art will continue on well into the future.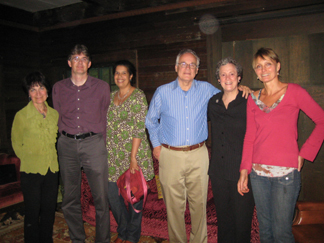 Linda Weintraub is the guest curator for "Ahoy! Where Lies Henry Hudson?" an outdoor quadricentennial exhibition organized by the Woodstock Byrdcliffe Guild. I remember Linda when she was the director of the Edith C. Blum Art Institute at Bard College, Annandale, NY. Linda had the most interesting and innovative exhibitions in the region. Since the closing of the Blum, her work as a writer, curator, educator and artist has continued. It was quite a pleasure then to learn about this show of Henry Hudson memorials designed by 16 area architects who were chosen by Linda. The architects were challenged to imagine that Hudson's bones just washed ashore, allowing him to be laid to rest. Henry Hudson never had a proper burial because his body was lost at sea after his crew mutinied. Their work (with no compensation for materials or time) is site-specific and installed throughout the grounds of the Byrdcliffe Arts Colony in Woodstock, NY, several on the grounds of White Pines, home of Byrdcliffe founder Ralph Radcliffe Whitehead. Numerous programs scheduled that relate to this exhibition and the quadricentennial can be found on the Guild's website: www.woodstockguild.org. In a very comprehensive publication that accompanies the exhibit: each architect wrote about their work; town historians from the surrounding area contributed essays about different aspects of the river, the legacy of Hudson's journey on the towns and people; reflections on Hudson's interaction with the Algonquin People that lived along the river; and of course a map for a walking tour of the works. Why Architects? Linda's response is that she wanted to offer multi-dimensional insights and that architects could do that. Work by architects is rarely seen in the exhibits held in art galleries and museums, Linda writes, "and this was a way to support their creativity as they work without the constraints of codes, zoning, and engineering protocols". Linda also expressed how pleased she was to be working "close to home with people and institutions she has known for many years". I spoke with several of the architects and they were so pleased to be challenged and very enthusiastic about the entire project. Alan Baer was the architectural coordinator and when we spoke he was very happy with the outcome. "It was a lot of work and a great pleasure to work with Linda", he told me. When I spoke with Linda she said the very same thing about Alan. There have been many events all along the Hudson River in celebration of the quadricentennial. What we must all acknowledge is the greater lesson and that is to recognize the great cultural diversity that made the United States. Tolerance and learning from one another is what builds a strong country and society. It is a lesson we must continue to live each day.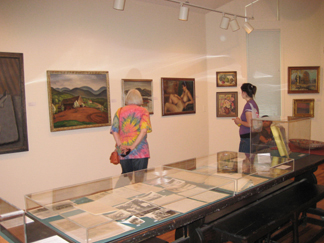 The Woodstock Artists Association & Museum show In the Beginning: The First Decade of the WAA was a visit with old friends, a few I knew, mostly artists who Raymond has written about and many that inspired his novel The Mountain including: Birge Harrison, Rosella Hartman, John Carlson, Charles Rosen, Carl Eric Lindin, Andrew Dasburg, Konrad Cramer and George Bellows. The exhibit is a celebration of 90 years since the founding in 1919 and has paintings, sculptures as well as many original documents and photographs from the WAAM Archives including the original stock certificates, directors' minutes, Certification of Incorporation and hand written notes for an annual meeting in 1922. Emily Jones, Granddaughter of Jane and Wendell Jones (loaners to the exhibit of the WAA Certificate of Incorporation) came to the opening wearing a Tiara that her grandmother wore to one of the early festivals — Jane would have been quite pleased. The exhibit will be on view until October 12 and is a delightful step into the creation of one of the earliest arts organizations of its kind. I was out of town and missed a show at WAAM that I feel is important to report on and fortunately Raymond was able to fill me in. He went to see the exhibition of Peter Sís, Czech-born, award-winning author of several children's books. Accompanied by Elizabeth Stegmayer, curator and organizer of the show, Raymond was fortunate to get a "behind-the-scenes" look at what, at first glance, appeared to be a rather simple exhibition of original illustrations from Sís' book Tibet Through the Red Box. However,"Peter Sís: Through the Red Box", mounted in the Towbin Wing of the Woodstock Artists Association Museum, was certainly not 'simple' and definitely not a 'children's show' — it was, in fact, a profoundly moving journey into Sís' own childhood, and especially into his relationship with his father, whose trip to the Dali Lama in the 1950s forms the original source and impetus for the book in the first place. Along with illustrations from the Tibet Through the Red Box, the show also features numerous photographs, artifacts, mementoes, diaries, and items that connect Sís with his father, including the camera that took the photos and the words that he shared with his son Peter while he was still a boy growing up in Prague. If any exhibit should travel to other venues,"Peter Sís: Through the Red Box" deserves widespread viewing.
Raymond was invited to Wallkill River School and Art Gallery to speak about his novel The Mountain. It was a very interesting group and the discussion was lively and I believed we all learned quite a bit. Shawn dell Joyce founded the school in 2001, combining her work as a sustainable environment advocate with her love of painting. According to their mission statement: "The Wallkill River School is a nonprofit artist's cooperative that runs a gallery and a full art school on Rt 17K in Montgomery, NY. Part of the organization's mission is to preserve dwindling open spaces and promote small-scale farms and our agricultural heritage. The artists often partner with historic sites such as Sugar Loaf Village, organic farms like Phillies Bridge Farm, and nonprofits like Black Rock Forest Consortium to build benefit art auctions, giving participants a chance to sell their work, and help raise money for nonprofits that preserve open spaces. The WRS published a local foods cookbook based on what our farms grow, in season, and where to find it. The WRS offers plein air workshops on location throughout Orange County from May-Oct, and year-round art classes in the Montgomery gallery. The WRS is committed to buying local, and all our events are zero waste, handicapped-accessible, and carbon neutral". I am quite impressed by the quality of instructors that will be doing workshops this summer and the extent of outreach this group has made to their community. There is a waiting list for artists to join the co-op (they take 24 each year for just a year) and the work on view while we were there was Mary Mugele Sealfon's oil landscapes and Steve Blumenthal's still life watercolors. Coming up in July is the work of Patricia Morgan, Janet Campbell and Michael Piotrowski. WRS is now housed in the Patchett House, first built in 1809 as a Tavern, then in 1891 bought by the Patchett family (the last Patchett lived in the house until early 1970's); then it was a funeral parlor in 1978 and after many years of disrepair it was bought by the Devitt Family who has restored most of the house and rents the space to WRS. The house has been on the National Register since 1980. The old wood stove stands where it's been since 1891 along with a central vacuum cleaning system from the early 1900's. What a place to explore! Upcoming plans are a Pottery Studio so that ceramics can be added to the class and workshop offerings and a Photography Co-op that will operate very much like the artist's co-op. Check them out and treat yourself to a workshop www.wallkillriverschool.com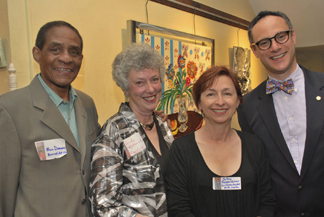 Forty organizations have joined together for a region-wide Season of Degas. The Hyde Collection has "Degas & Music" on view until October 18th and during that time over 70 performances and events will take place in a 5 county area in upstate NY. See www.hydecollection.org for specific locations and events. Cooperation, especially in these critical economic times, is even more essential. Speaking of cooperation, Art Along The Hudson is a 7 Cities (Kingston, Beacon, Catskill, New Paltz, Poughkeepsie, Peekskill, Newburgh), 7 Celebrations of the arts. (www.artalongthehudson.com) I attended the launch of this year's brochure where political and arts representatives of the 7 cities plus many well-wishers were present. A brochure is available online and in various locations with contacts for arts sites in each of the cities.
chashama's Space Recycling Program serves New York's art community by adopting temporarily vacant properties and converting them into theaters, galleries, studios and storefront window stages. Since 1995, reports Anita Durst, principle and founder, chashama has provided opportunities for performing and visual artists by awarding grants, producing shows and providing subsidized studio, rehearsal, and performance space, transforming more than 40 locations, giving 7,500 artists access to space well below market rate. They have created multi-arts complexes in major boroughs of New York City, produced, co-produced and presented over 400 productions, and hosted 14 festivals. Recently chashama ventured into new territory with a new space in Jamaica, Queens that hosts a youth program, 10 studios spaces and 2 galleries. For additional information: www.chashama.org

The Annual Mohawk Hudson Regional, founded in 1936, is among the longest-running regionals in the country and provides a view of the contemporary art activity in the Upper Hudson Valley. The exhibition which features 81 works by 35 artists and chosen from 1,242 entries by 285 artists, is at the University Art Museum, at Albany, (next year at The Hyde Collection) and will be on view through August 8, 2009. Take a look online at: www. albany.edu/museum • The Woodstock School of Art ((www.woodstockschoolofart.org) has their Faculty Show on view until Jul 6 and it is an excellent show and opportunity for students to preview what is in store for them. The new gallery is large, light, and an extremely good place to see work • Lotus Fine Art & Design has an Etching Show (through Jul 10) of works by Ellen Mahnken and Meryl Learnihan. The work was done on an old Victorian press. Lotus Fine Art has added a new dimension of Design Services to their offerings of art, jewelry, painted sconces and other light fixtures. Next time you are in Woodstock, NY take a look or visit them online at www.lotuswoodstock.com
Many, many years ago in the late 60's when I was an English Teacher in Lansing Michigan, I used the novel Choice of Weapons by Gordon Parks with my 10th grade classes. I thought it would give them an understanding of different types of weapons one can acquire and utilize throughout their lives. I so admired Parks' work, (he was a groundbreaking American Photographer, musician, poet, novelist, journalist and activist as well as film director who is best remembered for his photo essays in Life Magazine and as the director of the 1971 film Shaft) that whenever his name came up over these many years I have paid more attention and gained a renewed sense of admiration. His collection of photographs as well as the Meeserve-Kunhardt Foundation will now be housed at SUNY Purchase, Pleasantville, NY. The work will be preserved catalogued and made available to the public in the near future.
The 120th Annual Member Show of the Salmagundi Club had a great variety of work that was all quite excellent. This Club was founded in 1871 as a sketch class in Johnathan Scott Hartley's studio and then in 1917 the mid-nineteenth century brownstone house (47 Fifth Avenue, NYC) was purchased and became its second home where it still remains. Coming up this summer is a 40 year retrospective of Gary Erbe, a fine artist (take a look at www.garyerbe.com) that has not only worked hard at evolving his own work but has served as President of Allied Artists of America and curated numerous shows across the country.
While in NYC early this month I saw Katharine Cosenza Butler's Coastal Reflections,paintings and etchings that put me right back on the beach in Florida. These calm, reflective and very strong paintings were at the Prince Street Gallery. You can see more of Katharine's work at www.kbwatercolors.com
So it seems I've been able to get around a lot more this month and with a bit more time I'll be able to explore even more new places. Keep checking our website to see what's new.
See you out and about.