Culturally Speaking
By CORNELIA SECKEL
ART TIMES Jan/Feb, 2005
This issue covers both January and February, and gives us time to explore the arts in places we can't get to during the rest of the year with its regular monthly deadlines, and allows for some welcome (and must-needed) R&R. We will be traveling to Europe to visit Budapest, Vienna, Munich, Cologne, and Northern Italy. The March issue will have reports from our trip. Keep in mind that the office will be semi-closed until February 7th with phone, email and snail mail monitored and responded to by Mimi, our hard-working and excellent assistant.
This past month saw numerous group Holiday Shows and Arts and Crafts Fairs at galleries, arts centers and schools throughout our region. This is always a good opportunity to buy gifts for family, friends and yourselves. The Annual 5x7 Show at the Woodstock Guild in Woodstock, NY is always a lot of fun. Each year I try to guess which artists painted which little painting — a secret unveiled to the buyer only. The Annual Thumb-Box Show at the Salmagundi Club, NYC had over 200 works by members. The term thumb-box comes from, according to Gaye Elise Beda, long time member of the club, "…painting outdoors and using a cigar box with thumb holes in the bottom. It made for a small easel and excellent for sketch painting outdoors on cold, windy days in the early 1900's." Some of these Holiday shows will run through January.
Jeffrey Kosmacher, Director of Media Relations at Vassar College in Poughkeepsie, NY, sent me a copy of Vassar College: The Campus Guide: An Architectural Tour by Karen Van Lengen and Lisa Reilly with photographs by Will Faller and a forward by Frances D. Fergusson, College President. This beautiful book about the intriguing architecture of the campus has hundreds of excellent photographs of the exterior and interiors of buildings and grounds. Will is a fine art photographer and that is evident in this book.
While delivering the December issue I came across works by Jo Owens Murray at the Pleiades Gallery in Chelsea, NYC. "Found Identities" is an exhibit of surrealist works. The artist has created fabulous sculptures of beads and other found objects including jewelry, feathers, and decorative pieces made of metal and plastic. Each of her sculptures has a strong identity, each making different political, social, and artistic statements. The work was very well done with great care and precision. One of the sculptures called Trophy Wife (21" x 17.5") is of a woman's face (created with beads and jewelry) mounted on a backboard with deer horns, (as any deer head might be mounted) and a fur scarf around her neck. More of her work can be seen at www.artbyjo.com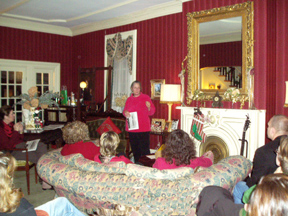 Cornelia Seckel speaking about the beginnings of ART TIMES at Professionals in Mediašs Pot Luck Holiday Party held at Les Saisons, a B&B run by Art & Libby
Christensen in Maplewood, NJ.

I was invited to Maplewood, NJ by Jackie Hership, co-founder of Professionals in Media to speak about how I began ART TIMES at their annual Pot Luck Holiday Party held at Les Saisons, an exquisitely decorated B&B run by Art & Libby Christensen. I've written the story of the origin of our publication (it is online on our website), but never actually gave a talk on this topic to a group. I was pleased to be asked, and spoke about the founding, the mechanics, the problems and the perks. The response was heartwarming as numerous people thanked me and said how inspiring the story was, and of how it validated for them so many of their own struggles.
As I was going to be in Maplewood for the evening meeting, Jackie asked if I'd be willing to meet with Patrick Morrissy from HANDS, Inc. He had initiated projects that would revitalize the community of Orange and one of the focuses was through the arts. I said I would be pleased to meet with him and I would also visit some of the galleries and centers I went to on my first exploratory mission to S. Orange / Maplewood several years ago.
Before we met up with Pat, I stopped in at the Robin Hutchins Gallery where a group exhibit of paintings was on view and across the street to Classic Design Framing, a frame shop and art gallery owned by Krista Fahey. On view was paintings (mixed media, handmade paper) and jewelry by Joanne Miller Rafferty. There were great swirls of color and texture that gave a sense of landscapes to be explored. The necklaces and pins kept the same delightful designs and fine craftsmanship seen in her paintings. Krista told me that 15 works were sold during the show with prices ranging from $75 to $4500. Just a year ago the frame shop also became a gallery showing fine art, prints, blown glass, and jewelry by local and regional artists. Take a look at www.classicdesignframing.com
Patrick Morrissy is living his dream. Patrick said that he joined the war on poverty when, as a young man growing up in a working class family in a comfortable community outside of Detroit, Michigan, he was strongly impacted by Michael Harrington's book The Other America, a classic account of an isolated and self-perpetuating underclass which was originally published in 1962. He came to NJ to work with some friends, and in 1986 he and a group of clergy and community leaders began HANDS — Housing and Neighborhood Development Services, Inc. of which he is the Executive Director, to ensure that the neighborhoods of Orange and East Orange, NJ remain good places to raise a family. Their strategy is to revitalize neighborhoods by clearing the legal titles, purchasing the properties, and developing them as housing for first-time home owners, condominium apartments where artists can live and work, and for arts-related businesses to rent and own storefronts. Many of the properties that they have taken over were places with environmentally dangerous refuse on them, and where unhealthy and illegal activities took place.
In cities across the US, the arts have proved to be an engine of neighborhood revitalization, economic development, job creation, career enhancement, and educational improvement. Different places have come up in my column and just last month I wrote about Media Loft in New Rochelle. From the materials I got from HANDS, I learned that during the summer and fall of 2003 a group of graduate students and faculty from Seton Hall University involved over 670 adults and children through surveys, focus groups, and interviews aimed at determining the interest of creating a neighborhood arts program in Orange – centered around the Valley, a section of Orange with many abandoned factories, and neighborhoods that could use support. And so fuel was added to HANDS and to Patrick Morrissy to fight poverty, enrich a community, and to create opportunities for the arts and artists.
HANDS is currently developing two sites in the Valley that will contribute to the neighborhood arts program: The Brass Co. on Freeman Street will have four storefronts available for arts-related businesses or arts programs and development of the F. Berg hat factory (with 3 buildings as part of the complex) which will include a mixed-use of 29 loft condominiums and about 8500 sq ft for other arts-related commercial businesses, programs and activities.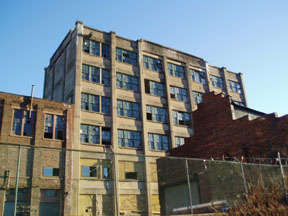 The former F. Berg hat factory is one of HANDS' projects and will include mixed-use of 29 loft condominiums and about 8500 sq ft for other arts-related commercial businesses, programs and activities.

As we toured the area I saw some of the buildings that were in the process of renovation, others completed with families already moved in, and some buildings with artists and arts-related businesses already in place. I was pleased to learn of the formation of Valley Arts Collaboration, which will oversee arts programming and activities. HANDS, Inc was just made the first company to receive funds from the New Jersey Neighborhood Revitalization Tax Credit Act. These dollars will be used in the early steps toward developing a Valley Arts District. PNC Bank has made a $250,000 contribution in support of two of HANDS' projects. In September 2004, HANDS Received the Governor's Excellence in Housing Award.
By turning these deserted and decrepit buildings into usable spaces, the arts are supported and the community will be supported by the arts enriching their lives economically, culturally, and educationally. Patrick went from being a builder swinging a hammer to developing properties that have a wide and deep positive impact on people and their communities. Bravo to all the people that are helping to make this work a reality.
Later in the day I met with Ellen Greenfield and Chuck Miley at the Maplewood 1978 Arts Center. This space was just a dream last time I was in town and now they have classes for children and adults as well as programs, exhibits and an annual crafts Fair. Currently on view was "Banned Books", an exhibit of works by 23 artists that Chuck was able to reinstall at the center after its debut at the Morris County Library. Ellen is very involved with the South Orange Maplewood Artists' Network. One of their projects is a monthly arts calendar (email: somaartnet@comcast.net to get onto their mailing list). Last year they also held an Artists Studio Tour with over 40 artists participating. The next exhibit, curated by SK Duff, at the 1978 Arts Center is "Infiltrations", work by contemporary artists influenced by or having elements of Folk Art in their work.
A brief reminder that we are now accepting advertising on our website. For information contact us by phone, email or mail or go online to see the ads and our rate schedule. That's about it for this month. Enjoy the replenishing of these winter months and I'll see you out and about.
Return to Culturally Speaking Index