By Cornelia Seckel




ART TIMES December 2008

So how many of you noticed our great gaff in last month's issue? The Banner identified the issue as the 24th volume and November 2007. Yikes, 25 years and I've never made that mistake (one close and, if you know it, write to me and if you are correct you'll get a year's subscription). I figured librarians would see it immediately and of the several calls we got, all were librarians — thank goodness someone keeps track.

This month we welcome Ginger Lee Hendler to our staff of art correspondents and to our current issue. Ginger, an artist and teacher (formerly at The Progressive School of Long Island), is a long-time resident of Long Island and periodically will be covering the LI artscene.

I want to remind you that the next issue of ART TIMES is the Jan/Feb issue and any calendar listings should be in the office by Dec. 12; advertising materials by Dec. 18. This 2-month issue is an excellent way to get the word out about your product, exhibits, or performances for the cost of one month's advertising.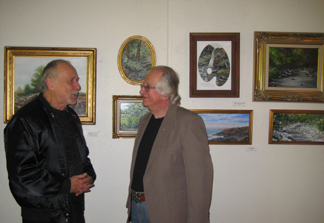 Barry Plaxen (L), Publisher of Canvas & Raymond J. Steiner (R) at The Karpeles Museum, Newburgh, NY, during the opening reception of Raymond's exhibit
Raymond J. Steiner's exhibition of Landscapes at The Karpeles Museum, Newburgh, NY, has been very well received. For those of you who couldn't make it to Newburgh there is a video of the show on a YouTube link on Raymond's website www.raymondjsteiner.com. We are able to do all sorts of new things online since my new assistant Kat O'Brien has joined us. Soon there will be a new look to the ART TIMES website including a blog for you to upload comments on cultural events you've attended and to share short videos that you've made and are available on YouTube.
The Business Committee for the Arts, Inc., founded in 1967 by David Rockefeller to bring business and the arts together, is an important organization to bring to your attention. BCA's mission is "to ensure that the arts flourish in America by encouraging, inspiring and stimulating business to support the arts in the workplace, in education and in the community." Business support to the arts has grown from $22 million in 1967 to $3.16 billion in 2006. The BCA TEN Awards were presented by BCA, FORBES Magazine, and Americans for the Arts at a ceremony that I was sorry to miss. The Media Sponsor of THE BCA TEN was USA TODAY and presenting sponsors included The First American Corporation, Morgan Stanley, Principal Financial Group, and Target. The Sustaining Sponsoris Deutsche Bank. Leadership Circlesupporters are C.J. Segerstrom & Sons, Corning Incorporated, Emprise Bank, Equity Dynamics, H&R Block Inc., Humana, Ingram Industries, Meredith Corporation, Northwestern Mutual, Taramor Fund, and Vinson & Elkins LLP. The recognized companies have exhibited exemplary support for the arts in recent years through grants, volunteer programs, matching gifts, local partnerships, sponsorships and board membership: Anadarko Petroleum Corporation, Houston, TX; Brown-Forman Corporation, Louisville, KY; Emprise Bank, Wichita, KS; First Tennessee, Memphis, TN; H&R Block, Inc., Kansas City, MO; Limited Brands, Inc., Columbus, OH; Northwestern Mutual, Milwaukee, WI; Sweetwater Sound, Inc., Fort Wayne, IN; Wachovia, Charlotte, NC; and Zions First National Bank, Salt Lake City, UT. The BCA Leadership Award was presented to James R. Houghton, Chairman Emeritus of Corning Incorporated in Corning, New York. The BCA Hall of Fame Award was presented to Deutsche Bankbased in New York. I'm reporting this so that we can all pay more attention to companies that support the arts. It is even more important in these difficult economic times to make our dollars work for us and our concerns.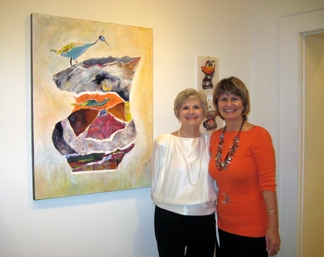 Barbara Holmes (L) and Linda Richichi (R)
at Linda's exhibit at bau, Newburgh, NY
While in Beacon several weeks ago I was pleased to see so many new galleries, many now located on Main Street and not far from Dia: Beacon. It was the 2nd Saturday and galleries throughout the city had opening receptions. I stopped to see Linda Richichi's exhibit "Involution" that featured her excellent pastel landscapes and some new (yet similar to work she did 20 years ago) of inner landscapes — quite lyrical, colorful and thought provoking at bau, a cooperative gallery; Iya Battlehad an exhibition that celebrated the Divine Feminineat Mount Beacon Fine Art; there are 2 photography galleries: 400 square— contemporary photography owned by Rob Pennerand fovea exhibitions, a non-profit photojournalist gallery run by Stephanie Heiman; Hudson Beach Glasshas a beautiful display of their fine art glass, as well as glass blowing demonstrations; Bannerman Island Gallery, at Castle Keep Realty, has a large selection of work by gallery artists and invited guests. Also in Beacon is Muddy Cup, a coffee house and venue for arts and music. Copies of ART TIMES can be found at most of the Muddy Cup locations in Hudson, Catskill, Saugerties, New Paltz, Schenectady, Kingston, Albany, Poughkeepsie, and Newburgh.
I was in NYC at the Galleria-on-Third, a museum-quality framing company that hosts special exhibits and sales of work for various organizations. I was there for an exhibit by artist Myrto Glarou-Kratsa and other international artists to benefit The Smile Train, an organization whose work benefits children who need cleft surgery. Coming up in December is an exhibit to benefit the Cancer Center at Bellevue Hospitalco-sponsored by Carson Kressleyand the Manhattan Hematology Oncology Associates. Gallery owner and director Shadin Hossain says that he wants to help children and the way he can do it is to have these art exhibitions with a percentage of the proceeds of the sale of the work going to the various organizations he supports.
The American Artists Professional League held their 80th Grand National Exhibit at the Salmagundi Club located at 47 Fifth Ave. NYC. Each year the paintings and sculpture seems to exceed the quality of the previous year. It is always a pleasure to discover new artists and to see new works by artists I know. The purpose and objectives of the association is "to advance the cause of the fine arts in America through the promotion of high standards of beauty, integrity and craftsmanship in painting, sculpture and the graphic arts." Best in show, the Newington Award, went to Dashuai Sunfor Green Moonlight; The Alden Bryan Memorial Award for Traditional Landscape Painting in oil went to Monty Lumba for Half Moon Bay; and the Art Spirit Foundation Gold Medal Award for Excellence in pastel went to Diana DeSantisfor Jessica II. Congratulations to these winners and to all the artists accepted into this prestigious exhibit.
The Phoenix Gallery is one of the older cooperative galleries in NYC and I have been delivering papers each month for many years. I was fortunate to be there when Ellen Bradshaw's show "Heading Home, Keuka Lake"and Francis Dosne's show "Retrospective"were on view. Frank's oil paintings are mesmerizing, colorful, and intriguing and Ellen's oils are strong and luminous. The combination was an excellent balance for the gallery.
Max's Kansas City Project(www.maxkansascity.org) is an organization that provides emergency funding for housing, medical and legal aid to financially distressed individuals in the creative arts. Fearless Youth(www.dropin2maxs.com) is their teen empowerment through the arts program. Taleo(www.taleo-arts.com) hosted a very successful auction and terrific party (food donated by local restaurants) with live entertainment.
Corinne Curry, director of ARTSPACE wrote that they "seek to present a forum for the many expressions called "art" for the Germantown, NY community and beyond. The mission is to entertain and inform through projects of visual arts, classic crafts, music, readings and to offer lectures of concern and interest to its audience. The project has been developed by the Germantown Economic Development Committee to provide a cultural stimulus to the town and broaden awareness of Germantown throughout Columbia, Green and northern Dutchess counties.
Coming up in December are Holiday Group Shows at most every gallery. Take a look, you may find some wonderful bargains to lift your spirits. It is especially important to support the arts in whatever ways we can. Budget cuts along with the poor economy is making it difficult for the arts to survive. A world without music, dance, theatre, films, sculpture, and art is a dreary place, a place deadening to our souls. So do what you can to support the arts ~the holiday gifts to your friends and family can be gifts of art, concert & theater tickets, museum passes — you get the idea, and they are also gifts to the artists and organizations who make our world a better place.
See you out and about. From the staff here at ART TIMES we wish you Happy Holidays and a very healthy and creative New Year