CULTURALLY SPEAKING

By Cornelia Seckel




ART TIMES December 2007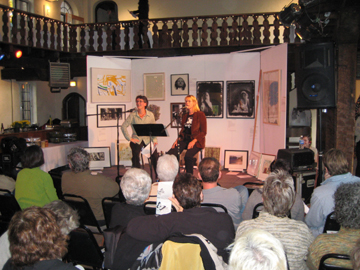 Women's Studio Workshop annual auction at The Colony in Woodstock, NY. Pictured on stage are auctioneers Casey Kurtti
and Myra Mimlitsch-Gray
'Tis the Season for finding that special gift and that special gift can be a work of art, a subscription or ticket for a concert, film, performance or play, or a gift certificate for classes or workshops. It is the gift that keeps giving: to the artist for appreciating and buying their work, to yourself for helping to support the arts, and of course to your friend/family. Beginning this month many of the cooperative galleries throughout our region have group exhibits of their members' work. Other organizations may set a limit on the price that artist members may set on work they put up for sale. The Salmagundi Club, NYC holds their annual Thumb-Box Sale — small paintings for small prices — and we have seen many other galleries featuring group shows to encourage the buying of art for holiday gifts. The Women's Studio Workshop held their annual auction in the fall and I bought several items during their silent auction that I have earmarked as holiday gifts. Performing Arts Centers and schools often have gift certificates available on their website. I do have one other suggestion and that is to buy an artist's link to our website for that special artist.
The American Artists Professional League held their 79th Annual Exhibition at the Salmagundi Club. It was an excellent show with numerous award winners including Newington Award Winner - Best Painting in Show -- Charles Syvertsen's "Catherine" Homeward Bound; The Art Spirit Foundation Gold Medal Award for Excellence in Pastel - Marian Flahavin - She Opens the World; The Alden Bryan Award for Traditional Landscape in Oil - Pauline Stecher - Retreat; and the Vera Sickinger Award for Figure in Pastel - Rhoda Yanow - Woman/Headscarf . Congratulations to these award winners. According to information on their website, the Organization began in 1928 with a group of Salmagundi Members that felt there was "a need for a national organization to meet the increasing interests in traditional realism in American art." They formed the organization (AAPL) with that goal and to advance the cause of the fine arts in America, through the promotion of high standards of beauty, integrity and craftsmanship in painting, sculpture, and the graphic arts.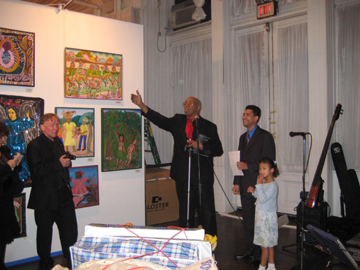 Geoffrey Holder (center), guest of honor,
at the International Caribbean Art Fair, NYC
Early in the month I went to the Puck Building in Soho, NYC, to attend the International Caribbean Art Fair where about 40 galleries and artists with a Caribbean connection showed work. Listed on the National Historic Register, this grand Romanesque Revival structure was designed by Albert Wagner and built in 1885 for the J. Ottman Lithographic Company. The building was named for the satirical Puck magazine, published there from 1887 until its 1916 demise. Originally, the land on which the building stands, was farmland owned by Nicholas Bayard. During the mid 1800's, the property held a house occupied by the Sisters of Charity, which was purchased and demolished in 1885 when construction of the current building began. The Puck Building contains over five acres that includes offices, catering facilities and space for Pratt Institute. Numerous organizations, businesses and individuals hold their exhibitions, social functions and galas at this truly historic building. While at the International Caribbean Art Fair I had the pleasure of meeting Geoffrey Holder, their guest of honor, and quite the Renaissance Man. A dancer, choreographer, costume designer, a painter, art collector, performer, writer and composer. Currently, and through February 3rd, he is the subject of the exhibition "Geoffrey Holder: A Life in Art, Theater and Dance" at the Nassau County Museum of Art in Roslyn Harbor, NY.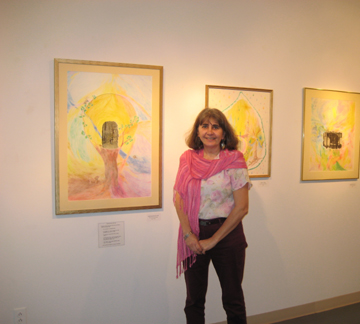 Delia Tolz with her work at the Piermont Flywheel Gallery,
Piermont, NY
I did see some exhibits by artists who I've known about but never quite got to their shows. Delia Tolz has her Colored Pencil Drawings at Piermont Flywheel Gallery in Piermont, NY until Dec 1 and then they will be at the Cafh Foundation, 2061 Broadway, New York, NY. These works (many are swirls of colors spiraling inward) are expressions of her internal work and it is Delia's hope that by expressing her spiritual self she will encourage others to explore their inner selves • Barbara Scullin was showing her collages and watermedia also in Piermont but at the Fine Art Gallery. There were fascinating landscapes – some very active, others quiet all intriguing • At New Century Artists I had the pleasure of seeing Tom O'Hara's sculpture and assemblage art. There is a fluidity and careful control of his materials. That combination, along with the designs I found so engaging, left me wishing I had more time to spend exploring each piece • Janet Glazer's Photographs were also at the New Century Artists and I found the texture and designs in her photographs to be almost mesmerizing. Exciting and well done is my sense of her work • Ben Wigfall at Watermark/Cargo Gallery on Abeel Street in Kingston, NY often has artists that are quite outstanding and that includes Stanwyck Cromwell (www.stanwyckcromwell.com), a Guyanese-born artist living in the US. I particularly liked his paintings and drawings and am fascinated with the work that is on so many visual planes. Visit the gallery in person or online at www.watermarkcargogallery.com • The Varga Gallery in Woodstock NY is quite a place. An enterprising and courageous person, Christina Varga is an artist committed to her own art work and supportive of other artists. Her current show "The Perfect Gift" has over 25 artists showing a great variety of paintings, jewelry, fine and folk art, hats, accessories, books, pottery, clothing, and much more. She also has a solo exhibit space. This will be on throughout the month of December. For a better idea in case you don't make it to Woodstock take a look at www.vargagallery.com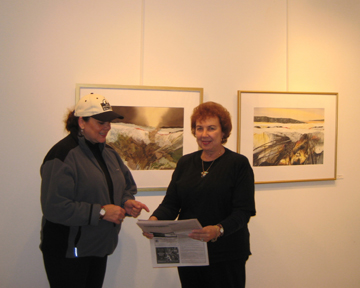 Mery Rosada (L) with artist (whose work is in background)
Barbara Scullin at the Piermont Fine Art Gallery, Piermont, NY
Mr. Bach Comes to Call is a recently released DVD by The Children's Group, presenters of storytelling and classical music for Children. Nearly 30 excerpts of Bach's music are worked into this delightful story of Bach's life as he interacts with Elizabeth, a magic orchestra, and boy's choir. It is a series that enriches our lives. Years ago they did a series of audio tapes to introduce classical composers to children in a most delightful way and as an adult I thoroughly loved the stories: Beethoven Lives Upstairs, Vivaldi's Ring of Mystery, Mozart's Magic Fantasy, Tchaikovsky Discovers America. Seeing these stories is truly a treat! Since I first learned of the group they have published many other music education tapes and films (in several languages) and received numerous awards. Learn more about them at /www.childrensgroup.com
A few notes: Raymond J. Steiner will have his paintings at the Woodstock Artists Association Museum's Holiday Show as well as some 30 landscape miniatures — along with the works of Gertrude Abramson and Anthony Cantone — on the downstairs Founders Gallery "Member's Wall".
The show will be up for the Woodstock's Open House Night from 5-9pm and the usual reception on Saturday, Dec 8 4-6pm. On the next day, Sunday, December 9, Steiner will be giving a lecture, "The Artist as Seer", at the Salmagundi Club's Brunch and Lecture Series. Free and open to the public, the lecture will begin at 2pm; call the Club for Brunch details at 212 255-7740.
Please note that our next issue is the Jan/Feb issue and any calendar or opportunity listings for those 2 months are due by December 12; advertising deadline the 15th. The publish date is January 1.
All of us here at ART TIMES wish you Happy Holidays with Peace, Health, Creativity and Joy for the New Year.