CULTURALLY SPEAKING
By CORNELIA SECKEL
ART TIMES December 2006
FIRST OFF I wish you all an excellent holiday season filled with good times and easy gift-buying (which seems to be the big stresser for many people). There are many exhibits of crafts and small works throughout the region and your town probably has more than one fine crafts and art show where most of your gifts can be purchased. I also see many artists having studio sales and this is a great way to find some excellent work while visiting them in their workspaces.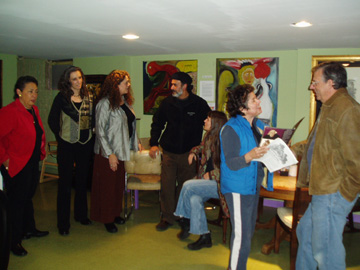 A group of visitors, artists, and owner Mery Rosada (3rd from left)
at the opening of the exhibition celebrating Puerto Rican Art at
Cafe Mezzaluna — Bistro Latino in Saugerties, NY
Well I certainly got around this month, seeing several exhibits, a dance performance, museum openings, and a preview of summer activities in the Berkshires. In the summer, the Netherlands will be coming to the Berkshires in the form of dance at Jacob's Pillow, art at the Sterling and Francine Clark Institute and Mass MoCA, music at Tanglewood, and theater at the Colonial Theater. At a press reception in NYC, we were greeted by Jeanne Wikler, the Netherlands Consulate General of Cultural Affairs, and then representatives of each of the various institutions spoke about their upcoming events. This is truly a collaborative effort and it is their hope that curators and promoters will be reflecting a view of Netherlands' culture for America. The spirit of innovation and pioneering effort seems to be the common thread in contemporary Dutch Art. This summer's offerings will be an excellent opportunity to whet appetites for a trip to the Netherlands. I expect there will be a press trip late spring and you will get a full report. For now, more information is available at www.NL-Berkshires.org.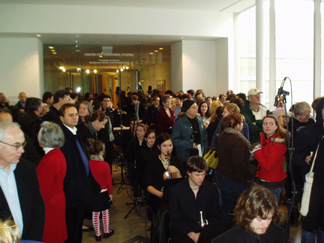 Attendees and Musicians awaiting the ribbon cutting at the Hessel Museum at the Center for Curatorial Studies at Bard College, Annandale-on-Hudson, NY
The Center for Curatorial Studies and Art in Contemporary Culture at Bard College in Annandale-on-Hudson, NY, opened the Hessel Museum with great flair, and well over 600 people attended the ribbon-cutting. The Center is an exhibition and research center dedicated to the study of art and exhibition practices from the 1960's to the present. It was created in 1990 by Marieluise Hessel and Richard Black, and has had a graduate program in curatorial studies since 1994. Marieluise Hessel has made a permanent loan of her collection and given more than 14,000 art publications to the library. She and several others provided funds for this 17,000 sq. ft. building, which will have rotating exhibitions curated from her collection. At the opening celebration, Leon Botstein, President of Bard College, acknowledged the public's support and emphasized the point that Bard is redefining what colleges do. "It's not the football team but the arts that is the public face of this college". He also acknowledged the great trust that was given to Bard, a college known for taking risks with their institutions and programming.  Mariel spoke about how proud she was to be in the forefront of what's happened in art over the past 50 years, and that her life has been enriched for her involvement with the center and the college. After the ribbon was cut, a group of Bard musicians played one note at a time and as they progressed thru the musical piece, we progressed into the galleries. Wrestle is the inaugural exhibition and has over 150 works from the collection. For more information go to the website www.bard.edu.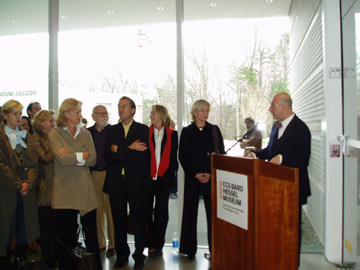 Leon Botstein (podium) with Marieluise Hessel (to his right) at the
ribbon cutting at the Hessel Museum at the Center for
Curatorial Studies at Bard College, Annandale-on-Hudson, NY
I had the pleasure of seeing Cedar Lake Contemporary Ballet at Kaatsbaan International Dance Center in Tivoli, NY. They are a relatively new (3 years) energetic, innovative, and exciting company under the artistic direction of Benoit-Swan Pouffer. I first saw these fabulous dancers at their new home in Chelsea just last year and am as taken with them now as I was then. Such harmony, fluidity and precision. Kaatsbaan has created a retreat for dancers, choreographers, and dance companies seeking a place where they can concentrate on their work. Their summer program, Extreme Ballet, begun in 2000, is an intensive training program that has helped launch dancers into major companies. Now they have a program in February which sold out immediately. For more information visit www.kaatsbaan.org
I spent a very eventful day in Manhattan beginning with a Press Preview at the Whitney Museum of American Art (www.whitney.org) for "Kiki Smith: A Gathering, 1980-2005" (on view until February 11). The exhibition is in 7 galleries and has about 125 works that were done in a variety of media: glass, bronze, beeswax, papier-maché, as well as prints, drawings, photographs, films, and installations. There is a lot to take in so give yourself lots of time to explore the wide range of subjects she covers.
From the Whitney I headed downtown, making a few stops to distribute additional copies of ART TIMES along the way. More often than not when I'm in Chelsea I'm delivering papers to the galleries, and this day I had a chance to explore some of the cooperative galleries at 530 W 25th Street. At Prince Street Gallery, Ellen Piccolo was showing oils that all related to working on the waterfront. The paintings certainly brought me right into the water and onboard the tugboats. What a gift to be able to transport someone so effectively  •  David Tobey's paintings and sculpture were at the Pleiades Gallery. His work is mesmerizing — so much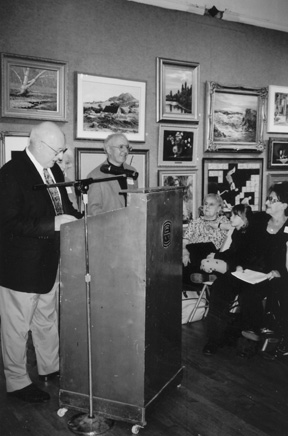 Konrad Hansalik, President of American Artists Professional League, about to present Best in Show award to Salomon Kadoche (right of podium)
movement and color. Work sold was to benefit the National Scholastic Chess Foundation  •  Helene K. Manzo's reflections of summer was at the Blue Mountain Gallery. Restful and delightful landscapes filled the room. Over at 526 W. 26th Street, Mari Lyons had an exhibition of works, "In the Studio/Woodstock", that were large, vibrant and, in context, told a story of the studio. I particularly liked the "Study of Tulips". In this building, there are 10 floors with 20-30 studios, galleries, art related businesses. I spoke with one of the tenants who thoroughly enjoyed working there, given the opportunity for socializing with other artists or being isolated while in a secure environment.
At the Salmagundi Club at 47 Fifth Avenue, I was taken with the fine work on view from the American Artists Professional League's 78th Grand National Exhibition (which came right after Audubon Artists 64th Annual Exhibition — also an excellent show). Work came from 32 states as well as from Canada, France, and Russia. The top winners were Salomon Kadoch and Timothy John-Luke Smith. The purpose of the AAPL is to advance the cause of fine arts in America by promoting the high standards of beauty, integrity, and craftsmanship in painting, sculpture and the graphic arts.• The Catharine Lorillard Wolfe Art Club's 110th Annual Open Exhibition, held at the National Arts Club, NYC, (hung just after the Pastel Society of America's outstanding show) in October, consistently has fine work and, as one of the judges for Sculpture, I must say that the decisions were very difficult. (Not as difficult, though, as jurying and judging a show as Raymond and I did for the Woodstock Artists Association Museum's "Small Works Exhibit" last month. Jurying—deciding who will be in a show — and judging—deciding on prizes — are two very different jobs and ought to be done by separate committees). The winner of the ART TIMES Award at the CLWAC exhibit went to Kathy Anderson for her oil "Waiting for Spring". This organization has been supporting women artists since Catharine Lorillard Wolfe (the only woman among the founding members of The Metropolitan Museum of Art) willed money to Grace Church in NYC to be used for some form of "women's" work. Then, in 1896 the Dr. William Reed Huntington, the Rector of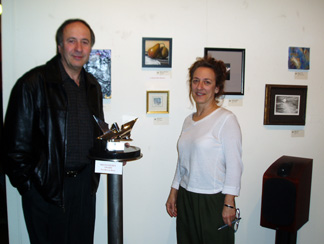 Alex Kveton (L) and Marlene Wiedenbaum (R) 1st and 2nd
place winners at the Woodstock Artists Association
Museum's "Small Works Exhibit"
Grace Church, and Mrs. Newell, the wife of the Rector of the Episcopal Church in Paris, established a club whose aims were to aid, counsel, and provide meeting and exhibition space for young women art students. After the current exhibit came down from the walls of the Grand Gallery at NAC, Allied Artists hung their 93rd Annual Exhibition. Founded in NYC with the purpose of finding more opportunities for American artists to exhibit their work in NYC, this organization continues to present some of the country's finest artists. What a Fall and what fabulous work these organizations continue to do on behalf of artists. Coming up in the spring we can look forward to the Salmagundi's Annual Non-Members Exhibitions and the Hudson Valley Artists Association Annual. It is a great effort and these organizations continue to need support by our becoming Associate Members, attending the exhibitions, and of course, buying art.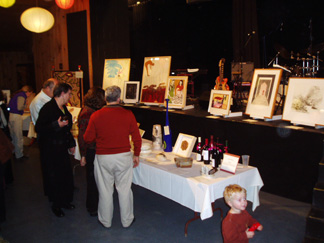 Potential bidders looking over the goods at the Women's Studio Workshop's 30th Annual Auction and Party
at the Bearsville Theater, Woodstock, NY

The Women's Studio Workshop, based in Rosendale, NY (www.wsworkshop.org), held their 30th Annual Auction and Party at the Bearsville Theatre in Woodstock, NY. Several hundred people attended, and I was pleased to see so many new faces /supporters (I've been attending their celebrations for over 20 years). Before the live auction, Ann Kalmbach gave a brief slide presentation of what the organization has done over the past 30 years. I learned that they are the largest publisher of artist books in the US. According to Ann, they are the only place in the country with a paper-making program which includes growing plants that go into the paper. The Women Studio Workshop offers Residencies, Fellowships, the Summer Arts Institute, and Internships that are the basis of the professional programs attracting artists from around the world. Public programs with a local audience include artist exhibitions, the Art-in-Education (both fellowships and grants) initiative and community clay workshops.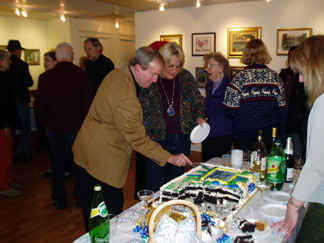 Paul Gould serving cake at his group exhibition
celebrating the one year anniversary of the
Hudson Valley Gallery in Cornwall-on-Hudson
Some news about one of our dance writers: Francine L. Trevens has had her story "Condolence Call" included in a new publication from the Dovetail Institute for Interfaith Family Resources By the Light of Two Stars: Stories for Children of Interfaith Parents (Part II—For Older Children). Congratulations Francine! For more details email:  DI-IFR@Bardstown.com  •  In the fall of 2001 Elizabeth Russell contacted us about writing a column, "Art and Law", which she did for several months. We were pleased to get a copy of her book Art Law Conversations published by Ruly Press, and wish her well. It is heartwarming to know we launched her writing career (she did her own launch as a lawyer) just as we have helped other writers and artists with their careers.
That's it for now. Have a very Happy Holiday Season. We wish you health, peace, and a joyfilled year with many opportunities to express your creativity.