Culturally Speaking
By Cornelia Seckel
ART TIMES August 2005
Summer is in full swing. Vegetables and flowers are now plentiful in the garden and there are even more plays to see, music to hear, and art to view than I can ever manage.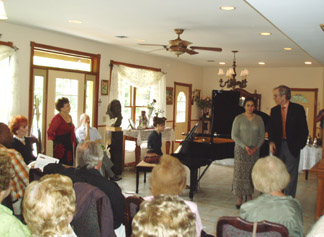 David Bender giving Maria Cruceru some pointers while Carmela Altamura (standing) looks on and Christina Altamura accompanies at the piano at the Sunday Cappucino Society, Altamura Center for Arts and Culture,
Round Top, NY
What a delightful Sunday. It was a beautiful morning and we had an easy drive along the mountain roads up to Roundtop, NY to enjoy fine food, fabulous voices and piano music by dedicated and highly gifted musicians in a glorious setting. The Altamura Center for Arts and Culture, built in 2000 and located in Round Top, NY (just 20 minutes past exit 20 on the NYS throughway), is part of Inter-Cities Performing Arts, Inc., a New Jersey/New York-based philanthropic arts company founded for the purpose of improving ethnic, social, professional, and cultural relations. Carmela and Leonard Altamura are the founders, Carmela the heart and director of the center. One of the programs included is the prestigious Altamura/Enrico Caruso International Voice Competition. Carmela is also in close association with David Schuyler Bender and Barbara Meister Bender, of CareerBridges whose mission is to provide grants, expert mentoring, training, and performance opportunities over a period of three years to highly gifted young classical singers when they need it most. Carmela told me while I was at the Sunday Cappuccino Society gathering, "this is the time in my life to give back." She has had a long career as a soloist in Italy and in NYC, and now oversees the development of talented vocal artists in the operatic and Bel Canto traditions by instruction, performance study and mentoring given by herself and by international guest master teachers. Music and dining takes place in a very large dining/ living room area that easily held the 50+ people attending; some are quite regular in their attendance. Unfortunately it began to rain so we could not eat on the large deck overlooking fields and mountains. If I could, I would attend every event coming up at the center including an upcoming performance of La Traviata with full orchestra, as well as future Cappuccino Society gatherings. While I was there I had the great pleasure to hear Vanessa Perez play the baby grand Steinway that was barely 8 feet from me; what a privilege to be so close to a performer, to see and feel the energy of the musician come through the instrument. I experienced the full OUW factor (shoulders touch my ears and my body tingles — something that happens when I am in the presence of true art, be it music, dance, theater, paintings and so on) when soprano Maria Cruceru from Romania sang an Aria. In 2004, Maria became a winner of the Altamura/Caruso International Voice Competition (other winners have gone on to be principal singers with major opera companies) and since then, she has appeared in concerts in New York City's major concert halls. The other singers were baritone Valentin Vasiliu, also from Romania, tenor Maurizio O'Riley, from Mexico, and soprano Rachel Watkins, USA. Christina Altamura, a concert pianist and teacher, accompanied the singers. The center continues to develop programs and looks forward to intimately sharing the joy of music in this incubating space. As I left, Carmela said that "it is all about music, a gift from God which brings grace and healing". For more information contact them at 518-622-0070 or go to their website at www.altocanto.org
As ART TIMES: Commentary and Resource for the Fine and Performing Arts begins its 22nd year of publishing and distributing to the cultural corridor of the lower northeast, we see several new publications that are helping to stimulate the rich cultural offerings of the Hudson Valley Region. Doug Alderfer, publisher of Hudson River Museum & Gallery Guide, states that their mission is to create a unifying identity for the Museums and Galleries of the region and to increase their visibility to a larger population. The Guide, devoted mainly to paid listings of art galleries and museums, according to their press release "also includes editorial articles designed to comment on the rapidly developing art scene in this region". For more information go to their website: www.hudsonriverguide.com or call 845-679-8676 • Hudson River Art, published by Peter Barton in Hudson, NY, is another newcomer on the scene. According to Peter, "It is the intention of Hudson River Art to serve as a chronicle of the river's cultural momentum in these contemporary times. Our aim is to engage the human spirit in the many varied and often puzzling meanings that are being applied to art's ever-changing styles, tastes, mediums and personalities now underway in this commonwealth of artistic activity. If we are true to our mission we will stir up a myriad of mixed sensations; but since it is art, we can be assured that disappointment will not be one of them". For more information their website is: www.hudsonriverart.net or call 518.822.9020. • The Hudson Valley Art Trail, a four-color map brochure that was sponsored by M&T Bank and conceived and produced by The Gold Standard, a marketing communications firm based in Katonah, NY, lists twenty of the major art museums and art-related historic sites of the Hudson River Valley National Heritage Area. The brochure is accompanied by a web page www.HudsonValleyArtTrail.com and was developed by Joe Bigelow of HVNet.com. The website includes information on each location on the trail, an extensive list of art galleries in the region, and a calendar of current art exhibits and events in the Hudson Valley. Brochures will be available at M&T Banks in NYC and the Hudson Valley Region.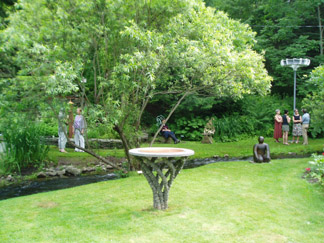 Bird House Sculpture exhibition at the Elena Zang Gallery
Shady (Woodstock), NY
There are 3 exhibits currently on view at the Samuel Dorsky Museum of Art, a museum dedicated to collecting, researching, interpreting, and exhibiting works of art from diverse cultures. The Material Image: Surface and Substance in Photography is curated by Beth E, Wilson and drawn from photographs contributed by Howard Greenberg, founder of the Catskill Center for Photography, and the work from a collection-sharing partnership which came from the Center for Photography at Woodstock, NY (formerly Catskill Center for Photography), collections that along with other donations have increased the Museums holdings of photographs to over 2,300. The Maverick Festival: An Exhibition on the Centennial of the Maverick Art Colony also drew from this collection (see Steiner's review in this issue of this exhibit). The 3rd exhibit currently at SDMA is Recycled Revisited: Members of the Art Society of Kingston Respond to the Earth Charter curated by John Dahlsen and Dr. Aice Wexler. According to Director Neil Trager, SDMA has a special commitment to collecting and exhibiting important works of art created by artists who have lived and worked in the Hudson Valley and Catskill Regions. This is a beautiful museum; the interior lines bring you into the various viewing spaces — some are very large and open and others small and intimate. Take a look online at www.newpaltz.edu/museum.
The 6th Kingston Sculpture Biennial, curated this year by Steve Ladin and sponsored by the City of Kingston and the Art Society of Kingston, has nearly 75 sculptors participating with work placed throughout the city of Kingston on both private and city property. Some sculpture that is not weather worthy has been housed in the Cornell Shops Building on East Strand. Artists were both invited and juried for this Biennial. A map showing the locations of sculptures and a list of participants is available at galleries in Kingston and at City Hall. Accompanying this show is The Maquette Show: Scale Models, drawings and related works from the 2005 Kingston Sculpture Biennial at the ASK Gallery at 97 Broadway (closing this August 28). For more information call 845-331-7517 or go to www.askforarts.org • Birdhouse III: avian real estates is the current exhibit at the Elena Zang Gallery on Rt. 212 just outside of Woodstock, NY. 25 artists have constructed birdhouses (many are functional although I didn't see any residents) for this show. Work is tucked around the beautifully landscaped grounds. This is an exciting show; there is whimsy along with the challenge for artists to design and build a birdhouse, often something they have never done before. A great idea and I'm glad it is one that is repeated every few years.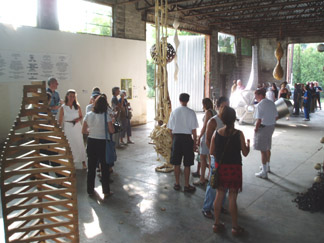 Some sculpture that is not weather worthy housed in the Cornell Shops Building on East Strand, Kingston, NY. from the 6th Kingston Sculpture Biennial, sponsored by the City of Kingston and the Art Society of Kingston.
Several new venues for enjoying the arts have opened: Merna Popper, former publisher and founder of Women's News and the midwife for ART TIMES (it was Merna who was so encouraging and supportive when we first decided to publish ART TIMES — see my "How We Began" essay on our website www.arttimesjournal.com) has opened the PopperArtsy Fine Arts Gallery in Andes, NY. Merna has been an art and antiques collector for many years. She will be selling works by Picasso, Roualt, Calder, A.B. Davies, DiMartino, Hughes, Glickenkamp, other works dating from the 19th century art in America, as well as master works from around the world. She will also have exhibits with contemporary artists. Merna invites us all for sangria and art at the opening on August 6 featuring work by Gary Mayer and Roger Bobley and to visit her new store Andes Antiques and Art also on Main Street in Andes NY. Contact Merna for more information at (845) 676-3429 or email: PopperArtsy2@aol.com • Broadway and television actress Denny Dillon recently opened an art gallery in her home in Stone Ridge. The Drawing Room, "home is where the art is", features her original pen & ink work. The gallery is located in historic Stone Ridge, New York at 3743 Main Street. For more information visit online at: www.thedrawingroomonline.com or call: (845) 687-4466 • Salem Art Works (SAW), a center for arts, is a place for artists to share their work with each other and with the community through events and workshops. Artists from around the region, the country, and from abroad can spend time in Salem practicing their craft, whether it is forging, glass blowing, or performance, sculpture, design or poetry. Anthony Cafritz, founder and director, says that by bringing together artists of diverse disciplines, SAW encourages cross-pollination between the arts and fosters a spirit of collaboration among artists. Located in New York's Washington County, on a farm overlooking the Village, Salem Art Works is also home to a growing outdoor sculpture park, with work by national and regional artists, including Mark di Suvero and Peter Lundberg. For more information go online: www.salemartworks.com or call: 518-854-7674 • The Mezzanine, owned by B.C. Gee and Larry Zalinsky, is a niche bookstore newly opened in the Rondout Waterfront District in Kingston NY, and also features a coffee bar and art gallery. The new exhibition is Phyllis McCabe's photography of China and will open Aug 6 from 5-7. There is also live music every Friday night 8-10pm. For information call (845) 339-6925 • According to Frank Cuthbert, owner of BRIK Gallery on Main Street in Catskill, NY, the mission of the gallery is to provide a space where significant artists can be. Brik will feature works by established and emerging visual artists, authors, poets and musicians. Frank says that he loves and appreciates art but hasn't the experience or background to curate exhibits, therefore he is inviting curators to mount shows. Richard Temperio is the curator for the inaugural exhibition, "Williamsburg NY: Three Artists", opening on July 29th and Elizabeth Stevens, Director of Yellow Bird Gallery in Newburgh, will curate the show following, "Artists Influenced by Thomas Cole", a benefit for the Thomas Cole House in Catskill, NY opening September 9. For more information call 518 943-0145.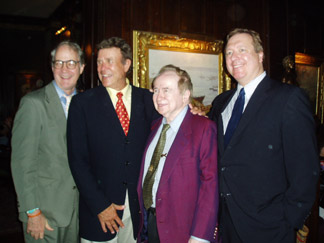 (L to R) Aldon James, Bruce Morrow "Cousin Brucie." Joe Franklin, pioneer talk show host, and Walter Sabo, Pres of Sabo Media and VP of ABC and NBC Inc., at the award presentation honoring Bruce Morrow at the National Arts Club, NYC.
I was at the National Arts Club for a reception honoring "Cousin Brucie." Joe Franklin, pioneer talk show host, and Walter Sabo, Pres of Sabo Media and VP of ABC and NBC Inc., were on hand to speak well of Bruce Morrow and a room filled with friends and colleagues were there to support and applaud him. Morrows' latest challenge is to host 3 regularly scheduled music and talk programs each week and numerous daily features from SIRIUS' NYC national broadcast studio. Bruce Morrow's heart's work is serving as President of The Variety Club of NY. On Christmas Eve in 1927, an abandoned baby girl was found in a theatre. A note pinned to her dress said that her name was Catherine, and her parents, unemployed, with eight other mouths to feed, could not take care of her. Signed, A Heartbroken Mother, the note concluded, "I have always heard of the goodness of show business people and pray that you will take care of her." Unable to locate the parents, The Variety Club, formed as a social club by eleven men in show business, decided to underwrite Catherine's support and education. In 1948, Variety-The Children's Charity of New York was founded, and currently raises funds for hospitals, agencies and programs in the tri-state area. For more information go online: www.varietyny.org or call: 212 760-2777.
Enjoy the rest of the summer and I'll see you out and about.
Return to Culturally Speaking Index