By Cornelia Seckel




ART TIMES April 2009


We've had a number of reactions to our news that we will be printing every other month beginning with the 26th year — our Jul/Aug '09 issue. Mostly our readers have expressed appreciation that we are working on alternative ways to keep ART TIMES viable. One friend wrote: "As your friend I am happy for you; as an ardent reader of ART TIMES I am sorry to have fewer essays from your writers". Well we haven't worked out all the kinks and we well may have additional essays online. Certainly the calendar and opportunities will change each month and are often updated during the month when our deadline has been missed. For those of you looking at the calendar and opportunity listings online you are seeing that people are beginning to take advantage of the link from calendar listings and opportunity listings to their sites (a $25 fee if they are not already advertising in print). One other thing occurred to me and that was asking our readers to help us continue the free opportunity and calendar listings by sending a contribution. So consider yourself asked. A publication in the region has asked their readers to subscribe as there will be no more free distribution and if that doesn't work they'll call it quits. I'm not ready for that but I am exploring more ways to keep ART TIMES out in the world, available for new and old readers to learn from our essays, tap into the vast resources available by way of the calendar and opportunity listings, and our advertising.

An artist by trade, an educator by training and an inspirational force by nature, Carole J. Wolff, Executive Director and founder of Mill Street Loft, a not-for-profit multi-arts educational center serving children and adults in six Mid-Hudson Valley counties, was honored this past month as "Woman of the Year" by the Poughkeepsie branch of the American Association of University Women (AAUW). Their award goes to someone who supports its mission of promoting "equity for all women and girls, lifelong education, and positive societal change." Each recipient "has made outstanding contributions to the community in either a voluntary and/or paid capacity." more at: http://www.millstreetloft.org. I have known Carole for the 25 years ART TIMES has been in existence. She founded Mill Street Loft in 1981 and I am filled with respect to see the work she has done, the programs she developed, the hundreds and thousands of children and adults whose lives she has enriched.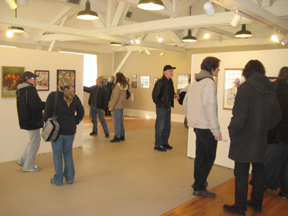 Visitors at the Alumni Exhibit at Woodstock School
of Art, Woodstock, NY
And more celebrations: It is the Norman Rockwell Museum's 40th year. There are many events scheduled and leading off is the re opening of Rockwell's studio on May 2 with "A Day in the Life: Norman Rockwell's Stockbridge Studio," an installation that recreates, detail by detail, the interior of the artist's space as it was in 1960 when Rockwell was working on his iconic painting, "Golden Rule." • Look for the many Hudson River Quadricentennial events that are scheduled up and down the Hudson www.exploreny400.com. I would say most every museum and gallery has an exhibit related to the 400-year celebration and arts councils, schools, communities have all joined in with projects for the celebration • The National Association of Women Artists (www.nawanet.org) was founded in 1889. It is the oldest professional women's fine art organization in the United States and provides a forum for women artists to share ideas and to exhibit their work. Through their exhibitions, programs, and archives, N.A.W.A. fosters awareness of the monumental contribution of women to the history of American art. 120th anniversary exhibitions began at Delaware County Community College Media, PA (closed Mar 16) and continue on at HUB-Robeson Galleries, Penn State, University Park, PA, until Apr 26; Salmagundi Club, 47 Fifth Ave., NYC from May 11-24; UBS Gallery, 6th Ave at 51st Street, NYC from May 13— July 31 and then at the Noyes Museum of Art in Oceanville, NJ April 26, 1 - 3pm
The Woodstock School of Art held their Alumni Exhibition. Excellent work beautifully displayed in the relatively new gallery (I wrote about it in the Nov '08 issue). They have between 300 and 400 students each year and each of those students have an opportunity to show at the annual alumni show. It is interesting to see the influences of their teachers. See more at www.woodstockschoolofart.org
I just learned that New Windsor Art Gallery has moved and changed the name to John's Gallery, Custom Framing but stayed in New Windsor, NY. John does photo restoration, custom framing, and giclées. He has exhibits every 6 weeks and Lydia Strawbridge's work will be opening on April 4. Take a look at www.1800arts.com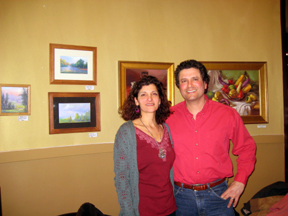 Marsha Massih and John Variano at the opening at their exhibit at the Hudson Coffee Traders in kingston, NY
John Variano, and Marsha Massih have paintings and etchings at the Hudson Coffee Traders on Wall Street in Kingston, NY. It was a pleasure to see this work and how it was hung in a circular room. Mostly still lifes and landscapes, John's work vibrates and Marsha's work brought me to a quieter gentler space equally powerful. Both were students of Frank Mason at the Art Students League of NY where we met them in the early 1990's. I have been seeing John's work at various galleries and was so pleased to see Marsha's work. As she puts it, "Now that my girls are older I can devote more time to my art". Being a full time Mom and a full time artist just wouldn't allow her to give all she wanted to the job she needed to do. Coming up at Hudson Coffee Traders in April will be oil paintings by Sheryl Anderson.
The Art Society of Kingston (ASK) www.askforarts.org remains a very active organization holding classes and workshops in all different art forms as well as having ongoing solo and group exhibits. I stopped by specifically to see Marianne Heigemeir's pastels and did fall in love with a few. Most specifically I was drawn to her florals, beautiful groupings of flowers. The group show, "The Contemporary Hudson" curated by Staats Fasoldt, painter and teacher, begins the Quadricentennial celebration for the organization. About 40 paintings of varying sizes and degrees of accomplishment, all examine today's river — its towns, its cities and its wild places.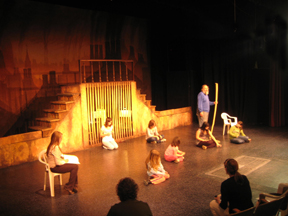 Rehearsal for The Tempest at The Center for Performing Arts at Rhinebeck, NY
I've been wanting to get to The Center for Performing Arts at Rhinebeck (www.centerforperformingarts.org) for some time now and so an invitation to a Chamber Mixer pushed me to cross the river. I remember when founder and current president Andy Weintraub began producing plays in an abandoned industrial building — then they had property just outside of Rhinebeck and constructed a huge tent where they produced plays for 4 summers and now they are celebrating 10 years in the permanent building that looks like a barn and fits well into the rural landscape. Community Theater is very important and provides opportunities for amateurs and professionals to participate and learn about all aspects of Theater in the comfort of their hometown. What a great accomplishment; what determination and hard work. The Center has programming for children, field trips, Summer Camp, full-scale productions and single Performances of Dance and Music. The evening I was there a rehearsal was going on for The Tempest. Last year, the Annual Sam Scripps Shakespeare Festival began with a production of Romeo and Juliet. The festival's primary goal is to provide more access to Shakespearean and Elizabethan plays and concepts to school students. The plays are staged on a replica of the Old Globe Stage and will run Fridays & Saturdays thru April. In conjunction with the play "An Evening of Elizabethan Madrigals" will be presented on April 24.
That's it for this month. Enjoy Spring and all of the new beginnings offered.