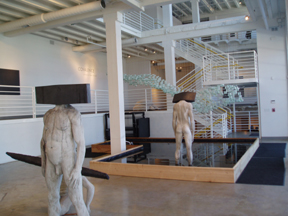 Covalence work by Emil Alzamora & Stephen Spaccarelli
at Yellow Bird Gallery, Newburgh, NY
Culturally Speaking
By Cornelia Seckel
ART TIMES April 2006
Spring has come and with it some warmer weather, hints of green and the promise of daffodils and crocuses. With this changing of the season we at ART TIMES will be saying good-bye to Mimi Borger, our assistant for the past several years, and wish her well as she and her family relocate to New Mexico. Again I want to remind you that we will be combining the July and August issues of ART TIMES which will be a savings for our summer advertisers and an opportunity for us to do some exploring during the warmer months. Our website is growing in popularity with nearly 1/4 million hits since January 1, 2006 and I wanted to let you know that there are advertising opportunities on the site as well as essays from the past few years. www.arttimesjournal.com.
Several announcements: Francine L. Trevens, one of our dance writers, has her first volume of poetry, A Patio of Poems for Grown-Ups, published by TnT Classic Books of New York • Mark Gruber Gallery, New Paltz, NY, is celebrating 30 years of presenting traditional yet contemporary fine art, custom framing, and conservation to the Hudson Valley. "Super Show—XXX, 30th Anniversary Group Show" will include gallery artists from the past 3 decades • Gallery 384 is celebrating its grand opening in Catskill, NY, and joining several other galleries that have opened in the past few years adding to the growing art scene in Catskill. According to Nicholas Warren-Gray, Assistant Director of the gallery, the focus will be on contemporary art, and will serve as a center for films, lectures, and other programming. You can learn more about the gallery at www.gallery384.com.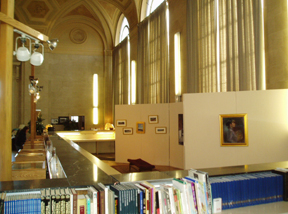 Karpeles Manuscript Library Museum, Newburgh, NY
with Linda Richichi work on panels
Thankfully, there are developers and landlords that are interested in supporting the artists who rent studios in buildings they own/manage/rent. Within two days I spoke with two such individuals, one in Long Island City, and the other in Yonkers. Juvenel Reis, painter and teacher, takes a very supportive role with the artists in his building. 120 artists from 18 nationalities share the communal spaces he created: a room to do messy work, a library, and a kitchen for snacks and gatherings. There are Artists' Talks every other month, and a large gallery space for artists to show their work. His dream of having an incubator for creativity has come to fruition. There are open studio tours in May and October. In Yonkers, George Huang has been taking a great interest in his tenants, and is encouraging the artists that have studios in his buildings to continue the supportive environment that bodes well for creativity. April 22 & 23 there will be an open studio by 20 members of the YOHO Arts Association in Yonkers at 540/578 Nepperhan Avenue. It is heartwarming to continue hearing about such supportive landlords.
Early this past month I went into Manhattan with Raymond when he viewed the Liebermann Exhibition at The Jewish Museum (See Review this Issue). After seeing the Liebermann exhibit, I headed 20 blocks south to The Frick Collection for a look at Goya's Last Works, which will be on view until May 14, 2006. The gallery was crowded on this weekday and a line of people waited to get into the exhibition to see his portraits, crayon on paper and drawings (some quite whimsical) that were done while he lived in Bordeaux, France at the end of his life.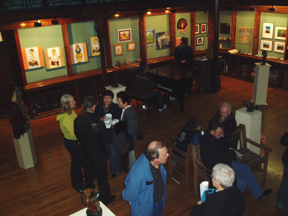 Howland Cultural Center, Newburgh, NY
celebrates Women's History Month
I made an exploratory mission to Newburgh and Beacon to see some of the new galleries and new work. In Newburgh I first went to Yellow Bird, a Contemporary Art Gallery, specializing in 20th and 21st century pictures and sculpture, including abstract, figurative, landscape, objective, as well as prints & photography. The exhibition I saw was Covalence: Emil Alzamora and Stephen Spaccarelli. The work of these two artists blended beautifully and encompassed me in this extraordinary industrial space. Large windows allow for a view of the Hudson, and the Hills of Dutchess County were an additional stimulus to my senses. There are 3 levels, and it is possible to see work on each of these levels from one viewing point. The work blended and converged. The structural components of the building worked into the installation with admirable finesse. This show is just about over and a new installation is taking place that I am eager to see: James Knowles, Sculpture & Painting Exhibit (thru Apr 23) and The Top 29: Lab Gallery (thru May 21). For more information: www.yellowbirdgallery.com • Enroute to other galleries in town, I stopped at Caffè Macchiato, where I was transported to Italy. I enjoyed an espresso while speaking with owner Barbara Ballarini who moved here from Rome just 4 years ago. There is Jazz every Friday night at 7pm, with musicians coming from NYC and the surrounding region. On the walls was work by Rachel Weidkam, and by now there will be photographs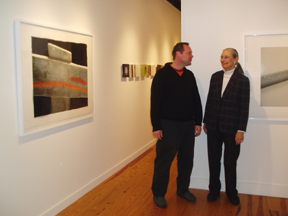 Artists Simon Draper and Grace Knowlton
at the van Brunt Gallery, Beacon.
by Matthew Benson. Barbara is celebrating one year in business and is excited about the reception she has received in the community, and pleased at the popularity of her Caffè • From there I headed up to the Karpeles Manuscript Library Museum which relocated from NYC in 2001, and is housed in what was the Newburgh Savings Bank circa 1923. Donald Presutti was there to greet me (as he did everyone that came into the museum), and encouraged me to ask whatever questions I might have. He told me about David Karpeles, a collector of over 1 million manuscripts: handwritten drafts, letters, documents, that reflect the history of the US. Karpeles supports seven museums across the country (Buffalo, NY; Duluth, MN, Jacksonville, FL; Tacoma, WA; Santa Barbara, CA; and Charleston, SC) which exhibit parts of his collection and rotates the mini-museum show from one museum to the next. Einstein and the Theory of Relativity is the next show opening April 1 and features Einstein's original publications on the Theory of Relativity, as well as his personal notes and letters. Thousands of students visit the museum through school programs. What an exciting place; the building lends itself to showing manuscripts and there is an excellent display of memorabilia from the early days of the Bank. There was also work by Linda Richichi, a local artist best known for her fine plein air paintings. Linda also showed drawings and early works. Coming up in April is work by Lisa Zukowski and in May, John Fleming Gould — I spoke of his Centennial Exhibition at the Hudson Valley Gallery in my last column. For more information about the museum call 845-569-4997.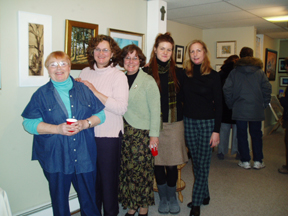 Half-Moon Studio members Brunie Kandora, Angela Gaffney-Smith, Nancy Campbell, Lora Shelley, Michelle Moran. Other members not in photo: Jacquie Roland and Carol Zaloom.
From Newburgh, I crossed the river to Beacon and visited several galleries beginning with Kate McGloughlin's show Home at Kiesendahl & Calhoun Contemporay Art. www.kandcgallery.com. I've seen Kate's excellent work over the past 15-plus years, and this show is just outstanding. Fabulous pastels, oils, prints, monotypes, etchings — all related to home — show her sensitivity to nature and her love of the land she calls home • My next stop was Wild Wood Gallery to see the photographs of Brian T. Harris. Strong, powerful work and interestingly grouped. This comfortable gallery is showing photography exclusively and the exhibit now on view is works from the Patricia White Watson Collection. www.wildwoodgallery.org • The Howland Cultural Center celebrated Women's History Month with an exhibit of 21 Women Artists of Beacon. Lots of people attended this group show and each artist was able to present several of their works • My last stop was the Van Brunt Gallery to see the work of Grace Knowlton and Simon Draper. I didn't know Simon's work, but he is doing small 8" x 8" constructions — a big change from the 8' x 6' pieces he had been doing. He wanted to do something small as he is a stay-at-home Dad and this way he can begin and end a project almost during nap time. I've seen and enjoyed Grace Knowlton's work for many years — could have been at the Neuberger Museum, Purchase, Hirschl and Adler Modern, NYC, Katonah Museum, at the Hudson River Museum, Elena Zang Gallery, Shady, NY, or a myriad other museums and galleries. At the opening I had an opportunity to speak with Grace about her current work which brought her love of drawing and photography together, and she says that she is loving it. After printing her photographs with Joe & Lisa at the Highland Studio Press in Beacon, she draws on these images, many of them fences and exquisite still lifes of pits: grapefuit, navel orange, apple, pumpkin. Several of her sculptures were also included in the exhibition.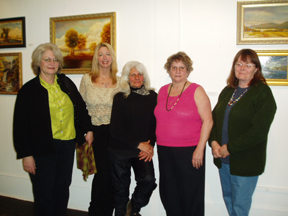 (L-R) artists: Linda Waldschmidt, Patty Hanson (Gallery Director),
Athena Billias, Carol Slutzky-Tenerowicz, and Patti Ferrara
at The Catskill Gallery, Saugerties, NY)
Saugerties, NY is the latest community that has initiated a Gallery Stroll. Set on the 3rd Saturday of the month, nearly every gallery in town (and a few restaurants) scheduled their openings. Last month I was told that hundreds of people wandered throughout the town, and the galleries were certainly crowded when I started out at Half Moon Studio Co-op where the seven members of the co-op showed work, including a special exhibit of small works. From there over to the Inquiring Mind
, also a co-op with twenty-two members. Here, each artist gets to be part of a 5-artist theme show. Revelation
was hanging when I went in and the work which, for the most part, lends itself to discussion, will stay up till April 9. Gary Heckelman, proprietor of the adjoining bookstore, also has concerts, films, and live music in the gallery. For an events calendar, go to
www.inquiringmindbooks.com
. I did skip the restaurants and missed out on Kristy's Creative Kids where Kristy Bishop, JoAnn & Rose Panke had their work on display. My last stop was The Catskill Gallery, and Patty Hanson, owner & director, told me that she expects the gallery to be a resource of contemporary Catskill Mountain Landscape artists. She expects to have shows where she is introducing new and established artists who work in many different styles. Her next show will feature paintings by Jeremy Hoffeld and Mixed Drawing Media by Veronique Brodeur. Celebrating the Catskill Mountain Landscape is on view until April 9, and is the work of five women who paint together on the Mountaintop in Hunter, NY. Quite beautiful landscapes from each artist are nicely displayed in this new gallery. www.thecatskillgallery.com for more information.
Perhaps some of you might make it to our Editor Raymond J, Steiner's first solo show in the Hudson Valley at the Woodstock Artists Association in Woodstock, NY. If you do, make sure to say hello. See you out and about.