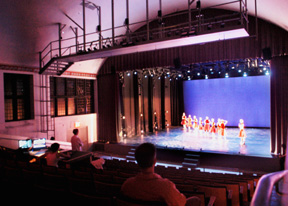 The Vassar Repertory Dance Theatre rehearses "Claudia's Waltz", by John Meehan, in the college's new Frances Daly Fergusson Dance Theater.

Twenty-First Century Dance
Facilities from A to V

By Francine L. Trevens




ART

TIMES

June

2006

I was attending Jacob's Pillow performances regularly as dance critic for the Springfield Daily News the first time Judith Jamison appeared there, over thirty years ago. The buzz about her could silence a swarm of bees. She couldn't have garnered more glowing reviews if Terpsichore herself had landed on that stage.

Ms Jamison began dancing at six years old, danced in New York with American Ballet Theatre, then joined Alvin Ailey in 1965. Today Ms. Jamison is at the helm of the distinguished Alvin Ailey American Dance Theater.

Alvin Ailey himself didn't start dancing until he was in High School. Nine years later, his dance company debuted, and it has grown to such an extent it has played in 48 states and over 60 countries. Over the course of his career, Ailey choreographed more than 50 dance pieces, for his own company and for Joffrey Ballet, Paris Opera Ballet, Danish Ballet, among many others. He received honorary doctorates, medals, and a special Kennedy Center award. He was a month shy of 58 when he died.

There were some lean financial years for the Alvin Ailey American Dance Theater, but they struggled through and now have a magnificent building in which to work, rehearse and even perform.

In the final month of 2004, The Alvin Ailey Dance Theater, Ailey II and The Ailey School moved to their spacious permanent home at 405 West 55th St. at Ninth Avenue in Manhattan: The Joan Weill Center for Dance has 12 climate-controlled studios equipped with pianos, sprung floors, sound systems and state of the art acoustics.

Three years previously, another honored company, The Trisha Brown Dance Company (which was founded in 1970) moved to a new facility at 625 West 55th St. between 11th and 12th Avenues — a few blocks West of the Ailey's current premises. They have four studios plus offices in the building. The studios were constructed to provide the highest quality working spaces for performing artists, with 2" sprung floors covered with quality Harlequin dance floor. They also feature a piano and moveable wall between two of the white painted studios to expand them, thus making them ideal for photography, film and video.

Trisha Brown's company also is recognized world-wide. Ms. Brown herself became prominent for her choreography when she worked with the Judson Dance Theater in the 1960s. When she founded her company, she was already known for pushing the boundaries of dance.

With her own Trisha Brown Dance Company, she pushed her dancers beyond their own imaginations — walking up sides of buildings, flying, and other gravity-defying movements. When she achieved her aim of choreographing opera, she created gender-specific movements. A London critic dubbed it, "As close to the perfect dance opera as I have ever seen."

The first woman choreographer to receive the MacArthur Foundation Fellowship, she has garnered many more honors since, including the 2005 Benois de la Danse Prize for Lifetime Achievement.

It is a testament to 21st century appreciation of the dance arts that both these extraordinary companies have achieved their goals of also creating superior dance facilities. What's more, both companies offer their facilities for rental to other groups.

In Northern New York State this year, Vassar College unveils its re-appointed dance studios — part of a two year multimillion dollar renovation. These new facilities will provide the esteemed college with ideal performance spaces for guest artists. The new theater and renovations, unveiled and dedicated in May, but with no summer term, use won't begin until September, 2006.

These are not the only new facilities, they are just the ones I selected as cases in point. They make this the century of the state of the art dance studio. How many more companies will follow this lead? How many will merely sit salivating over the idea of having such facilities in which to work? How many eagerly take advantage of these rental spaces? As someone who often sought rehearsal space for productions I was directing, I appreciate that these new studios offer magnificent possibilities.

We all know the extra stress on legs of having to walk extensively on concrete floors, but non-dancers may not realize the stress on dancers who work on the wrong type of flooring. Therefore I asked an associate professor at Vassar to explain, in layman's terms, a sprung floor.

"Sprung floors are designed specifically for dance, to be resilient and buoyant, and to minimize the risk of shin splints and other injuries," explained Steve Rooks, associate professor and acting chair of dance. "Boxes are created under the floor surface from a pattern of vertical and horizontal planks, and the pockets of air in the boxes create the 'give' dancers need for jumps and turns. We also get more powerful leaps from a sprung floor."

Jeff Kosmacher, director of media relations at Vassar College, also informed me that there is more than one way of creating sprung floors.

Now, let's get down to specifics at these various facilities.

The Joan Weill Center for Dance, which is Ailey headquarters, consists of 77,000 square feet. In addition to the 12 dance studios, it boasts the 294 seat Ailey Citigroup Theater, physical therapy facilities, a library, lounges for students and faculty, offices for the staff and an Ailey Boutique. There are tours offered of this exquisite glass-walled facility that glows across Ninth Avenue. The studios may be used for rehearsals, classes, auditions, corporate meetings, even private receptions. Studios here range from 30 by 45 feet to 34 by 60 feet or 40 by 45 feet. NYSCA subsidized rentals, not-for-profit groups and other eligibles may rent for as low as ten dollars an hour. Standard fee is fifty dollars an hour.

Tod Williams and Billie Tsien designed Trisha Brown's twenty first century facilities to "provide the highest quality working space for performing artists. Multifunctional spaces are ideal for photo and video shoots, seminars, classes and galas as well as rehearsal space."

Studios boast thirteen-foot ceilings, piano, 4CD/cassette players in each studio, risers, chairs and sound systems are available for showings; dressing rooms and restrooms are convenient, along with a seating area for rehearsal breaks. Air conditioning throughout and a lobby/reception area complete the amenities. They also offer rehearsal space for as little as ten dollars an hour for qualifying not for profits, thanks to the NYSCA grant.

They have a unique FoundSPACE program, which enables them to offer Manhattan's arts community rentals at reduced rates, thanks to a grant from the Louise and Ardé Bulova Fund, Inc.

On the college level, Vassar can vie with these companies in terms of facilities.

"Vassar's new investments in dance complete president Frances Fergusson's major upgrading of our college's arts facilities. A high tech Center for Drama and Film opened in 2004, designed by Cesar Pelli, who also designed the 1993 Frances Lehman Loeb Art Center. A new Paul Fritts Pipe Organ highlighted Skinner Hall of Music renovations in 2003," explains Jeff Kosmacher.

Kenyon Hall was the hub of athletics and physical education at Vassar since 1934 through the 19780s.

When it reopens this fall after a two-year renovation there will be three sizeable and fully re-appointed dance studios and a 5,700 square foot dance theatre, which will replace the college's former swimming pool. The Frances Daly Fergusson Dance Theater (named in honor of the president of the last twenty years) features a 36' by 26' dance stage, wing space, raked seating for 244 people, professional quality lighting, sound and theater control systems. A new annex offers rehearsal/green room with adjoining men's and women's changing rooms, a loading dock for scenery or set building materials and costume-making, office and storage spaces.

Gluckman Mayner architects thoughtfully preserved the character and key features of the historic space. The barrel vault ceiling was updated with acoustically absorbing plaster and will be indirectly illuminated from below. The new air conditioning is housed and hides in the excavated swimming pool!

The retained Kenyon Hall's front entrance and wood-paneled lobby will serve as entryway for dance concert audiences.

Each of these exquisite new facilities has been designed for the ultimate in dancer's comfort and viewer's enjoyment. A beautiful place to work to insure beautiful work from those rehearsing, creating and performing there.

Who can help but be inspired — who can resist the desire to dance — in spaces so lovingly created for the art?