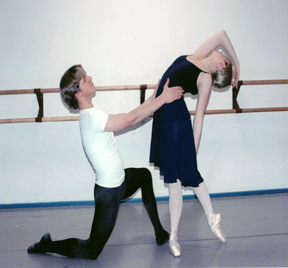 Andrew Silks & Justine Stringer rehearsing at
Dance Los Alamos, Feb 2005 (Steve Stringer Photo)
Two Little Maids who Dance
By Francine L. Trevens
ART TIMES September 2005
Two little maids who dance are they
Visiting New York for a two week stay
Taking class: hip hop, jazz, ballet
And seeing shows along Broadway.
They were five-year-olds, playing bunny rabbits in the Dance Arts Los Alamos, New Mexico dance school recital. Both Justine and Nora were mortified when the audience laughed as they earnestly shook their little rabbit tails on stage. Justine Stringer seethed with embarrassment, and Nora Lamartine actually wept backstage, thinking they themselves were being laughed at. They have been friends since.
"Now I love it when I get an audience to laugh," Nora said with her sly grin. She admitted she liked being hated even more. She appeared in an original ballet, THE SNOW QUEEN, by her ballet teacher, Susan Baker-Dillingham, and played an evil role. A little girl in the audience cried and Nora was thrilled that she had succeeded.
Nora currently dances with the New Mexico Dance Theatre, while Justine dances with both Dance Arts Los Alamos and Moving People Dance Theatre of Santa Fe.
This summer they came with Nora's mom to the Big Apple to take two weeks of intensive dance training – three classes a day at STEPS and BROADWAY DANCE. For even seasoned professional dancers (which these teens do not consider themselves) continue to study as long as they continue to dance.
They shopped a bit. Nora enjoys Canal Street, thrift shops and street vendors Justine prefers upscale stores. Both love The Gap.
Nora and Mom Winifred have been to New York before. Nora auditioned for the Joffrey a few summers ago and studied ballet, point and jazz with them for 6 weeks, performing in the recital at the end of that season of the first act of COPELIA. She studied and danced with them again the following year. Both times she and her mom saw the tourist sites. This year, they and Justine decided to do the Circle Line tour and get a complete view of the city.
Early in their visit this summer, at Broadway Dance, accompanied by Mom, they ran into another mother and young dancer they'd met on previous trips. They immediately felt at home. Truth is, Nora feels very much at home in Manhattan. Comfortable as she is here, Nora sees differences between classes in Manhattan and at home, however.
"Studios in Manhattan are more open to guests than in Los Alamos. Classes in New York are given to help students to audition, rather than to prepare for a small town show. In New York you must let teachers know you want their corrections. So people in class fight for spots up front."
Justine expanded on that, "Classes here are less personal and tons larger. At home we are very familiar with our teachers. They know our dancing style down to a bar, which makes it easier for them to give corrections."
She sees differences in the students between New York and New Mexico as well, "In New York the dancers seem more passionate and aspire for great careers while at home it's mostly recreational."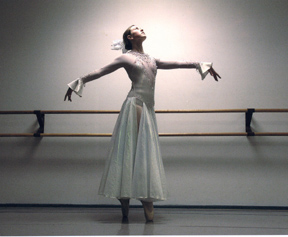 Nora Lamartine at Dance Arts Los Angeles in "The Snow Queen", choreographed by Susan Baker-Dillingham
(Clay Dillingham Photo)
As typical teenagers, while both young women relish dancing, they have other interests that might become their lifelong careers. They feel one would need a stay at home husband to have a career as a dancer and still be a wife and mother.
Justine admits she'd like to be an actress, but is realistically considering more stable career options. Her dream dance career would be to dance in Broadway musicals.
Nora is interested in chemistry and chemical engineering, fashion designing and journalism. Her dream as a dancer, as is the case with many mid-West and Western dance students, would be to be a Rockette.
Almost all of Nora's family is involved with theatre. Dad sings with the Santa Fe Opera. Mom sews costumes for Los Alamos Little Theatre and for dance companies, while studying play directing. Nora's older sister is currently touring regional theatres with BEAUTY AND THE BEAST.
Justine's sister also dances, and her dad "loved doing musicals in High School."
Both girls began dancing at the age of three, starting with ballet and tap, later jazz, floor barre, creative movement and hip-hop. One summer, Nora took a two-week course in Flamenco dancing.
Justine's mom is anti-couch potatoes. She wanted her kids to find out what drove them and to always be involved in something they enjoyed. Her boys are active in sports, and the girls have been as well. Now both sisters are into dance.
Nora was a very shy little girl, so her mom took her to Sunshine Generation Dance Theatre to help her gain confidence and possibly make some friends. She achieved both, although she remains charmingly shy.
The young dancers have their dance idols. For Nora its Ballanchine, Alvin Ailey, Margo Fonteyn and Martha Graham.
Justine admires Julie Kent, Britney Spears and the American Ballet Theatre, which she feels "has the best technique – they execute everything perfectly." She has read biographies of some of her favorites, including Allegra Kent, Maria Tallchief, Margot Fonteyn and George Ballanchine.
They find New York exciting because there are always things to do, "Even after 8 PM when everything closes at home," says Nora, "You can walk around New York and find something fun. I see a lot more shows here and do more window shopping." Nora also loves the tall buildings, although she misses the vistas and nature of her native town. She admitted she had not yet visited Central Park, Botanical Gardens, or other natural resources of New York.
Justine has a steady boyfriend. They go to movies, go out for meals with friends, have BBQs or go camping.
"In New York I go see Broadway shows." The girls saw Chitty Chitty Bang Bang, Fiddler on the Roof, The Producers, and Sweet Charity during their 2 weeks in the city. Justine, who has been to Italy and Spain, prefers New York, "despite the pollution. I'm an American girl, I really like America."
Since both young women agree that the only way they could have a family and be dancers would be if they had stay-home husbands, what do they see as their future careers?
Nora said, "I plan to keep dancing, but not full time. I have many interests. Since I don't have a perfect body, I think my college money would be better spent on an education in something other than dance, like chemistry." Just turned 17 this summer, she also flirts with possibly going into fashion design or journalism.
"In an ideal world," Justine, who is also 17, said she would be a Broadway musical actress. "It's not so much the imperfection of the world that prevents my acting career. It is just that there are millions of others with dreams like me. Competition can take a lot out of a person. It's a hard dream to pursue, and I am just not sure I am going to roll the dice and go for it." She also is interested in real estate, fashion design and possibly even law!
Does either of these girls realize how much the world changed in the last half century, to give them so many viable options?
Both their families are very supportive of whatever the girls decide to do. "My dad," said Justine, "always told me to go for anything I wanted and try to make it happen."
Nora's family agrees, as long as she is doing what she loves.
Both girls say dance has helped them in regular life as well. Justine feels in addition to giving her discipline, she has learned to do everything with meaning and passion.
Nora said she learned on stage if you are going to make a movement, make it big, and she feels anything she does in life should be done in a big, all out way.
Both young women plan to attend college. Both will be coming back to visit New York. As for living here and pursuing a career in dance? Not even they can tell – yet!