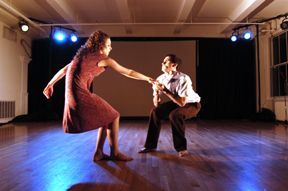 Misnomer Dance Theater performs at Fractured Atlas' 2005 Benefit Gala. Photo by John Des Roches
Funding for the arts has suffered a number of setbacks since 9/11. Corporations and individuals who used to contribute to performance organizations switched their money to more immediate concerns of 9/11, then Katrina, then other natural disasters. National, state, and regional organizations did the same. It might seem, then, that dancers and dance companies have no resources to which to turn
It was with surprise and great satisfaction that I learned, at least in New York City, there are many organizations dedicated to assisting performance artists. Some, like ART/NY are slanted more towards theatre, but include dance. Many others are basically for dance. Among them are The Field, Dance Theatre Workshop, Fractured Atlas, Dance/NYC and NYC Performing Arts Spaces. The New York Foundation for the Arts is still there, as well, but it deals mostly with large arts organizations and well-known artists.
Lisa M. Stevens, director of member services at ART/NY, said, "Of the dance companies that are members, we have assisted them with grants, loans (including bridge, cash flow, and lines of credit) and consultations (strategic planning, fundraising, board development, marketing, etc.). More recently, Dance Theatre Workshop has received capital loans in support of projects to renovate their space. Also, Ripe Time has received Nancy Quinn Ford grants for companies with budgets under one hundred thousand, as well as Bel Geddes grants for design for the past two years." Lisa urged us to contact the other groups, as did David Johnston of New York City Spaces and Adam Natale of Fractured Atlas. It is refreshing to find organizations with a cooperative, open attitude towards other support groups, rather than only promoting their own programs.
David and Adam represent the two organizations, which were so prompt in response to my request for information.
Adam Natale began working for the Theater/Musical Theater department at NEA in D.C., then moved on to Fractured Atlas when he relocated from the nation's capital to New York.
He finds the work at Fractured Atlas very rewarding, for here "I get to meet the artists who work on a grassroots level – many of which are struggling to make a living. We specifically work with 'emerging' artists and organizations, to help them manage their lives and their art."
Fractured Atlas is rooted in technology and can be easily utilized through their website. Their flagship services are insurance programs, which include low cost healthcare insurance for artists and liability insurance for artistic events and films.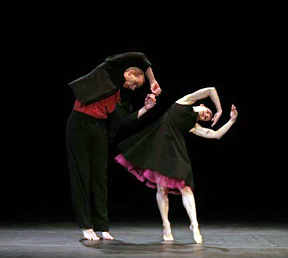 Kent DeSpain & Leslie Dworkin Photo:Amitava Sarkar
Their fiscal sponsorship program enables artists and small arts organizations to solicit tax-deductible donations without having their own 501c3 non-profit status. Furthermore, they offer all this on a national basis.
"Other unique services include," according to Adam, "our Arts Wellness Network of arts-friendly doctors and alternative caregivers who provide discounts to our member, and an Audience Development program that allows for one-stop shopping when it comes to distributing extra tickets for an artistic event."
Adam noted, "Artists have gone uninsured for years until they found our programs."
Fractured Atlas was founded in 1998 by Adam Forest Huttler, now the Executive Director, as a performing arts presenting organization. Due to 9/11, "the finances of the company were in jeopardy, so in 2002, he reformed Fractured Atlas into the arts organization we are today," Adam explains. Over 500 members are dancers and/or choreographers and of those, over 50 use their fiscal sponsorship program. Fractured Atlas also works with other organizations, such as DanceUSA and their satellite, Dance/NYC and Dance/MetroDC.
Each organization has its own mandate and story – and offers specific and much needed help to American artists.
The Field became a service organization to individual artists in the late '80's. There are now more than 2,000 involved, at 17 sites, creating more than a thousand new works annually under The Field stewardship. It also offers creative workshops, career workshops, touring workshops and grant writing assistance.
Its web site states it assists artists in making clear, cogent work through peer-oriented feedback groups • produces performance festivals focused on the exhibition of new work • sends artists on retreats at arts colonies such as White Oak (FL) and Earthdance (MA) to create new material and develop new collaborations • provides free rehearsal and performance space grants in the FAR Space, our new Chelsea gallery district studio.
Daniel Quinn, prolific New Jersey based entrepreneur and head of ArtsPRunlimited, a program of The Field, Inc., says "This is my third go-round with a non profit sponsor, having started out with the Cultural Council Foundation/Soho Booking and then Circum Arts Foundation, which are both now defunct. The Field's demands on the sponsored artists are less onerous than my previous experience and they seem more active in trying to offer services to the artists and dancers involved with them. The Field relies on a staff of various schedules and strengths, a relief after spending over ten years trying to build a viable board of directors for my own theatre company. The Field doesn't push this, but focuses more on getting the work done via support letters for grant proposals and feedback as well."
Dance/NYC offers dancers resource directories for health care, grant writers, consultants and more. Over 20,000 visitors a week check their calendars to see what dance performances are available to attend, and they give professional discounts to dancers to various performances.
Dance Theatre Workshop remains committed to its uncompromising mission to identify, present and support independent contemporary artists and companies to advance dance and live performance in New York and worldwide.
A very different and specific purpose is served by NYC Performing Arts Spaces. It operates three websites. One is NYC Dance Spaces – a searchable online database of rehearsal and performance spaces for dancers and choreographers in NYC. There they also provide a Dance Service Organization Calendar of professional, developmental and technical assistance events for the dance community.
According to David Johnston, program director of NYC Performing Arts Spaces, (who incidentally sparked this article), "We currently list over 450 available spaces in the five boroughs. We send out semi-monthly news e-blasts with info on dance grants, residencies and space opportunities."
They have helped a diversity of companies and individuals, including "Martha Graham Center, Merce Cunningham Studio, Joyce Soho and Suzanna Stankovic, who has a ballet company in Brooklyn, artistic directors such as Marlies Yearby, Jonathan Hollander and Aviva Geisman. Also about two dozen New York nonprofits list their programs on Dance Service Organization Calendar, so we hope we are helping them get out the word of their workshops and seminars."
While the organization's original focus was music, launched in 2001 as NYC Music Spaces, "the coalition founders thought the same services would be beneficial for the professional dance community so we launched NYC Dance Spaces in 2004. The organization which was known as Exploring the Metropolis was founded twenty-five years ago by Eugenie Cowan, who still serves as director. She was the one who thought of using information technology to address the workspace problem for the performing arts. Free online searchable databases with information available to everyone. By having them online, we can update constantly."
David had worked on various projects for five years for the New York Foundation for the Arts. "They are a fantastic organization." When two pals went to work for Exploring the Metropolis, they brought David to meet Eugenie when a position opened at that company.
"It's a terrific job. I feel like I've gotten paid to get a Masters. My background is theater – acting and playwriting – and it was great to get a job where this background was viewed as an asset. I'm aware of the realities of being a performing artist in this town. Workspace is a big part of that world, and I can bring that knowledge to my job. My schedule is flexible. My boss is great. If I take time off to work on a show I've written, she views that time as an asset to the organization in terms of the knowledge and experience I'll bring back."
On line presence for all these organizations is a big help to dancers and choreographers. However, responses to requests for specific information may be a bit slow in coming if you rely on their e-mail contacts, if my experience is any criteria. Several people at the various companies promised responses that were not forthcoming. Others were busy at the time of contact and asked me to get in touch later. When later came, they were gone on much needed R and R.
Therefore, I would suggest anyone wanting advice or assistance phone the various companies rather than rely on emails. They are there to serve and eager to do so. No New York dancer, choreographer or dance company need feel abandoned or alone in a city, which proffers so many varied resources.