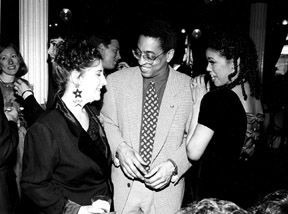 Founder of TADA! Children's Theatre, Janine "Nina" Trevens (L), with Gregory Hines and Victoria Platt, one of the company graduates at the 1993 benefit TADA!'s children performing for children's theatre
(Photo courtesy TADA! Archives)
A Final Farewell to the Late Great Gregory Hines
(Feb. 14, 1946– Aug. 9, 2002)
By Francine L. Trevens
ART TIMES August 2005
That's his fifty-seven year life span: statistics. Read his bio on line – lists of his films, TV shows and stage plays: factual data. What you cannot find is the essence of this remarkable man. The vibrant eagerness for challenge, the dedication to his work and his family, the kindness to friends.
He had been raised on the stage – or rather, stages, as part of the Hines Kids, then the Hines Brothers, and later Hines, Hines and Dad, a frequently hired dance act. Dancing was as much a part of his life as family dinners used to be for most youngsters. He danced practically as soon as he walked, having begun dance lessons at two. He was on stage a year later. Dancing was in his genes, from the days his grandmother was a hoofer at the famed Cotton Club. That was one reason doing the COTTON CLUB film was such a kick for him.
While appearing in EUBIE! on Broadway almost 30 years ago, Greg Hines not only performed 8 shows a week and various publicity gigs, he also studied voice. Greg did almost as much singing in that musical tribute to the great Eubie Blake as he did dancing. Still he was always backstage early, often practicing and polishing his routines.
Greg's handsome older brother Maurice was also in EUBIE! TV shows requested "The Hines Brothers" to be their guests. Maurice, busy establishing his own company, frequently refused. Occasionally he agreed, then canceled at the last minute because of some problem. Soon the studios stopped asking for the brothers. They realized Greg was a great solo act. It didn't happen spontaneously, however.
One day, cabbing back to the theatre from a TV gig with his publicist, Greg jokingly said, "Make me a star!" They both laughed as she snapped her fingers, but each of them knew he meant it.
After that, approaches to TV shows and major columnists always ended with, "If you need a last minute interviewee or entertainer, Greg will fill in at a moment's notice." The press agent said it and Greg meant it.
3 AM for a morning show, midnight for a late night one, directly after a matinee then back to the theatre barely in time for the night show's half hour call – Greg was always available and always appeared upbeat. He danced his heart out before T. V. cameras, just as he did on stage. He spoke with interviewers in a relaxed, jesting way they loved. He performed at special black pride events, great American smoke-out events, and various other public appearances. He was always obliging, never demanding. He could dance in a five by eight space as gracefully as on a long deep stage. He accommodated every situation and made it work for him. His warmth and charm was apparent no matter what the situation.
He even went on TV one noontime to cook! It was a skill he learned when tap was out of favor, and he left his native New York for California to tour with a jazz-rock band.
The press admired him. Camera crews loved him. Fellow performers treasured him. Audiences adored him.
But he wasn't all sweetness and light. There were lines you couldn't cross, and a sense of justice with which you couldn't tamper. One particular incident showed this other side.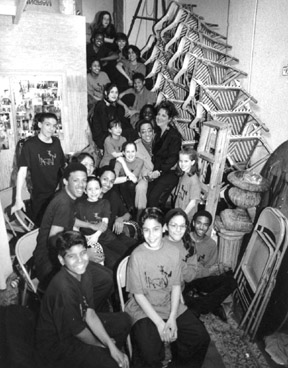 Gregory Hines backstage, surrounded by kids and crew of the TADA! Children's Theatre, with its founding director perched on his lap
(Photos courtesy TADA! Archives)
He and Pam Koslow, not yet his wife, were guests of an elegant restaurant in gratitude for Greg's magazine endorsement of the eatery. He arrived on that sweltering summer day sans jacket. Before Greg could introduce himself, the annoyed maitre d' went to get him one. As they waited, hungry Greg, tempted by a huge display of fresh fruit, plucked an enormous blueberry and savored it. The maitre d', outraged that Greg "desecrated" their lobby art, made a scene, demanding they leave. Patiently Greg attempted to reason with the man, but to no avail. Greg and Pam departed.
The magazine's press rep arranged for Greg to be invited back. Greg refused to return unless he received an apology. A letter was offered. Not good enough. He'd been humiliated in public and insisted on a face-to-face apology. Greg's press agent was sure that would be impossible. To her amazement, the magazine's representative pulled it off. Greg met the man who had humiliated him at the bar of that elegant restaurant. The maitre d' sincerely apologized, Greg graciously accepted and put the incident aside. Greg and Pam dined there that night, and several nights in the future as well.
One Thanksgiving, Greg was called midday to fill in for a canceling TV guest. Greg whispered something to his family, then said he'd be ready in a few minutes. The limo picked him up in just that – a few minutes! His family understood. By then, he was married to Pam. Pam and their kids - his Daria, and her Jessica (their Zach was not yet born) waited without complaint.
To his press agent, who had left a dozen dinner guests at her apartment in order to escort him to the studio, he apologized for "ruining" her Thanksgiving.
Greg, learned that day that she was hard pressed for cash, so he hired her daughter as his baby sitter. He made it sound as if the young girl would be doing him a favor! The sitter, impressed by his marvelous relationship with both kids, frequently remarked what an understanding and loving dad Greg was, and how much laughter there was in the Hines household.
Some years later, Greg was earning big bucks, juggling film and stage commitments. He was now a major name in the entertainment field. He had been nominated for several Tonys. (Later he would win a Tony for JELLY'S LAST JAM). His former press agent called and asked him to dance at a small fund-raiser for her other daughter's inner city kids theatre company, TADA! — where children performed for children.
He hesitated only a moment before agreeing to do it "just for the kids."
There were other performers at the big school auditorium that night, but he was the high spot of that fund raising evening.
When it was time for his performance, he assembled the whole TADA! Troupe on stage. There these little kids sat, agile legs tucked beneath them, facing the audience and facing Greg. The dancer donned his dancing shoes while kibitzing with the children. Then he danced, explaining some of the steps as he danced them. As he promised, he did it for the kids – facing them, his back to the audience! It brought down the house!
Greg soon became a mega-star. He was in film after film, TV show after TV show. Awards and kudos were justifiably lavished on him. He'd won Grammies and Emmys and the NAACP Image Awards. He was choreographing, directing, emceeing TV specials. It seemed there was nothing in show business he could not do.
One night, he and Pam arrived at a theatrical restaurant as his press agent from early days was leaving it with her two daughters. He hadn't seen them since the TADA! event. Greg whirled his old agent in the air. They exchanged quick updates on their lives before bidding farewell. Little did she realize it was the final farewell.
T. V. announced his passing, too young, too soon, too sudden, for those who had not known of his ailing. But how like this considerate, generous man to suffer in silence and leave the world with only wonderful memories.
Memories from movies that can have you holding sides aching from laughter or swallowing a sympathetic sob. Stage moments where his feet seemed to be two birds dancing on their own. Television memories of his huge, soulful eyes alight with such intensity.
When you hear rumbling in the heavens – when the air fairly crackles around you - think of it as Greg Hines tapping a dance number. I, his early days press agent, forever will!