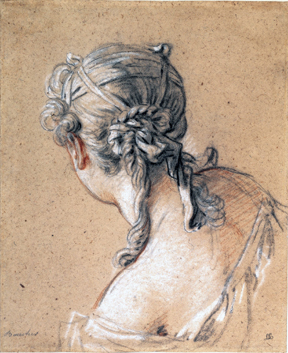 François Boucher (French, Paris, 1703–Paris, 1770)
Bust of a Young Woman in a Shift with
Her Hair Tied Up, Seen from Behind
Drawings from the Collection of Jean Bonna
at the Metropolitan Museum of Art
all Photos courtesy of The Metropolitan Museum of Art
By RAYMOND J. STEINER
ART TIMES March 2009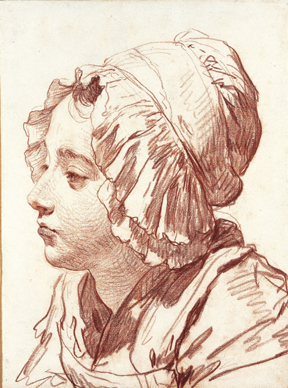 Jean-Baptiste Greuze (French, Tournus,
1725–Paris, 1805) Pouting Girl
SOME 120 WORKS, all from the impressive private collection of Mr. Jean Bonna (Geneva) and each a master work that demands slow and careful scrutiny, make up this wonderful exhibition in The Metropolitan Museum's Galleries for Drawings, Prints, and Photographs.* Comfortably spaced for viewing in three well-lit galleries, this is surely an opportunity that drawing aficionados will not want to pass up. An all-too rare experience, the exhibition of drawings — especially old master works — seem often to get short shrift, most museums and galleries preferring crowd-pleasing "blockbuster" shows of paintings and/or sculpture since they draw the biggest crowds. Granted that drawings appeal mostly to the delicate tastes of the connoisseur — which seem to be a dwindling population (at least in the U.S.) — but it is precisely in the pages of private workbooks that we most often see the artist — great or otherwise — at his/her most intimate moments of aesthetic reflection. Such sketchbooks are, in fact, akin to private diaries, many with annotations on proposed motifs not meant for the rude and untrained eyes of public viewing — or comment. Indeed, in my many years of interviewing and profiling artists, it was rarely without some inner struggle that they were willing to hand over tucked-away sketchbooks for my perusal. "They are just jottings to myself," most would say as they reluctantly placed their dog-eared, smudgy, workbooks in my hands. Yes! But what those intimate 'note-takings' revealed! Here you would meet the mute artist unable to translate his "jottings" into clumsy words, un-self-conscious, spontaneous, one-on-one with a budding motif, exploring a nascent vision sans artifice, technique, flourish, or formula — in brief, images naked and true, as close to that original creative impetus that we can only hope to share in.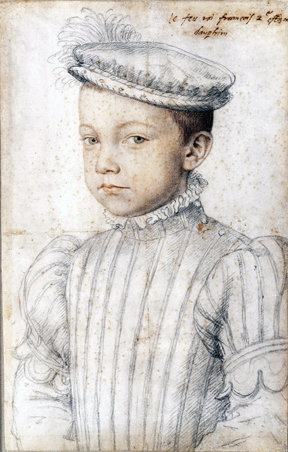 François Clouet (Tours, about 1515–Paris, 1572) Portrait of François II
And, these are not the drawings of just any artists — the list includes a four hundred-year range of the work of such giants as Carracci, Canaletto, del Sarto, Tiepolo, Rembrandt (don't miss his miniature townscape "View of Sloten from the East"), Jordaens, Greuze, Lorrain, Chardin, Boucher (see especially his "Bust of a Young Woman in a Shirt with Her Hair Tied up, Seen from Behind", a lovely sketch revealing that most sensuous part of a woman, the nape of her neck), Fragonard, Ingres, Delacroix, Watteau, to name but a handful among other masters, as well as some lesser-known but equally talented artists as Carlo Dulci (see his angelic "Young Boy in Left Profile, Eyes Raised"), Giulio Cesare Prosaccini (with his lovely "Female Figure Seen from Behind with Two Putti"), Théodore Chasseriau (who could not fall in love with the eyes in his "Portrait of Berthe de Prailly as a Child, Bust in Three-Quarter View"?), and, finally, Baccio della Porta (Fra Bartolommeo) (especially his exquisitely detailed villagescape, "Landscape: Farm Buildings on a Ridge, a Haystack, and a Flock of Birds Circling Above").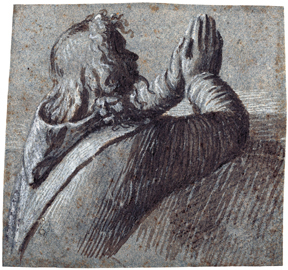 Vittore Carpaccio (Venice, 1455/65–Capo d'Istria, 1525/26) Kneeling Figure in Prayer
Strong stuff, this! It is difficult — at least for this viewer — to comprehend why good draftsmanship has so fallen out of favor with moderns…ironically the beginning of its deterioration writ large in this very exhibition when we come to the more "modern" works of, say, Manet, Cézanne, Renoir, Gauguin and their fellows.
My hat is off to George R. Goldner and Carmen C. Bambach for 'bearding the lions' and the Gail and Parker Filbert Fund for helping to make this exhibition possible.
*"Raphael to Renoir: Drawings from the Collection of Jean Bonna" (thru Apr 26): The Metropolitan Museum of Art, 1000 Fifth Ave., NYC (212) 535-7710. A fully-illustrated catalogue is available (see New Art Book Listing this Issue).