Koelnmesse (Art Cologne) 2003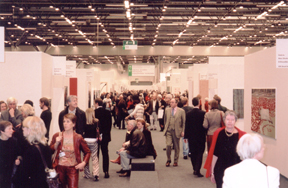 Vernissage Art Cologne 2003

By RAYMOND J. STEINER
ART TIMES Dec 2003
BY ANY STANDARD, Art Cologne is as much a happening as it is (as advertised) an International Fair for Modern Art. Now in its 37th year, Koelnmesse is one of the oldest art fairs in Europe, its first occurrence in 1967 with 18 exhibiting galleries and 15,000 visitors distinguishing its debut. Today, in the 2003 version, some 63,000 international visitors came over a period of five days to see the wares of 250 galleries from 22 countries. I was among those visitors, a guest of the organizers of Art Cologne and one of some 1,823 journalists from 39 countries, handsomely flown over and back and, during my stay, settled in the Sofitel Hotel, Cologne's newest 5-star "home-away-from home" in the city's center and located just a few steps from their celebrated "Dom." It was, as I've said, a "happening" and, even now, as I sit down to review the fair from a distance of both miles and days, the happening is still going on in my mind's eye.
It is an axiom that viewing too many artworks at a single event merely results in not seeing any at all — and Art Cologne, with its thousands of works — paintings, sculptures, drawings, photographs, installations, video artforms, mixed media, constructions (the list goes on!) — is a prime example of ocular over-load. Unless you come for a specific artist (which is why buyers and collectors come in the first place), one can only come away with impressions, large chunks of visual tableaus interspersed with hordes of viewers. Even with the 668-page catalogue that accompanies the fair open before me, I can only recoup a fleeting motif, a few paintings here and there, a commanding impact, an imposing room-filled sculpture, or (in some cases) a particularly badly rendered drawing. All this in spite of the fact that the two-storied building which housed the exhibits was extremely well thought out, individual gallery-booths spacious (this is a juried show, with only about one-half of the over 500 galleries applying for entry accepted), with scattered lounge areas (a separate one for the press complete with a business center and small restaurant), and food/drink sellers strategically placed for ease and comfort. It was obvious that the organizers of the event had both the exhibitors and the visitors well in mind.
Still, the sheer amount of artwork was more than a little intimidating to the critic who sought to make some sense of the whole and, perhaps, with an eye toward attempting some commentary on the specific. Rubbing shoulders with casual onlookers, patrons, artists, collectors, buyers, sellers and other journalists left little room for sustained contemplation or serious assessment. And what a mixed bag was offered! Although touted as a fair for "modern art," one found a range from Max Liebermann to Tom Wesselmann, from old woodcut technique to the latest video-art innovations, from faux primitif to ultra smart, from elaborate complexities to quick pencil sketches, from painted ping-pong tables to stacked inner tubes, and from James Sheehan's mini-sized art (Lehman Leskiw & Schedler, Zurich, Toronto) to Max Streicher's "Schlafende Giganten" (sleeping giants), a pair of huge air-filled nylon horses (Artcore/Fabrice Marcolini Gallery, Toronto).

Panoramic View of Art Cologne 2003

The observing visitor might have drawn a clue from Les Levine's "Ignore Logic" media sculpture (Brigitte March Galerie, Stuttgart) — or, at times, even Andreas Leikauf's Acrylic "Mediocrity is the Message" (Galerie Ernst Hilger, Vienna) — to prepare oneself for what was presented. Yet it would be manifestly unfair to so glibly dismiss out of hand a great deal of what (at least I) considered to be "fine" art. Were I a collector, I would gladly have come away with a Max Liebermann (Galerie Glöckner, Cologne) or a Gabriele Müntner. (I very nearly succumbed to one of Müntner's early paintings, "Park St. Cloud in Herbst" (Galerie Thomas, Munich), a small landscape done before her association with Kandinsky that, in its vivid colors and straightforward composition, was eminently charming — but I could not afford the price-tag). Nor was I only attracted to the earlier masters. I saw powerful texture-filled landscapes by Cveto Marsic who laid on his paint with fistsful of pigment (Galleria Ferran Cano, Barcelona), wonderfully realistic paintings by Franz Baumgartner (Galerie Hof & Huyser, Amsterdam), and thickly impastoed townscapes by Ralph Fleck (Galerie Schwind, Frankfurt) that looked something like pointillism as might be seen through a magnifying glass — all of them artists that knew and loved and reveled in the tactile qualities of oil paint.
Coming from such a large sampling of international galleries, there were of course a great many artists whose names and works were unknown to me. Though a new name or image or two might linger in my mind, the presence and prevalence of such better-known names as Josef Albers, Diane Arbus, Georg Baselitz, Joseph Beuys, Louise Bourgeois, Georges Braque, John Cage, Marc Chagall, Christo, Lovis Corinth, Salvador Dali, Robert and Sonia Delaunay, André Derain, Otto Dix, Jean Dubuffet, Max Ernst, Lyonel Feininger, Eric Fischl, Dan Flavin, Günter Grass, George Grosz, David Hockney, Alexej von Jawlensky, Wassily Kandinsky, Alex Katz, Anselm Kiefer, Ernst Ludwig Kirchner, Paul Klee, Käthe Kollwitz, Fernand Léger, Sol LeWitt, Roy Lichtenstein, August Macke, Kasimir Malevich, Robert Mapplethorpe, André Masson, Henri Matisse, Joan Miró, Henry Moore, Edvard Munch, Bruce Nauman, Emil Nolde, Claes Oldenburg, Meret Oppenheim, Francis Picabia, Pablo Picasso, Sigmar Polke, Mel Ramos, George Rickey, Bridget Riley, Kurt Schwitters, Richard Serra, Andres Serrano, Cindy Sherman, Frank Stella, Mark Tobey, Cy Twombly, Victor Vasarely, and Andy Warhol stay in my mind, all of whom were presented and up for sale.
There were also the eye-catching show-stoppers — the ultra-small paintings of James Sheehan, for example, some as small as one-inch square, that were barely noticeable on the walls of Lehman Leskiw & Schedler's booth. One was automatically halted in one's tracks to determine why a gallery would spend so much money for wall space that at first blush seemed to all intents and purposes to be empty. Hand-held magnifying glasses were provided to the many visitors — a "gimmick" perhaps, but one that was very effective in a venue that tried to lure in viewers by its overflowing plenty. One also could not fail to be attracted to the "balloon tree" of Jacob Hasimoto (La Città, Verona), or the automated cyclers, "Bike 2000," by Sokari Douglas Camp (Peter Herrmann, Berlin). I even found myself in for a surprise or two, as when for example I discovered a small watercolor by Hermann Hesse, long an author with whom I have been familiar but totally unknown to me as a painter. So few from so many that one might mention, but, again, to merely list them would not help the reader visualize the sheer amount of diversity that such a fair might offer. One can only recommend that a visit to a future Art Cologne ought to be on your agenda since you will surely not be disappointed and more than likely will find something that pleases your aesthetic tastes.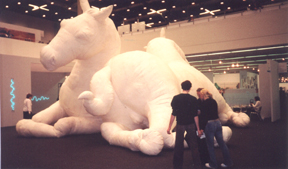 "Schlafende Giganten (Sleeping Giants)"
All in all, Art Cologne is a mammoth undertaking and Gérard Goodrow, Koelnmesse's new director, deserves much credit for pulling it all together. His aim, he told a small group of journalists during the vernissage held on the first evening of the fair, was not only to make the event a financial success for its exhibitors, but also to make it an educational experience for both the professional as well as for the layman. By all accounts, he has succeeded and then some. The art fair, a Cologne "invention," has come a long, long way from its advent in 1967 when 18 German galleries got together in an effort to rebuild a war-damaged city. It is anyone's guess what the 38th Annual Art Fair, Koelnmesse 2004, will bring to the world's attention, but rest assured that it will encompass the whole gamut of creative possibilities.