Elegance and Opulence:
Art of the Gilded Age at the Bruce Museum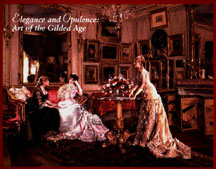 Le Salon du Peintre (The Salon of the Painter),
1880 oil on canvas, by Alfred-ńmile-L╗opold-Victor Ghislain Stevens, Belgian, 1823-1906
(Photo courtesy of The Bruce Museum)
By RAYMOND J. STEINER
ART TIMES April, 2001
IF ANY EXHIBITION might convince us of the loss we have experienced since practitioners of "modern" art undertook the folly of attempting to separate (or "abstract") color from form, the present show* presently mounted at the Bruce Museum more than adequately rises to the occasion. Here, in some seventy glorious examples of "gilded age" paintings, drawings, and sculpture, the content-starved eye may find full redress in the works of such 19th century masters of pleasing the senses as Jules-Joseph LeFebvre, Sir John Everett Millais, Sir Lawrence Alma-Tadema, Jean-Louis-Ernest Meissonier, Gustave Clarence Rodolphe Boulanger, Jean-Léon Gérôme, Adolphe-William Bouguereau, Alexandre Cabanel, Jules Bastien-Lepage, Jean-Françoise Millet, Julien Dupré, James Tissot, Vittorio Matteo Corcos, Pierre-Auguste Cot, and many more. If you want beauty in full measure, "Elegance and Opulence" will more than make up for the unfortunate paucity of it which in recent times seems to have become the lot of visitors to today's galleries and museums.
Whatever else this exhibit reveals, it clearly shows that no matter the aesthetic demands (or lack thereof) an age might exert there will be artists capable of meeting the challenge. Just as there are those willing to offer up meaningless exercises to the undiscerning audiences of today, so were there men and women up to the task of satisfying the tastes of a by-gone age of "elegance and opulence." Artists in France, in England, in Italy, in Spain, in Hungary, in Belgium, in Russia█certainly not an exhaustive list, but representative of the artists included in this exhibition█even if their own circumstances did not permit of a similar lifestyle, knew what pleased an audience of high culture and refined sensibilities. They took not only the trouble of familiarizing themselves with the current propensities of collecting exotic objets d'arts, but diligently set about honing their craft to reproducing them in their paintings. There are, in fact, an almost dizzying plethora of painted and sculpted "things" in this show, each artist vying with the other (and, at times, themselves) to more realistically depict persons, architecture, building materials, animals and their pelts, fabrics, foliage, natural formations, clothing, accouterments, weapons, musical instruments, domestic and foreign design patterns█in short, almost anything the eye might see and enjoy. Some of these painters were uncanny in their ability to dupe the eye, appealing in some cases█note for example the fleece of Henry William Banks Davis's "Picardy Sheep Before Shearing on the Cliff, Ambleteuse Bay"█not only to visual but tactile senses as well.
Regardless the "ism" you currently embrace, one must acknowledge the virtuosity of these wielders of the brush and chisel. Publicly demur as you see fit, I feel it would take a thoroughly deadened soul not to respond to the glowing flesh of Eve in Cabanel's "Le Paradis Perdu (Paradise Lost)" or the young child in Bouguereau's "Le Baiser (The Kiss)." Dismiss them█if you must█as simply "genre" pieces, but one must go a long way today to find a painter as adept at depicting the human countenance as Walter Langley ("Waiting for the Boats") or capturing the movement of cows and women in Dupré's "Returning to the Farm." Call them "anecdotal"█as it is fashionable to do nowadays█but I defy you to find painters today who might equal such paintings as John Atkinson Grimshaw's "Street Scene by Moonlight," Sir John Everett Millais's "Sleeping," Gustave Clarence Rodolphe Boulanger's "Arabian Harem," Jean-Léon Gérôme's "Le Derviche Tourneur (The Whirling Dervish)" or Alberto Pasini's "Mercato Orientale (Oriental Market)." As for social mores and roles played by men and women, might there not be a few who regret our wholesale overthrow when we gaze on the graceful women and well-dressed men in such paintings as Jules-Joseph LeFebvre's "A Fairhaired Beauty," Marie Spartali Stillman's "Woman with Fan: A Self-Portrait," Vittorio Matteo Corcos's "Mezzogiorno al Mare (Midday by the Sea)" and "An Elegant Lady," Alfred-Emile-Léopold-Victor Ghislain's "Le Salon du Peintre (The Salon of the Painter)" or Sir James Jebusa Shannon's "Lorna and Dorothy Bell, Daughters of W. Howard Bell, Esq."█the last a stunning double portrait that easily compares with some of John Singer Sargent's masterpieces? And where might we go today to find such painters as Jean-Louis-Ernest Meissonier with his gem-like miniature genre scenes, five of which are handsomely grouped on a separate wall?
While on the subject of placement, the exhibit, curated by Executive Director Hollister Sturges III (with assistance from Cynthia Drayton and Vern Swanson), is intelligently hung with its several themes█Pre-Raphaelite Brotherhood and Victoria Life; The Antique; Orientalism; Allegory, Mythology, Religion; Peasant Scenes and Country Life; Contemporary Fashion and Society█handsomely dispersed over a series of elegantly appointed galleries. The experience of moving from gallery to gallery, from theme to theme, is a nostalgic journey into a time when the love of things and the love of beauty was considered a mark of refinement rather than of gross materialism█a time that is sure to tug at some of our strands of memory when it was all right to display our sense of culture and taste.
Indeed, as the large photo-displays of the studios of Millais, Alma-Tadema, E. James/J. Paynter, Boulanger, F.A. Bridgeman, Bouguereau and Gérôme (all hung in a separate gallery) reveal, the artists, insofar as their means allowed, set up their studios in as sumptuous a style as their patrons did their homes and estates█a practice that carried over into America, such artists as William Merritt Chase, John Singer Sargent and, today, Everett Raymond Kinstler, following suit in creating studios that reflect a high degree of culture, elegance and discrimination. Even the names of the artists included in this exhibition are lush, their multi-given and hyphenated surnames█some even prefaced with knightly "Sirs"█denoting a substance and solidarity rarely found today. One might imagine that the artists, called upon to depict a "gilded" age, would have to have at least a conversant familiarity with a wide world of exotic places, art and literature█and most fulfilled their roles. In short, they did their homework█and had to with such a large field of talented competitors at the beck and call of affluent patrons. And, perhaps best of all, they were, without doubt, artists to their fingertips.
It would be a mistake to assume that these artists█the epitome of what are called "salon" painters, if somewhat derisively in modern parlance█were studio-locked aesthetes, members of a "polite" society who ventured no farther than the drawing room. As noted above, they traveled at a time when doing so presupposed some hardships█especially to such places as the Far and Middle East, but, closer to home, to rural areas where they painted en plein air in an effort to capture the verisimilitude for which they were so well known. What they learned of nature is especially evident in that section of the exhibition grouped under "Peasant Scenes and Country Life." The lovely sun-dappled country lane from which the girls drive their cows in "Returning to the Farm" (Dupré), is a masterful landscape which not only could stand on its own, but might well favorably compete with such landscape masters of the Flemish and English schools. Few today can capture the subtle chiaroscuro of a Jean-Françoise Millet as he paints his "Peasant Woman Driving Sheep through a Gate" and even in the painting grouped with the "Pre-Raphaelite Brotherhood"█Millais's "The Farmer's Daughter"█the "throwaway" landscape in the background shows a sensitivity to landscape and a control of brushwork of the highest order.
Whatever you may think of either the age or the subject-matter of its art, one must acknowledge the high degree of professionalism and skill these painters possessed. They took both their métier and their patrons seriously and gave full measure to their craft. In the usual fare of today, rarely do we see the drama as that found in Pierre-Auguste Cot's "A Pause for Thought," the grandeur of Edwin Lord Weeks's "Royal Elephant at the Gateway to the Jami Masjid, Mathura," the quiet dignity of womanhood in Jules-Adolphe-Aimé-Louis Breton's "Peasant Woman Sifting Rapeseed," the psychological intensity in the faces of Walter Langley's "Waiting for the Boats" or the loving attention to detail that we find James Tissot bestowing on the dress of the woman in his "La Cheminée (The Fireplace)." As with their contemporary, the sculptor Jean-Baptiste Carpeaux (see his "Le Chinois (The Chinese Man)," a Terra-cotta bust), these artists not only luxuriated in their subjects, but in the materials of their respective crafts as well.
When we consider that the Bruce Museum of Arts and Sciences has just recently earned national accreditation as a museum (1997), it is with admiration that we acknowledge this major contribution to the current fine art scene. If this is any indication of what the future may hold for us at the Bruce, we have many treats in store for us. Considerable credit is due both to the curator of "Elegance and Opulence" and to the owners of the private collection who made their holdings available and from which this exhibit was drawn. The accompanying catalogue notes that the present showing comprises only about one-half of this collection█and one can only wonder what other treasures it might hold. Kudos also to the U.S. Trust Company of Connecticut for helping to bring this show to its viewers.
* "Elegance and Opulence: Art of the Gilded Age" (thru Dec 5): Bruce Museum of Arts and Science, One Museum Drive, Greenwich, CT (203) 869-0376