CHEN CHI (1912-2005): In Memoriam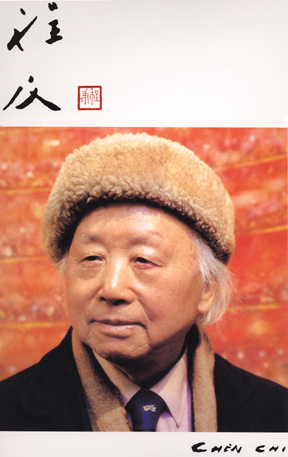 By RAYMOND J. STEINER
ART TIMES September 2005
the PASSING OF Chen Chi — painter, poet, philosopher — has come to me not so much as a surprise— at the age of ninety-three he has had more than a common share in man's allotted time on earth — but rather with the startling realization that I have suffered a personal and irreparable loss. Whatever his demise might signify to the artworld — and it is always history that is the final arbiter in such matters — for me, the announcement of his death was personally poignant, definitive, and distressing.
I met Chi sixteen years ago, our meeting the result of the combined urging of his colleagues Will Barnet and Everett Raymond Kinstler, both of whom persuaded me that Chi was a painter worthy of a Profile in ART TIMES. Following their suggestion, I set up an appointment sometime in late May of 1989 for an interview at his studio located in the National Arts Club on the south side of New York City's Gramercy Park. My Profile of Chi appeared two months later in our July 1989 Issue.
My home and office is located in the Hudson Valley some 100 miles north of the city so, whenever I have engagements in Manhattan, I ordinarily take an early train or bus to ensure that I arrive in due time, often taking a leisurely cup of coffee somewhere to settle and prepare my mind for whatever the day may bring. May is a particularly pleasant time to spend in the city, and this day chanced to be one of the month's best — an observation that I had casually mentioned to Chi shortly after he opened his door at our appointed hour to warmly welcome me into his studio. May, we almost immediately discovered, was our common birth-month — mine on the 1st and his on the 3rd with the added coincidence that his wife, Zu Min, celebrated hers on the 2nd — one of those little twists of fate (so dear to Chi's heart, I would soon discover) that presaged a closeness, since in years to come we would sometimes celebrate the three dates together.
Unlike many of the artists whose studios I have visited over the years for the purposes of an interview, my time with Chi quickly lost any formality such a meeting often imposes on normal discourse. Chi, amiable and quick to laugh, readily responded to my own easy-going style, and it was soon as old friends rather than as interviewer/interviewee that the afternoon passed. Although art — specifically his art — was ostensibly the main subject, our conversation freely rambled over a much wider terrain and I was delighted to find that he was not only a painter, but also a philosopher and poet as well (two areas that I tend to dabble in when I find the time and peace of mind to do so). All too soon the hours had gone by, with both of us still feeling that much more had still to be discussed. Thus, we repaired to Chinatown for dinner and more conversation, an occurrence that was to be repeated many times over as the coming months and years went by.
Chi and I became fast friends. This may not sound so unusual, unless you know me — and, of course, Chi. I have long been a solitary soul, preferring my own counsel and company, and in my seventy-two years can count on one hand those whose company I really seek out and enjoy. My study/studio has no telephone and visitors who have ever found themselves at my door are familiar with the pulled-down shade that reads: "Go Away!" — deliberately exclamatory and heavily underscored for emphasis. During cocktail party small talk, I use humor as both a defense and a façade, the subterfuge practiced for long enough to often trick people into thinking I am the life of whichever social gathering I am sometimes required to attend. Being gratuitously glib, I have discovered, can be accomplished at the same time my mind is pursuing whatever unfinished thoughts are traveling along their major and customary paths. Chi, being who he is, perceived this deception of mine and soon found his way through to that elusive self hidden beneath the pretense.
Almost always unhurried, Chi was of a contemplative nature, a fact that I believe was evident in his paintings. In Chinese tradition, he painted nature, the floral still life or landscape his signature work. If his subject matter reflected his inherited tradition of painting landscape, however, it was through the filter of French impressionism that he would render his delicate portrayals of tree or mountain or bloom. Although a city-dweller for a good deal of his life, he revered the beauties of nature and never seemed to tire of capturing its seasonal nuances in the unnatural act of passing pigments over paper. In recent years, he turned his eyes heavenward, his latest series, "Moon and Sky", a hauntingly mystical journey into the beginning reaches of outer space.
In his love of nature, he seemed to trust in it more than he did in his fellow man — which showed, I believe, in the absence of the human figure in the greater part of his oeuvre. He appeared to prefer and accept his own company — a fact that has made me feel privileged to be allowed into his world. He admired the great cycles of seasons, and to me it seemed as if his mind thought along the same periodic paths, pursued the same recurrent truths, sought the everlasting goodness that seemed to lie at the bottom of all transient things. Yet, like Socrates, he knew that, at bottom, he knew very little — even about his craft, and often told me that he hoped to reach his one-hundredth year so that he could start over and really learn how to paint.
Though he never spoke about it in conversation, Chi believed that the artist had a special mission. Glanced at in some of his poetry, it was most fully articulated on the occasion of the First World Cultural Summit held at Versailles, France in 2000. The only artist invited to exhibit, Chi chose the occasion of addressing an international audience of cultural leaders to express his conviction that the path of art was also the path to world peace. A timeworn concept, he knew, but one that he felt compelled to repeat — even though he knew in his heart that it would be ignored by a world that only saw art as a bartering tool. He saw his own art as potential carriers of that mission and, though he never boasted of his many awards, medals and honors, felt that he was among those whose art served a higher purpose.
Chi did not appreciate those — artist or otherwise — who demeaned the craft or the accomplishments of those who respected it. He bitterly decried the National Academy's easing of its rules of acceptance to membership in its ranks believing that, by doing so, it diminished the distinction earned by all those in the past who prided themselves on mightily striving for the once-coveted title of "Academician". He enjoyed a genuine sense of fulfillment in his art, and although he was "father", "in-law", and "uncle" to his wife's children and family, he had no offspring of his own and considered his paintings his progeny. It was his paintings, he once confided to me, that were his "children" and that they would not only support him but also provide him with whatever immortality the future might hold for him.
Chi was one of those rare individuals who had found the potent communicative possibilities inherent in silence. Indeed, our shared meals — usually of dim sum in his favorite restaurant in Chinatown and at which I happily appreciated his ordering for me— were often conducted in quiet, though I could tell that his mind was always engaged and already thinking about where our conversation would lead when our meal was completed. In our often-aimless divagations along city streets, we walked side by side, each in our own heads, each finding profound comfort in the simple presence of the other. Words, at such times, would not only have been disruptively intrusive, but also unnecessarily redundant. We were already in deep, seamless, and perfect conversation. And, when words did arise, I was eternally appreciative that they were never about politics, sports, the movies, or the doom and gloom of the latest "tragedy" du jour.
His sense of humor was keen, and he never seemed to fail to see the ridiculous side of whatever "serious" pique I would sometimes bring up during our discussions. Immediately after puncturing my balloon, however, he would place my thought in a wider context, gently drawing my mind to view it on a cosmic scale. Often, when we shared dim sum, I would ask him what I was eating. "Do you like it?" he'd ask. If I nodded my assent, he would simply say, "Then eat it", and continue with his silent musing. He could take a joke, but he knew how to give as well as take. At one time we were having lunch at Sal Anthony's on Irving Place and, on one of those quirky days when serendipity ruled, during the course of our meal three different couples had greeted me with a "Hi, Ray" as they entered and moved on to their respective tables — unusual, since I am not that much in evidence on the New York scene. Chi turned to me and remarked, "Everyone knows you!" "Oh," I replied, "they probably didn't notice you since, you know, all Chinese look alike." Chi beamed, and pointing his finger at me, exclaimed that it was Caucasians that looked alike. Chuckling, he added, "They probably thought you were someone else!"
Deeply sensitive, Chi took in and weighed all that came his way. He did not easily suffer fools and was quick to take offense at gratuitous slights — and, during his long relationship with New York's artworld, there were a great many he stoically endured. As with most negative things that came his way, however, he would slowly mull them over, eventually reducing them to insignificance by placing them in relation to the wide universe he carried in his head. I could tell when someone had hurt him, but always saw the chuckle that was sure to follow once the affront had been digested and put in its proper perspective.
We talked of timely things, of course, but mostly about art, about the artworld, or about Chi's latest direction in his paintings. Often, I would be invited to witness the first steps into his latest foray in search of a new theme. If his subject matter periodically veered off into new directions, his technique of using watercolor on rice paper rarely if ever varied, with only regular drawing sessions — with the pencil, with charcoal, with brush and ink — interrupting his normal painting routine. It was not until I had known Chi for some years that I discovered his drawings of the figure and, had I not been visiting with an etcher/painter friend from Germany, Heinrich Jarczyk, might never have known this other side of him. I had always and almost exclusively known him as a landscape/still life painter, with figures, if they occasionally appeared, as little more than scale-determining adjuncts to some sweeping vista. During our visit, he showed a little sketchbook of figure studies to Jarczyk, and it came as somewhat of a revelation for me to see how diligently he had been pursing figure study. When I questioned Chi about it in subsequent visits, he revealed that he had been attending weekly drawing sessions for years, but "only to keep his hand/eye coordination sharp." To my astonishment, he pulled hundreds of such "practices" from under piles of papers and various drawers. Many of these graceful and spontaneous studies resembled nothing so much as a form of freewheeling calligraphy, and only at my insistence had he finally mounted an exhibit of them in Shanghai a few years ago.
I found Chi's process interesting — because of the disparity in his diminutive size and his large-scale paintings, he usually painted with his paper laid out on the floor of his studio. An amusing aside apropos his method of using the floor as a make-shift easel: A collector of his work had come to his studio on the occasion of her daughter's upcoming wedding to purchase a painting to serve as the foundation of the young bride's collection. Having nothing suitable in his studio at the time, he invited mother and daughter to come to his home in Washington Square some evening on a later date where he had a variety of paintings from which they could choose. On the day of their visit, Chi had been painting at home earlier that afternoon, a large sheet of rice paper stretched out on his living room floor with an almost completed work still damply fresh spread across its surface. Seating his guests in the dining room, he asked them if they wanted tea and, at their acceptance, stepped into the kitchen to prepare it. Meanwhile, mother and daughter, infrequent visitors to the city, happened to glimpse the lighted summit of the Empire State Building beckoning through the windows of the darkened living room. Intrigued by its apparent closeness, they stepped into the room to obtain a better view, not realizing that they were both standing squarely in the middle of Chi's painting. When he brought them their tea — not seated at the dining room table where he had left them, but in his living room with feet planted firmly on his painting — he found himself unable to speak. Mortification on both sides quickly followed, with the mother profusely apologizing and Chi trying his best to allay his patron's embarrassment. All's well that ended well, however, with Chi making his sale and his painting salvaged in a typically "Chi" way. Chance, Chi had often told me, played a large part in his work, and what better way to put his theory to the test than seeing what use might be made in his painting with the addition of these four brand-new footprints?
Chance — or fate — incidentally, played no small part in Chi's life and work, and he even used it in the title of one of his books, Heart and Chance: Chen Chi Watercolors presently on sale at The Metropolitan Museum of Art in New York City and for which I had contributed an essay, "The Four Hearts of Chen Chi". I'd written introductory essays for several of Chi's books over the years, and though he insisted mightily on the role of chance, I had mostly noted an exquisitely honed sensibility coupled with a highly controlled brushstroke to lie at the bottom of his successful mastery of the medium. Though this essay is a personal assessment of the man and not a critical review of his work — as I note above, it is the privilege of history to decide his ultimate contribution to art — Chi, by any standard, was a highly accomplished watercolorist and a man of extremely refined receptivity to the beauties of nature. Still, if it was his susceptibility to nature so obvious in his art that first brought him to my attention, it was ultimately Chi and his expansive temperament that had entered and captured my heart.
When, after a forty-year hiatus, I picked up my brushes again to paint my own landscapes, Chi generously presented to me his portable paintbox/easel, a facsimile of the famous French "Julian" traveling box that has long been a favorite among plein airistes. He had found it too cumbersome, he said, preferring a much smaller, hand-held box to take with him on his occasional treks into Central Park. "Westerners need too much equipment," he claimed, preferring the eastern tradition of less gadgets and more developed consciousness when attempting to paint nature. Indeed, I could tell his gift to me was almost like new since its surfaces were relatively free of paint smudges, but somehow, even today, I still feel his presence when I work at it. I promised him the first painting that would come from my use of his gift, and a few weeks later I repaid him with a cloud study in oils I had done outside my upstate study. I'd like to think that it is nestled somewhere amongst his own work; if it is, my modest little 6x8 canvas is certainly enjoying some grand company.
It was my great pleasure to have been invited along with my wife, Cornelia Seckel, to attend the inaugural ceremonies attendant upon the opening of the Chen Chi Fine Art Museum built in his honor — a rare event, indeed, for a living artist! — at the Jiao Tong University in Shanghai several years ago. We spent two weeks in China, climbing the Great Wall at Badaling outside Beijing, exploring Chi's hometown of Wuxi, but especially memorable for me were the days at the University leading up to the moment of ribbon cutting on the front steps of the museum. We stayed with Chi and his wife, Zu Min, at the University, the days filled with touring the new facility and the adjoining apartment that had been especially built for them. To witness the deference paid to Chi as relatives, friends, and dignitaries arrived during the days leading up to the grand opening, was particularly gratifying — such homage confirming my own opinion of the man. At the ribbon cutting itself, more formal recognitions followed as cultural and political dignitaries — including President Jiang Je-Min's son — added their words of congratulation to Chi's life and work.
A special event, which occurred a few days after the opening, remains vivid in my mind. I sat next to Chi at a ceremonial convention of his artist-peers, the meeting held at a stately hall dominated by a long, ornately designed table laid out with flowers and bowls of cut fruit along its length. After introductions were made and discussion begun, glasses of tea were brought to the table by waiters. At each setting sat an artist — most younger than Chi, a few of the same age or older — who offered opinions, criticisms, and comments about the opening, about the museum, and about the art which Chi had chosen for the occasion. I was the only non-artist, the only Westerner seated at the table. Chairs set back from the table and along the walls were taken up by visitors and spectators. Although I could not understand what was being said by any of the artists, I could, of course, follow body language and expression as their gestures indicated either approval or criticism of Chi and his work. Though he remained silent throughout the almost three-hour long commentary — some seemed particularly long-winded in their analysis — my sitting alongside Chi allowed me to "feel" his reactions, and I could determine if a particular speaker was being complimentary or negative in his comments (all but one were men). Since I can only assume that Chi knew what was in store for him on that afternoon, I felt that his asking me to sit at his side during what I can only describe as an ordeal was an expression of his profound regard for me. Although I had no words to express my appreciation for his including me in this very special moment of his life, I think that, just as I felt his reactions as I sat beside him, so also did he feel my empathy for him.
Among my regrets is to have missed out on what might have been a most rewarding experience. Some years ago, Chi brought up the subject of my writing his biography, and at the time it seemed not only a desirable but also a possible project. I was certainly open to the idea and we discussed it from time to time over the ensuing years. I asked him if he had any journals or notes, but he told me that they were only sporadic jottings and only written in Chinese. We both agreed that we needed to spend long hours together during which he could share the details of his life. After his wife's death, however, he began to spend more time in China, eventually moving into the adjoining apartment at the Museum where he remained until his death. He wanted me to come and live with him for an extended period and, in between traveling through China "where we can paint clouds together", gather the details of his life so that I could put them into a book. What a time we would have had! My schedule, however, never allowed for such an unlimited time away from my desk and the book never came to fruition. I can only hope that some Chinese scholar will someday undertake the task. Chi's life — from its humble beginnings in Wuxi where he was born in 1912, through his experiences under Japanese occupation of Shanghai in 1932, to his coming to America in 1947 as an unknown exchange student, and on through his slow rise to international renown as a master watercolorist — surely deserves such chronicling.
I also regret that, again because of my workload, I was unable to attend his funeral services or the Memorial held for him at his Museum this past August 20th, but thanks to his daughter Lin-Yee Lu (Lily), I was allowed to send a written eulogy that was read during the commemoration. Cornelia and I were asked to write the text for the New York Times on-line obituary as well as the one that appeared in the Sunday, August 14th edition. In accordance with the family's wishes, we also queried the Times about including an editorial in its pages — surely the least that we could do. For his American friends, a Memorial is scheduled to take place at 7pm on September 30th at the National Arts Club, 15 Gramercy Park South, New York City,
And, of course, I regret that the world has lost one of its finest examples of the enlightened human soul. Chi was a rare talent, a real gentleman, a generous heart, a wise mentor, and a very dear friend. I am deeply saddened that he will no longer be a part of my life.