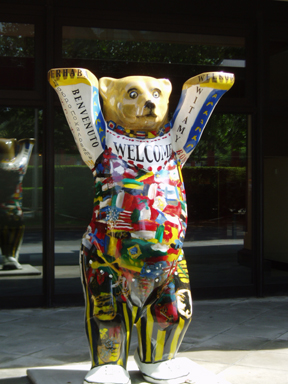 One of many bears, painted by artists from different countries, that can be seen throughout Dusseldorf (this one is outside of the Steigenberger Parkhotel. It is a project

Dr. Klaus Herlitz and Eva Herlitz

initiated to encourage understanding and trust amongst people and the auctioning of these bears raises money for children in need. (www.buddy-bear.com)
Instead of a lazy month in the garden and facing the enormous task of organizing the abundance of "stuff" that accumulates in a household, we had the opportunity to visit Germany, to visit friends, to see places we hadn't seen before and to do so without our heavy coats and warm clothing that accompany us on trips usually made in January. It was not a tough decision especially as we had some support from the German National Tourism Office and LTU Airlines.
It was the first time I had come in contact with LTU International Airways, a company that has been steadily increasing its service from numerous cities in the US to most countries in Europe (www.ltu.de). It was a comfortable flight, the usual services including meals & movies. We landed in Düsseldorf and had made arrangements to stay at the Steigenberger Parkhotel for our first night. What a luxurious hotel. The room spacious and elegant as was the bathroom! Breakfast a virtual feast, service 5 star plus. We checked in and cleaned up before heading out to explore. Düsseldorf is a wealthy city with a famous shopping area along Königsalle — certainly comparable to 5th Avenue, NYC or Worth Avenue in Palm Beach FL. We walked into the old city and decided that since we were to be there just one day we would walk and get impressions rather than to visit any one of the many museums or take any excursions or guided tours. We walked along the bank of the Rhine and saw many of the old storehouses that have been rebuilt by several innovative architects including Frank Gehry and Claude Vasconi. From the top of the Rhine Tower, which has a restaurant that continually rotates 360 degrees, we had a panoramic view of Düsseldorf and the surrounding area. What we missed in Düsseldorf is the annual JazzRally (held at the end of May) where 80 bands played at 30 different locations as well as a Popcorn Festival.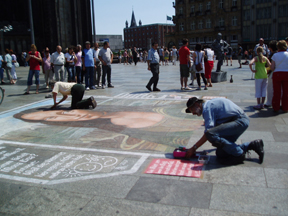 Street Painters outside the Cathedral in Cologne, Germany
The next morning, our friends Heinrich & Christiane Jarczyk picked us up and we were off to Cologne, a grand old city that we had visited several times before. What I see as a growing trend here in the states is also happening in the two cities I spent some time in — Berlin and Cologne (as I saw it in Singapore several years ago): old warehouses and factories being converted to live and work spaces for artists. In most cities there is little opportunity for Opera, Concerts, or Theater (as is true in NYC) during the summer. Musicians are in the countryside and often taking part in the many Music Festivals throughout Germany — Bach Festival in Leipzig, Rheingau Music Festival (one of Europe's leading festivals, with more than 140 concerts taking place in Frankfurt, Wiesbaden and Lorch), Opera Festival (est. 1875) in Munich, and the Beethoven Festival in Bonn.
We visited the Cathedral, and each time I see it I am awed at the size, the beauty, and the magnificence. >This is the greatest Gothic cathedral in Germany and has been Cologne's most famous landmark for centuries. In August 1248, the cathedral was built to house the relics of the Magi. Once the tallest building in the world, Cologne Cathedral still boasts the world's largest church façade.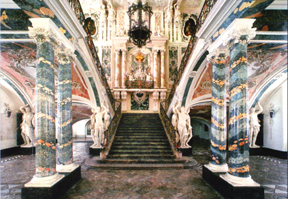 Ceremonial Staircase at the Augustusburg Palace
in Brühl, Germany
Several days later we went to the Augustusburg Palace in Brühl, the favored residence of the elector and archbishop of Cologne, Clemens August of Wittelsbach. This rococo masterpiece built in 1728 and completed in 1768 has exquisite grounds and gardens, the ceremonial staircase, magnificent. In 1984, UNESCO, considering the Palace a comprehensive work of art in its architecture, ornamentation, painting, and horticulture, added it to the cultural world heritage list.
In Berlin we stayed with friends Jacky Sparkowsky and Jörg Iwan (after another one-night stay at a wonderful Steigenberger Hotel) and here we did more exploring of the city with a one-day side trip to Dresden.
One of the featured highlights for Germany this year is the exhibition of masterpieces of 19th Century French Art from The Metropolitan Museum of Art, NYC. 147 paintings by Ingres, Corot, Courbet, Puvis de Chavannes, Manet, Degas, Pissarro, Monet, Cézanne, Gauguin, Bonnard and Matisse as well as sculptures by Rodin, Degas and Maillol — are on display exclusively in The New National Gallery, the famous "temple of light and glass" designed by Mies van der Rohe, which houses a collection of 20th century European painting and sculpture. Since I have easy access to the Met and the collections, I didn't add myself to the long line of waiting viewers.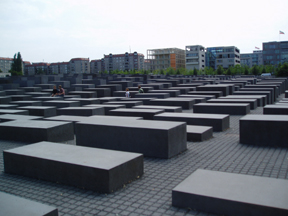 Memorial to the Murdered Jews of Europe, Berlin, German
Not too far from the Museum and the Brandenburg Gate, is the Memorial to the Murdered Jews of Europe (www.stiftung-denkmal.de) completed in 2005 and designed by Peter Eisenman. The grid pattern, with 2,711 concrete stelae of different sizes weighing an average of 8 tons each, is arranged over 19,073 sq. meters. The stelae can be walked through from all sides. The underground information center has information on victims, places of extermination, today's memorial sites, and a large seminar room and bookshop. One room focuses on personal accounts written by Jewish men and women during the persecution, another room focusing on the fates of 15 Jewish families in different countries occupied by the Nazis, and another room where names and biographies are read aloud and projected on the 4 walls — it will take over 6 years to read the entire database containing more than 3 million entries. Just before exiting the information center there are several computers with a Holocaust memorial database available for searching out individuals courtesy of Memorial Yad Vashem(www.yadvashem.org) in Israel. As a Jew I was especially moved by this memorial. It seemed to me that there was a constant flow of people coming to the memorial, quietly walking through the stelae, and then paying close attention to the information in the center. Germany is filled with such reminders of the Nazi's reign. What worse shape the world would be in without these reminders.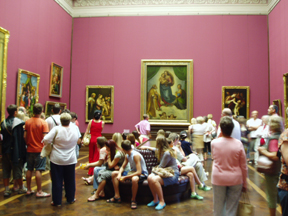 Tourists viewing the "Sistine Madonna", (see Cupids on Bottom of Painting) Raphael, 1513-1514 in the Old Masters Picture Gallery at the Zwinger Palace, Dresden, Germany
It had been many years since we visited the Martin Gropius Building in Berlin. On the grounds as we were walking to the entrance we saw a sculpture "4 lines in a T" (1985, collection of the Martin Gropius Building) by George Rickey (1907-2002). George Rickey was a resident of the Hudson Valley and it brought a smile to my face as I remembered him from exhibits at Bard College. Even before we reached it, we knew it was a "Rickey", so familiar were his articulated forms slowly moving in space. Again, because we wanted to cover as much ground as possible we saved our resources by splitting up and seeing two different exhibits while at the Gropius — I visited the Ré Soupault photography show while Raymond saw the Königs Gräber der Skythen, a collection of gold and bronze artifacts recently unearthed from the burial mounds of nomadic Scythian Kings near and around the Black Sea.
A city tour on one of the many different tour boats available gave us a delightful and different view of Berlin as a city that has the 2nd largest inland port in Germany. There are 650 bridges across rivers and canals and more navigable waterways than Venice, Amsterdam and Stockholm altogether. We saw castles, museums, culture centers, schools, government buildings, and learned more about the history of Berlin, now the capital of Germany. Right between the Spree and the Kupfergraben is Museum Island with the Bode Museum, the Pergamon Museum, the National Gallery and the New Museum and Old Museum all built to house the archeological collections and art of the 19th Century. Since we had previously visited most of the museums with our friend Heinrich Jarczyk some years ago, we decided to move along so we could cover more ground — enjoying, for example, a pleasant lunch nearby at Zum Nussbaum, one of Berlin's oldest taverns built in the 1507.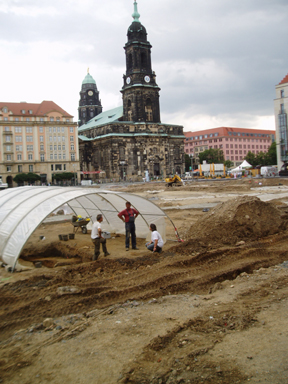 An Archeological dig in the center of Dresden, Germany
A Trip to Dresden, a city celebrating it's 800th birthday, and a city we had not previously visited, was very fulfilling. Our friends made a list of places we shouldn't miss including the Frauenkirche where we heard a service and organ recital. The Zwinger Palace houses the Old Masters Gallery and we went through enjoying the exquisite paintings. We were able to see the historic Green Vault, Europe's most magnificent treasure chamber museum recently reopened. It contains nearly 3,000 masterpieces by some of Europe's leading jewelers and goldsmiths, plus objets d'art in amber and ivory, jeweled vessels, and priceless bronze statuettes. There are 10 rooms and not all of them accessible when we were there, but believe me, we saw a lot, enough to make our heads swim — such precision of workmanship, such precious material.As we walked along Brühl Terrace we came upon the Academy of Arts and Art Society built 1891-94 by Constantin Lipsius in the style of the Neo-Renaissance. We wandered in and although there were no classes as was summer holidays, we were able to speak briefly with 2 students about the school. For lack of time we had to skip the Porcelain Museum which has over 20,000 items of Chinese, Japanese and Meissen porcelain and couldn't get into the world famous Opera House where it would have been wonderful to see a performance. There were about 28 other museums we didn't even consider and numerous churches and historic sites. Otherwise we fulfilled the long list, not bad for one very long day's visit.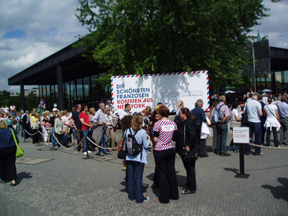 Visitors waiting online to get in to see 19th Century French Art from The Metropolitan Museum of Art, NYC at The New National Gallery, Berlin, Germany
And of course, we didn't see some of the other highlights the German Tourist Office gave us information about — most specifically the opening of Emigration Center in Hamburg. As I understand, visitors will be able to get an impression of the conditions under which last century's European emigrants traveled across the Atlantic to start a new life in America. There is a research project "Link to our roots", a database that has all the passenger lists between 1850 & 1934. www.ballinstadt.de. Still coming up in Germany during 2007 are the Wine Festivals, the 200 year old Weimar Onion Market, Art Forum in Berlin, Euro Scene, a contemporary Theater festival in Leipzig, and of course the New Year's Eve Party at the Brandenburg Gate in Berlin. If any of my readers are able to get to some of these events, I'd love to know about them.