CULTURALLY SPEAKING
By Cornelia Seckel
ART TIMES January/February 2007
By the time you read this column we will have begun our "down time" to begin our catching up, exploring and relaxing. Maureen will be in the office most days, and I am available by email. The next issue is the March Issue and the office will reopen fully on February 5. If you have missed our deadline for this issue and want to have an ad or calendar listing on our website, send an email and we'll let you know what the charge would be. Generally I will be able to upload the information within several days.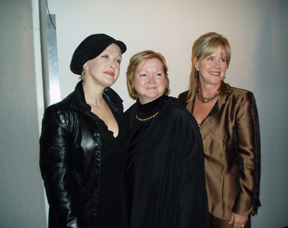 (L to R) Guest performer Cyndi Lauper, foundation founder Judy Shepard and evening host Tipper Gore at the reception after the Matthew Shepard Foundation Event Honoring The Laramie Project at Town Hall, NYC.
In October, 1998, Matthew Shepard, a 21-year-old college student at the University of Wyoming in Laramie, was tied to a split-rail fence just outside of town, beaten, and left to die. This was the result of an anti-gay hate crime. Taking the grief of their loss, Matthew's parents, Judy and Dennis Shepard, founded the Matthew Shepard Foundation to honor Matthew in a manner that was appropriate to his dreams, beliefs, and aspirations. The Foundation seeks to "Replace Hate with Understanding, Compassion & Acceptance" through its varied educational programs, and by continuing to tell Matthew's story. There are a number of programs that address these goals: The "Erase Hate" project includes: "The Legacy of Matthew Shepard", an ongoing public speaking effort by Judy Shepard who has shared Matthew's values of respect and dignity for others by having speakers address over one million people at colleges, high schools, universities, churches, businesses, and symposiums worldwide; The Hate Crimes Legislative Program which leads the effort for Congressional passage of the Hate Crimes Bill; and The "Small Bear, Big Dreams", a Pre-K-12 educational program that teaches the values of respect for all people and acceptance of individual differences. The Matthew Shepard Foundation "Equality" Project works for the advancement of gay, lesbian, bisexual, transgender (GLBT) equality by educating the GLBT and allied communities on the issues that affect them and providing them ways to take action. "Youth First" Project's main objective is to provide resources and tools that are available locally to young people, service providers and educational institutions, as well as highlight the importance of gay, lesbian, bisexual, transgender, questioning and queer (GLBTQQ) youth. The goal is to ensure that GLBTQQ and allied youth have a significant voice and resources in the movement. There are numerous other programs and more information is available at their website: www.matthewshepard.org. I attended an evening sponsored by the Matthew Shepard Foundation celebrating what would have been Matthew's 30th Birthday but primarily to honor The Laramie Project, its creators Moises Kaufmann and the members of the Tectonic Theater Project with the "Making a Difference" Award. Soon after Matthew was killed, the Tectonic Theater Project went to Laramie and interviewed community members on six different occasions before compiling the play that recounts the reactions and thoughts of people in the town of Laramie. This play has been produced more than 5,000 times by High Schools, Colleges, Community Theaters, and mainstream Theater Groups around the world. The play is a powerful emotional tool in creating opportunities to create dialogue and explore how hate impacts all aspects of society. The event, a fundraiser, took place at Town Hall in NYC on World Aids Day. A vibrant Tipper Gore, the honorary chair and host for the evening, praised the Foundation/Judy Shepard for her role in opening the minds of people around the world. Cyndi Lauper gave a special performance and tribute and then Judy Shepard spoke of her long-term goal of not needing the organization to exist. She is a powerful, humble, and accomplished speaker who expressed her appreciation for the support given the Foundation. It is human stories that drive change and that is why The Laramie Project has been so powerful. We saw an abridged play reading performed by Stockard Channing, Cyndi Lauper, Joshua Jackson, Judith Light, Robert Desiderio, James Murtaugh, Van Hansis, Chad Allen, and others. Such a sincere and honest depiction — so powerful and poignant and yet so much more work needs be done.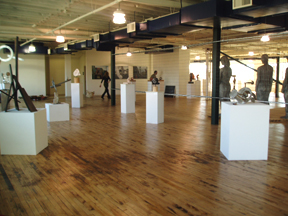 River Stone Arts, Haverstraw, NY just before the opening
of their current exhibit "Art in Haverstraw"
I stopped at River Stone Arts in Haverstraw to see their space and to see the current exhibit which is a group showing of paintings and sculptures by Chakaia Booker, Michael Burke, John Clement, Joel Graesser, Claes Hake, John Henry, Caspar Henselmann, Anita Huffington, Eric David Laxman, Dawn Linden, Steve Linden, Peter Lundberg, Michael Manjarris, Deborah Masters, Mark di Suvero, and Nanny Vonnegut. I was particularly taken by Dawn Linden's large oils showing intimate views of nature — almost surrealistic and with the miniature golf working sculpture by Steve Linden. The space is huge (10,000 sq feet), well lit, and versatile. This stone building houses an antiques showroom, a branch of the Rockland Community College, and the gallery. This is all part of the plan backed by Ginsburg Development Corporation to enliven and enrich Haverstraw. For more information about the gallery contact Rachel Yarmolinsky at 917-532-3090.
Galleries, schools, and organizations begin and end, and it is with regret that we have learned that Yellow Bird Gallery in Newburgh has closed. This innovative space was a great asset to the art venues of our region and most specifically to Newburgh. On the other hand we are pleased to learn about the Hudson Valley Artists League in Beacon, NY, which was established by Paul W. McCormack to provide a structured workshop curriculum. Featuring classes for all skill levels, HVAL's unique program provides a path of study which encompasses the spectrum of the tried and proven methods of traditional realism. Instructors include Paul W. McCormack, J. Brian Townsend and Timothy Jahn. For more information www.hudsonvalleyartistsleague.com or call 845-231-1021. We wish them great success.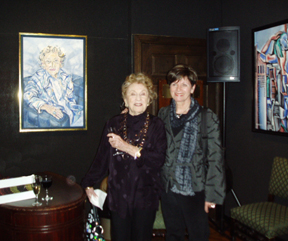 Bel Kaufman (l) and Richild Holt (r) at the National Arts Club,
NYC Grand Gallery. Holt's portrait of Kaufman was included in
Holt's exhibit "A View of Life New York and Love of the Soul".
Our Editor, Raymond J., Steiner, will be giving a lecture at the Bruce Museum of Arts & Science in Fairview, CT on Monday, February 26 at 10:00A.M. in conjunction with their Exhibit, "Painterly Controversy: William Chase and Robert Henri" (Jan27—Apr 29). Steiner will give a brief history of the Art Students League of New York with special focus on the personalities of Chase and Henri.
That's it for this month. Check our website for any new editorials from the Publisher or Editor.