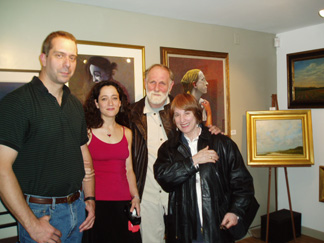 Lotus Fine Art & Design, Woodstock, NY. Doug & Jaime Barthel
(gallery owners) and FW Green with Barbara Green, featured artist.
CULTURALLY SPEAKING
By Cornelia Seckel
ART TIMES July/August 2006
In 1984 when we began ART TIMES, the decision to publish a monthly journal that would be a resource and provide commentary for the fine and performing arts was made in May of that year with the first issue in print by July 15. We called it an August issue and have been celebrating August as an anniversary month. As we begin our 23rd year and 244th issue, we have decided to combine the July and August issues and now print 10 issues each year (continuing our practice of combining January and February). This of course allows us to do different kinds of travels, to spend more time in the garden and to get to all the projects that pile up waiting for that "in-between issues" time. I expect to add to my Culturally Speaking Column during July to fill you in on various new venues and report on my "out and abouting". For those of you who missed this deadline and have an event for the calendar, send me an email and for a small service charge I will add it to the online calendar. This is also true for the opportunity listings, as well as any other advertising you may need.
I stopped in at Lotus Fine Art & Design on Rock City Road in Woodstock, NY. Jaime & Doug Barthel have done a phenomenal job of creating a beautiful space to show work by a number of highly skilled artists. There are several spaces of varying sizes for showing both gallery and featured artists. I enjoyed browsing the several rooms and exploring the original paintings, sculpture, painted glass, home furnishings, jewelry, pottery, and prints spread around this building that in itself is interesting. Originally a bar called the Brass Rail, it was the favorite watering hole for such Woodstock personalities as Philip Guston and his pal, Philip Roth. The featured artist of today was Barbara Green, and the opening was very well attended. The excellent pastels shown were mostly of clowns in various stages of preparation for "going on". For more information about the gallery or to inquire about the extensive framing that they do: www.lotuswoodstock.com • I visited another gallery in New York's Ulster County (Stone Ridge), the Design Principles Frame Shop & Gallery owned by Dianne Paulson who also has another shop where she does large scale-framing for a variety of clients. It was always her hope to open a gallery and now she has realized this, her heart's work. The current featured artist is photographer Jim Smith whose portraits of fathers and their babies are prominently hung among the work in the gallery. These portraits are included in Jim's most current book Fathers: A Celebration, published by St. Martin's Press. The black and white portraits are powerful, strong, and tender. Also on view were his nature photographs, and they are gorgeous. Jim crosses from commercial work to his own fine art photography and does so with apparent ease. Take a look at his photographs at the gallery or online at jimsmithphotography.com. Also included in the gallery are several works by artists and craftspeople whose work is featured at other times of the year. I liked the layout of the gallery, little nooks and sections for art, jewelry, fine crafts, stained glass, handcrafted furniture, sculpture, pottery, and hand-painted silk scarves. Both of these fine galleries are great assets to the art offerings in the Hudson Valley.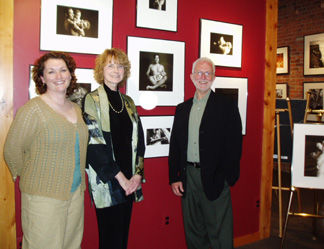 Design Principles Frame Shop & Gallery, Stone Ridge, NY
(L to R) Megan Richardson, Dianne Paulson (owner)
and Jim Smith featured artist
I went to the 6th Annual Garnerville Arts & Industrial Center's GAGA Arts Festival, a two-day event with open artist studios, exhibitions, music, dance, poetry readings, demonstrations, and films. Featured this year was the exhibition "Once a Tree", an All Wood Furniture and Sculpture show that had a first prize of $1,000 awarded to Woody Phifer of Phifer Designs, a luthier (custom guitar builder), Garnerville, NY; 2nd prize ($600 worth of assorted Sutherland Welles, Ltd.'s fine tung oils) went to Scott Grove of Rochester, NY; 3rd prize ($300 value of tung oil collection) went to Rob Levy of Hudson River Woodworks, Garnerville, NY. What a good exhibition. Beautifully crafted sculpture and furniture filled this huge loft space. There were several programs during the two days related to the exhibition for both children and adults. In 1797 this industrial complex began with the first building constructed to take advantage of the power generated by the Minisceongo Creek Falls. In 1828 the Calico Printing Factory was established and by the 1840's this well-established textile mill became the largest employer in the area, reported to have generated nearly 11 million yards of cloth per year, enough to furnish 1,178,666 women with a dress apiece. In the 1860's Civil War uniforms were manufactured for the North. From the 1980's—1990's, economics forced the textile tenants to leave; taking their place were light manufacturing and warehouse businesses and from the1990's to the present there has been a great influx of artists and artisans that work side by side with long-term existing manufacturing and warehouse companies. I admire the vision that Robin Rosenberg had in refocusing this huge industrial complex. The Festival is always fun; there are so many artists and craftspeople to visit, work to see and explore. The Garnerville Arts Project Gallery, GAGA, hosts informal monthly gatherings for artists and all those who are interested in the arts. The gatherings provide an opportunity to share ideas concerning a multitude of arts-related topics, including collaborative art projects — and they often include entertainment. For more information and to learn about space: www.garnervillearts.com or call (845) 947-7108.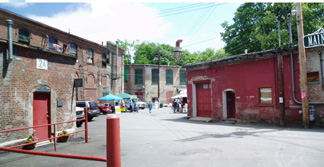 6th Annual Garnerville Arts & Industrial Center's Arts Festival
at Garnerville Arts & Industrial Center, Garnerville, NY
I hadn't heard the term "Vinarelli" until Eric Angeloch, Director of the Woodstock School of Art, mentioned Adam Weiss and a project he was heading up. The Vinarelli is an Umbrian Festival held annually at harvest time in the hilltop village of Torgiano, Italy. Adam Weiss told me that in 2005 he was fortunate enough to be asked to participate as a painter in Vinarelli. When he returned to the US, and Woodstock, he thought about starting a tradition of food, art and wine that would also benefit the Woodstock School of Art. The highlight of this festive evening is when artists (and anyone else who wants to paint) take out their brushes and paints and, using wine instead of water, begin to apply the watercolor pigment to paper. I imagine sips of wine will be had along the way. A regional vineyard, Millbrook Winery, has created a Vinarelli label for the event, CIA instructor Chef Gianni Scappin will create a memorable dinner, Winsor & Newton has generously donated paper, brushes, watercolor palettes, and paint for all who don't bring their own supplies (like me), and renowned artist Milton Glaser will have created a commemorative poster which will be on sale. A live auction of watercolor paintings done during the evening by 25 well-known Hudson Valley painters will round off the Vinarelli. What a fun event! Sign up by calling the school at 845-679-2388 or email wsart@earthlink.net. See you there!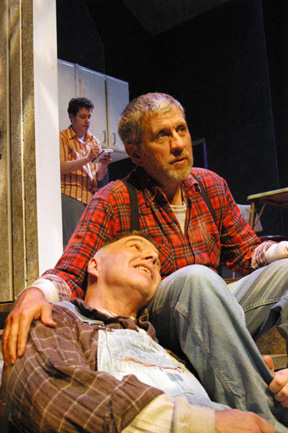 Rory James Kelly (foreground left) John Michalski (foreground right) Greg Schmalbach (background)
Photo: Paul Cowell, Mirror Eyes Photo
It has been a while, I'm sorry to say, since I saw a production at Shadowland Theatre, a restored 1920's Art Deco vaudeville/movie house that has been converted into a very comfortable 148-seat professional (actors equity) theater in Ellenville, NY. My regret is that I enjoy theater and have been missing out on some fabulous productions in the past years by not getting there—it's so annoying not to be everywhere I want to be. The Drawer Boy, written by Michael Healey, a 40ish-year-old Canadian (this is his 2nd play), was directed by Brendan Burke, who is also the artistic Director of Shadowland. What an excellent production. A moving play, terrific actors, an exemplary set — I was clearly amongst fine professionals both on and behind stage. In part, it is a story of how a play came to be written and a story about friendship. A young actor who is a member of a theater collective comes to a farm wanting to explore farmers and farm life in order to create their play. Miles (Greg Schmalbach) takes up residence with Morgan (John Michalski) and his friend Angus (Rory James Kelly). Friends from childhood, Morgan takes care of Angus who was injured in the War and seems to be an idiot savant. There is a powerful connection between the two men and a secret story that they hold and this, plus the antics of city-born, college boy Miles who is attempting to have a first hand experience at farming, made for an excellent play. The story unfolds, the characters reveal themselves, the play captured me completely as I laughed and cried. It has been a long time since I saw such fine acting and such a powerful play. Originally slated for off-Broadway in NYC, funding was pulled and Brandon, who had been trying to get the rights, finally got his chance to produce this play and what a great job he did and we are fortunate to enjoy the fruits of his efforts. The Drawer Boy will be on until July 9 followed by My Way: A Musical Tribute to Frank Sinatra from July 14-Aug 6; Lend me a Tenor Aug 11-Sept 3; The Good German from Sept 8- Sept 24. Shadowland has a "pay what you can" policy that is available at the box office at the time of the play. Don't count on it as most of the plays are selling out (as they did last year) so call for reservations: 845-647-5511. I had a chance to chat with each of the three actors after the production, and all three were very pleased with the show and the theater. Ellenville is 90 miles from NYC. Take a ride, spend the weekend, or go for a Sunday Matinee and dinner at one of the restaurants in town and return home the same day. Also in Ellenville, there will be 10 new gallery spaces, courtesy of the Artists in the Windows of Ellenville (AWE) juried exhibit July 1-31. Artists will be chosen to show their work in storefront exhibition spaces throughout town. When heading to Ellenville, check out Cragsmoor, a village near the Shawangunk Mountains in Ulster County, New York, that began its distinguished history as an American art colony in the early 1870s. Call 888-490-9749 for more information about arts activities in Cragsmoor.
We've heard from a few new galleries in the region: Barbara Esmark of Be Gallery Fine Art and Collector's Items wrote and said that opening a gallery has been something she's had in her mind for a long time. After a number of years away she and her husband returned to the area in 2001 with the idea of opening a gallery and art center of some kind. Be Gallery has two large spaces: one will house one-person shows, and the other house works that will change weekly and include artwork, collector's items, and other objects of interest. The gallery, located in the center of High Falls, NY, will open on July 1 with a show of Judith Hoyt's paintings, sculpture, & jewelry. Barbara said that she would like people to feel that BE Gallery is also like a museum — they don't have to buy to enjoy looking and enjoy the visual experiences she hopes to provide. Art enriches us but galleries are sometimes intimidating. She will be showing her own work but her real goal is to promote the artists in the Gallery, and Be Gallery itself. For more information call 845-687-0660 • Mery Rosado has purchased Mezzaluna, a restaurant located between Woodstock and Saugerties, and here she will not only offer a fabulous fare for breakfast and lunch (I stopped in and got a taste of chocolate chip strawberry pancakes, yum!) but also show work from artists who live and work in close proximity to the gallery. There is a large room in the rear of the building where she expects to have group exhibits. There will be live music during Sunday Brunch featuring Jules & Rick and Baby Rick and Benjamin. Call 845-246-5306 for more information.
Well, that's it for this issue. There are so many wonderful possibilities this summer for enjoying (and sometimes free) music, theater, art & craft festivals, and dance. Explore and enjoy what the summer has to offer — I know I will.