Profile: Anastasia Alexandrin
By Marc Londo
ART TIMES online August 2012
Pablo Picaso once said, "Painting is a blind man's profession. He paints not what he sees, but what he feels, what he tells himself about what he has seen." It is that insightful expression of emotion that Anastasia Alexandrin captures so eloquently on canvas. For to merely pantomime human nature, would be tantamount to holding a mirror up to the world – without having the benefit of knowing what is being reflected on the other side. As an artist that focuses on issues dealing with female identity, Anastasia understands that full disclosure is necessary to produce transcendent art. Through her charcoal artwork, she is crafting a unique place in the art world by turning the mirror on herself.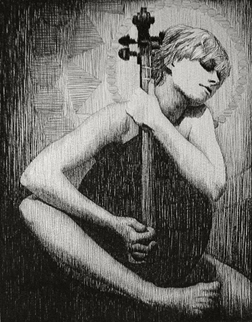 I, Music, circa 2010
Recently, I had the pleasure of visiting with Anastasia at her studio in Philadelphia. She works from her home on the edge of Philadelphia's art museum district. It's a modest row house in an area imbued with ethnic and economic heterogeneity. On her street, it is not uncommon for a doctor to be neighbors with a mechanic (or an artist). In many ways, her neighborhood embodies the inclusive world view that is present throughout her work. As she greets me at the door, I am instantly put at ease by her vivacious smile and kindly offer for a cup of tea. It sets the tone for spirited conversation about art, travel, philosophy, and cats.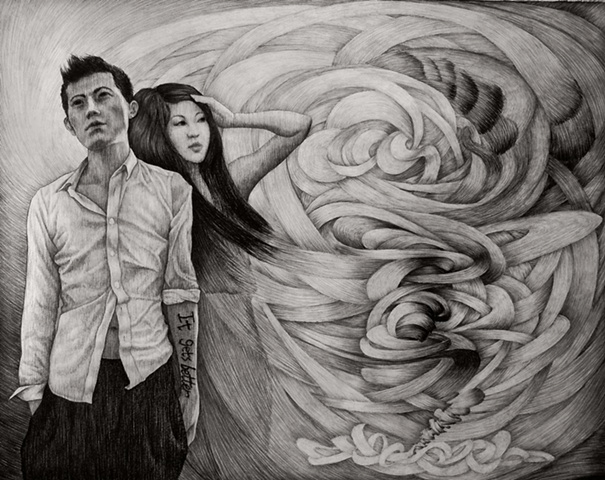 It Gets Better, circa 2012
Imediately, upon entering Anastasia's studio, my attention was taken by a 25 x 35 inch canvas on her wall of a distressed, young, Asian couple. The words "It gets better" are cut into the arm of the male. The restless line formations seemed to be pushing the couple out of the center of the frame. Since Anastasia's artwork predominantly focusses on female identity issues, it offered an intriguing departure. As I probed deeper into the inspiration behind the artwork, she began to tell me about her experiences in Beijing, China, as a resident artist. I mentioned that it reminded me of a tornado enveloping a Midwestern pasture and she nodded. "You are correct! It's a storm, wind, cloud formation," she said. "That is how I saw China... Like a controlled whirlwind of events and actions. The government has their hand in everything."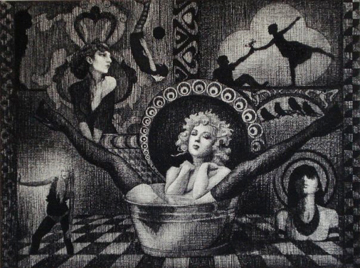 Upside Down, circa 2010
As I studied the intriguing wind formations in It Gets Better, I grew taken with the way in which Anastasia uses line as a central feature of the narrative in her art. "My way of working changes with each drawing and different type of paper and pencils," she noted. "Yet the fountainhead is the straight line. Where it goes is always different, but where it came from is always the same." As a Ukrainian-born, naturalized citizen of the United States, it seems only natural that Anastasia would view humanity through a global lens. She "lives to travel" when her schedule permits and - including Beijing - she has worked as an artist in residency on three different occasions. Later this year, she will travel to Verve, India, to serve as a resident artist. "I am inspired by the people I meet and the places I visit," she declared. "Learning about other cultures, and seeking out new experiences, sheds light on the things I am involved with."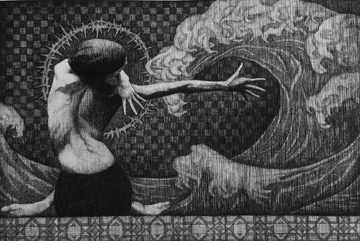 Reach, circa 2010
Anastasia's artwork has been presented in solo exhibitions in New York, Philadelphia, and San Francisco, as well as in group exhibitions across the United States. Her art is housed in museum collections at: The Woodmere Art Museum, Brandywine Workshop, and DiCarlo Gallery. She has achieved national recognition, with a First Place award at the National BAL exhibition in Texas, and has won many regional awards – most often with the Plastic Club in Philadelphia, Pa. Anastasia's work has also appeared in various international publications.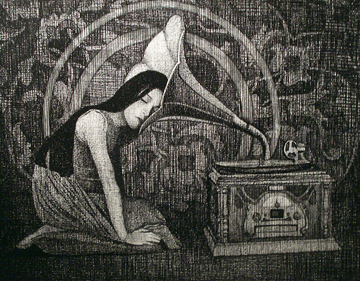 Listen, circa 2011
Critics have often focused on the European influences in her art. It is a tendency that she finds limiting. "I don't actively reflect on my past and my European background," she stated. "It is very subliminal to me until it gets pointed out. I don't see myself as having a style as much as a visual voice that is very much my own." Anastasia's visual voice is a unique blend of form and style that merges a classical beauty standard with an edgy linear presentation. Her crossed lines of charcoal endow the artwork with a grid overlay that fosters a grainy, modernistic, impression. The hyperactivity of the line-flow implies a sense of movement which infuses her imagery with a classic reel-to-reel movie effect. When combined with her subtle use of light and dark tones, the narratives take on a retro-technological aesthetic that furthers the art viewer's perception that he or she is witnessing a fleeting moment in time.
Wind-Up Dolls, circa 2011
Anastasia's approach to her work is captured perfectly in that oft-cited Picaso quote. Her subject matter emanates from what she feels about the experiences she's had. "Each drawing begins with an emotion," she explained. "I then clothe that emotion with pictures." The source of the pictures varies. She doesn't use live models. "I mainly work from photographs that capture a feeling that I am trying to project," she said. Nevertheless, that doesn't mean there aren't real people driving the narratives she weaves through her crossed lines. For instance, the inspiration behind many of her 'Dolls' illustrations was a clique of girls that she knew in her formative years. Another piece that is on her website, titled 'Queen Elizabeth', was inspired by the love interest of an old beau.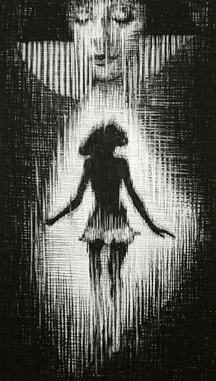 Butterfly Queen, circa 2009
Throughout my interview with Anastasia, I was often reminded of how impacted she has been by the city she calls home. A graduate of the Pennsylvania Academy of the Fine Arts in downtown Philadelphia, she is the embodiment of the cultural diversity and gritty mentality that define that historical city. Her message of feminine empowerment and transcendence resonates directly to Independence Hall. Shortly after discovering that I'd consumed all of the tea she had graciously provided me, there was a high-pitch sound at her studio door. "That is Mr. Grey," she said. Mr. Grey was a stray kitten that followed Anastasia home one day - when he was just a few weeks old. After making acquaintance with the curious cat, we decided to take a short break from discussing art to feed Mr. Grey and refill our tea cups.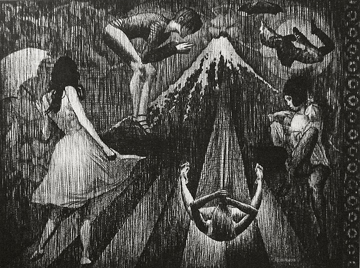 Mt. Fuji, circa 2010
Soon after, I remarked that it was fitting that Mr. Grey would decide to put in his two-cents about the city that is known for welcoming strays. Anastasia gave me a light nudge and revealed to me that she had immortalized Mr. Grey in the Upside Down piece. Upon careful inspection, I saw the shadowy visage of Mr. Grey standing watch, in the upper-left corner of the piece, as if he was an omnipresent spirit that was watching over the coming-of-age narrative. I mentioned to Anastasia that she said that she doesn't use live models. "Well, I made this one-time exception for Mr. Grey because it was right for that piece," she replied. She went on to explain how being an artist can be a solitary pursuit and cats make great friends for artists. They are usually quiet and aware of their surroundings. Their attentiveness makes it easy for an artist to comfortably lose themselves in their artwork because they know that order reigns.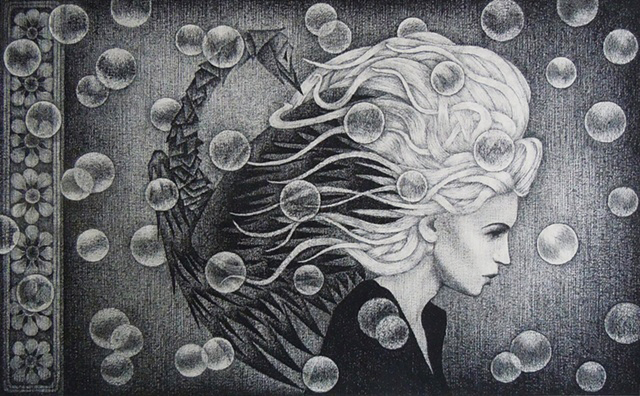 Black bird, circa 2012
Alexandrin's incorporation of symbolism within the narrative is one of the outstanding features of her artwork. Whether she is capturing the anxiety of her subjects by drawing a massive wave or mountain; or if she's demonstrating the battle to control paranoia by picturing a ubiquitous image of a watchful animal; or if she is shedding light on the entropy that women feel through a smattering of bubbles; Anastasia builds her narratives by addressing the cognitive and affective processes that influence action. "I create what I perceive through experience," she said. "That being said, the big question is 'Who Am I?' Well, I am many things. I am not simply a thrown-together combination of my past but that is certainly a part of it. My views are unique to me, like everyone else's."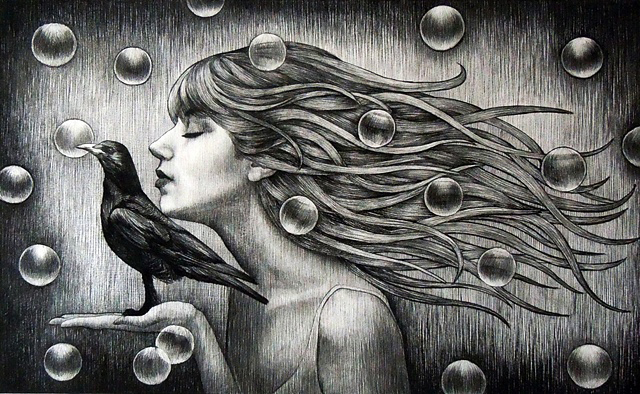 Fly Indiscriminately, circa 2012
There is often a natural evolution to the narrative devices that Anastasia employs in her artwork which speak to her overarching message of transcendence. The struggle women encounter to achieve self-actualization can play out on a single canvas or through a series of canvases. It is a struggle that Anastasia is quite familiar with. After all, she is earning her living pursuing a career choice that many said wasn't realistic. As someone who is driven to explore the outer boundaries between perception and reality, Anastasia hopes to advance the global narrative for women by making her unique perspectives part of the discussion. "The subject of women and our struggles are a huge wellspring for me," she said. "I visualize my emotions and put them down on paper to tell a story and reveal something that I have learned. Others do it with words or dance. I do it with charcoal and paper."

(For more information about Anastasia Alexandrin and images of her work, visit http://aalexandrin.com/).
Send an email or visit arttimes Facebook page and leave your comment